Weekend traffic ban a hit, 7 more roads may go Church Street way | Bengaluru News – Times of India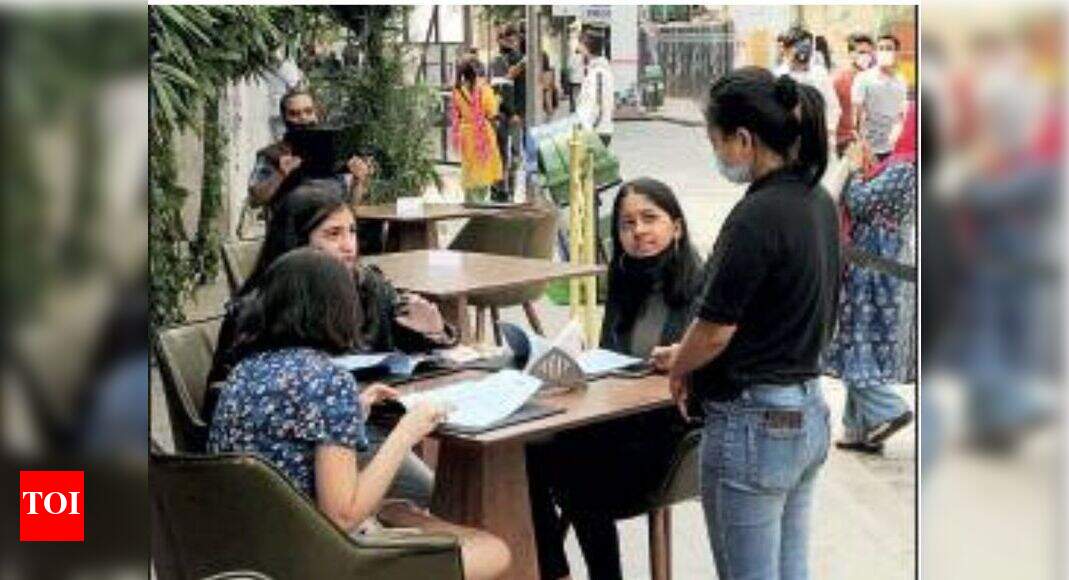 BENGALURU: The weekend traffic ban on Church Street which kicked off on November 7 has received a thumbs up from citizens and commercial establishments, including restaurants and pubs, which are witnessing an increase in business after a dull start.
A pilot project of Clean Air Street, an initiative by the Directorate of Urban and Land Transport (DULT) along with Indian Institute of Science, the ban has been in place for four weeks and will continue till February. Buoyed by its success, DULT is planning to make seven more streets pedestrian friendly on weekends.
Deepak Batavia, president of Church Street Occupants Association, said footfall has increased in the past two weeks. "It's a great initiative for citizens to explore Church Street without traffic and pollution. In fact, more people are visiting as compared to pre-Covid times. But delivery boys should be allowed and parking facilities provided ," Deepak added.
He said outdoor dining being promoted on the street is a good idea. "But customers are not allowed to drink beer while sitting outside," he added.
People from across Bengaluru are thronging Church Street as it has turned into the most happening weekend spot in the city. "I have visited Church Street several times but this is a new experience. I'm getting the feel of a foreign city. I can walk on this cobblestoned street without the fear of being knocked down by a vehicle and don't have to bother about the honking nuisance," said Ajay S, a techie.
Many Church Street restaurants with outdoor seating are seeing huge crowds on weekends as many people seem to prefer the arrangement over closed AC halls due to pandemic fear.
The visitors include children and fitness enthusiasts, who want to witness the pedestrian-friendly transformation of the street. "The Broke Artists Collective's 'Take what you love, pay what you like' concept is really interesting and unique. The live music gives a festive vibe. They (authorities) should extend this to more streets and encourage artists and musicians. They could also provide some playing equipment for children," said Revathy R, a resident of Koramangala.
GANDHI BAZAAR MAIN ROAD, COMMERCIAL ST ON LIST
FRESH FLAVOUR: Outdoor seating arrangement on the street has found many takers
The seven more streets that are likely to turn pedestrian friendly on weekends according to DULT plans are Gandhi Bazaar Main Road (KR Road-DVG Road), Malleswaram 8th Cross (between Margosa Road and 18th Sampige Road), 10th Main adjacent to Jayanagar shopping complex, Russell Market road, Commercial Street (Kamaraj Road-Juma Masjid Road), Brigade Road (MG Road-Residency Road) and Malleswaram 7th Cross to 10th Cross.
"We are planning to take up the Gandhi Bazaar road in the next phase. Bengaluru Smart City mission has undertaken upgradation work on some of these stretches in CBD, which is likely to be completed by March," said a DULT official.
DULT commissioner V Manjula said: "The feedback from traders and visitors of Church Street is positive and the response has been overwhelming. We will publish footfall figures in the next few days." According to Manjula, the design for pedestrianisation of Gandhi Bazaar Main Road is almost ready and residents from Malleswaram 8th Cross have also expressed interest to replicate the project there. "But these projects are in various stages of implementation. We can implement a weekend traffic ban on a street only after design, feasibility study, public consultation with stakeholders and other things," she explained.