Webinars & travel curbs put brakes on luxury cab business in Bengaluru | Bengaluru News – Times of India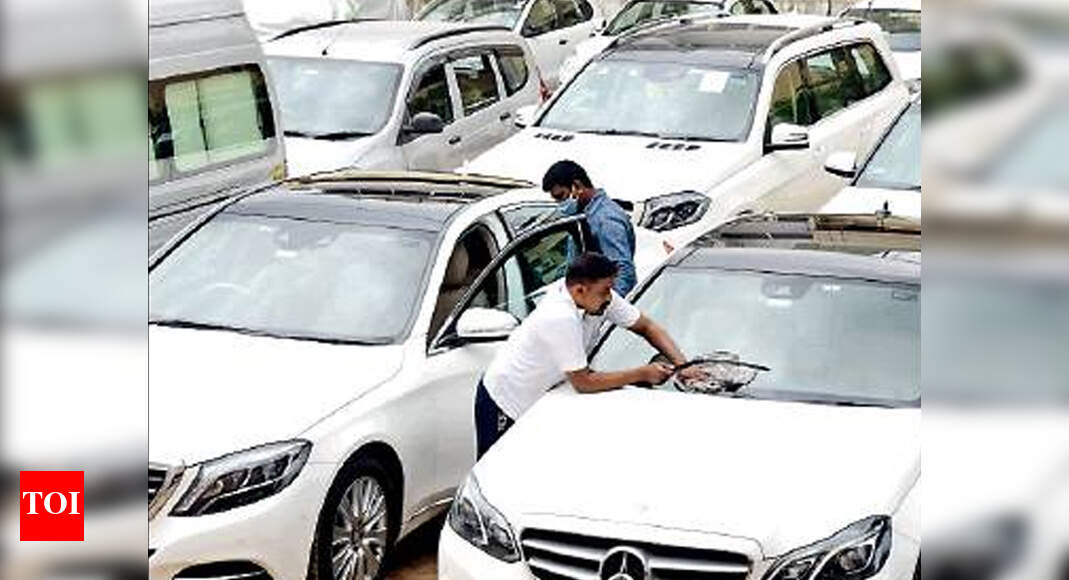 BENGALURU: With international travel restrictions in place and fewer air passengers due to Covid-19 fear, high-end car operators are looking at a bleak future.
Most luxury taxi operators in the city who have purchased cars like Mercedes-Benz, BMW and Audi are now struggling with no customers and business. Many are finding it difficult to pay monthly EMIs for the cars and drivers' salaries. They say the number of clients, especially high-profile visitors to the city, has reduced mainly due to online meetings, travel restrictions and work from home.
According to Karnataka State Travel Operators' Association, the city has over 700 taxi operators and more than 20,000 luxury cabs. "The luxury car segment mainly caters to business class air passengers. Many airlines provide complimentary pick-up and drop facility for such passengers and they hire vehicles like Mercedes-Benz E-Class and BMW 5 Series," said K Radhakrishna Holla, president of the association.
"Earlier, several meetings and conferences used to held, but with offices and establishments shut due to WFH, they have been replaced with webinars and online meetings. We used to ferry investors, company heads and other high-profile passengers associated with IT-BT, aerospace, automobile and pharmaceutical sectors as well as those starting new projects. But due to international travel restrictions, there are hardly any such passengers," added Holla.
Airport taxi operators also said there's a dip in the demand for luxury vehicles. Airport Taxi Owners' Association president Hamid Akbar Ali said: "The demand started dwindling since December 2019 after Covid-19 cases were reported in China. Now, there are only 10-15 luxury car trips from the airport as opposed to 100-200 earlier."
"We want the government to extend the loan moratorium and waive MV taxes at least till December. Most luxury vehicle owners used to maintain a healthy credit score so banks would sanction loans, but now we are struggling to clear loans, pay drivers' salaries and office/parking rent and to maintain vehicles. We've heard WFH may continue till February 2021; we won't be able to survive till then," rued Holla.
Bengaluru International Airport Limited facilitated transit of 38,896 international passengers between April 1 and July 31. However, Kempegowda International Airport handled an average of 13,000 international passengers a day before Covid-19.