Watch: Meet South Bengaluru's tree guardians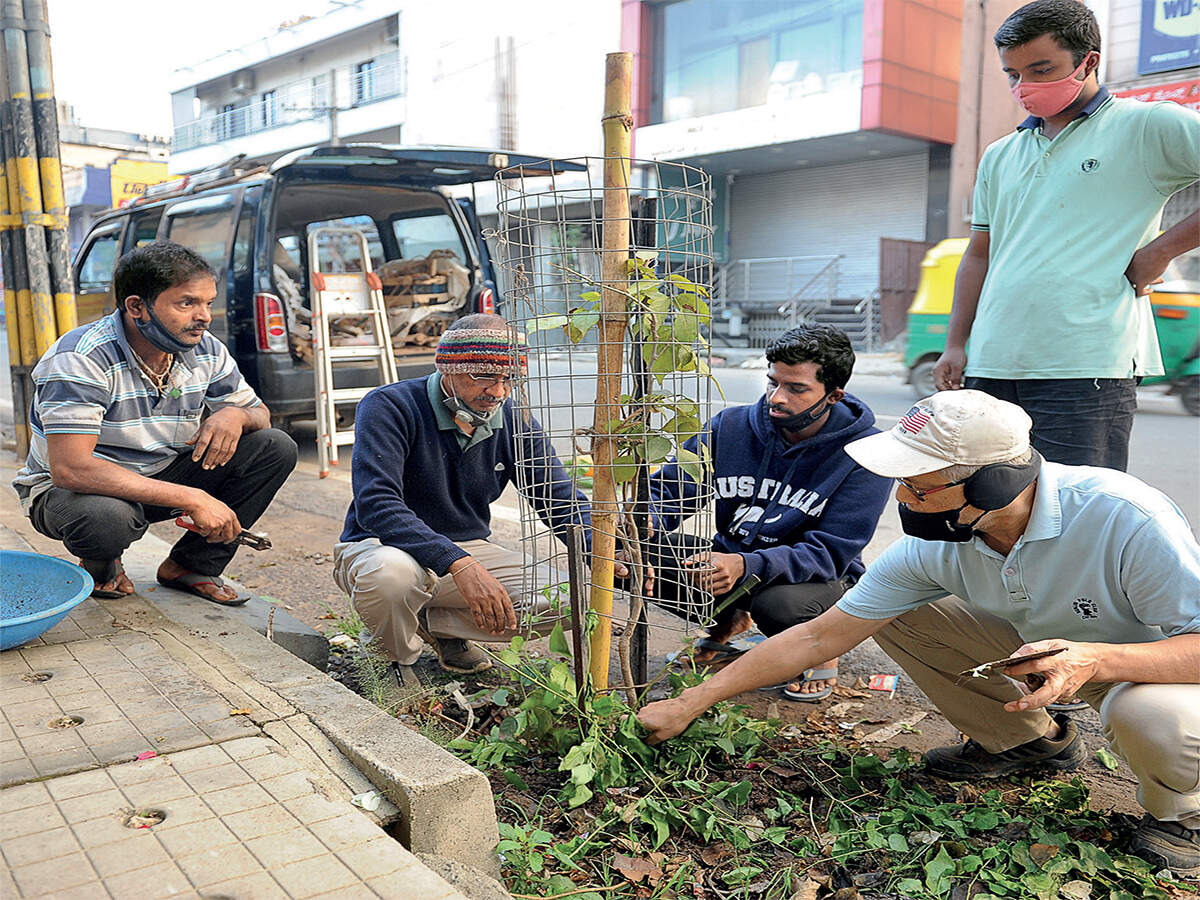 Meet South Bengaluru's tree guardians who call themselves Hasiru Ratha. Every morning they set out to remove metal guards around trees, plant saplings and even design guards to be placed around young plants
Bengaluru's title of being the garden city may be fading, but these citizens are ensuring that our future is in safe hands. Soon after we discovered a group of volunteers removing nails driven into the barks of trees, here's another group removing the iron guards around trees.
A group of volunteers in South Bengaluru, some of them retired citizens, have become tree guardians of their neighbourhood. From planting saplings that will add to the greenery in the area to removing and relocating tree guards from over grown trees, these citizens are protecting trees by removing and relocating the tree guards which are constricting the trees. The Bruhat Bengaluru Mahanagara Palike which puts up iron guards around saplings, often forgets to remove them once the tree has grown large. Volunteers identify such trees and set them free from the tree guards.
The BBMP uses thick metal guards which they weld and leave around trees, even when they have outgrown them. A lot of people start throwing garbage and other things inside these tree guards and make it difficult for the tree to grow
— Shiva, a volunteer at Hasiru Ratha
Nagaraj Manya, 64, a resident of Yediyur and a retired bank employee started the initiative called Hasiru Ratha on Environment day in 2017. Since then he has been planting and maintaining the trees. Now that he is retired, he says he works to save the trees all 365 days. The group has 15 active members, from students to senior citizens. They step out of their house at 6 am and start taking care of the plants and trees in the area.
After retirement, Manya bought a car and removed the seats. He now uses the car to keep all his equipment required to take care of the plants. He said, "I drive the vehicle myself. I have hired an assistant who helps me with taking care of the plants. A few volunteers join me in the morning and based on the requests from residents and vendors, we plant the saplings in the requested spot and prop them up with bamboo poles for support. I have designed my own metal tree guards which I install and reuse once the plants are grown."
He added that he was inspired by Salumarada Thimmakka and a desire to give back to society. He has designed and installed over 250 tree guards.

Shiva, a software professional and a volunteer said "The BBMP uses thick metal guards which they weld and leave around trees, even when they have outgrown them. A lot of people start throwing garbage and other things inside these tree guards and make it difficult for the tree to grow. We identify such trees and set them free from these guards and reuse them for small plants which are in need of these guards. On a weekly basis we set at least seven such trees free and plant seven new ones."
Manya said that they have planted over 1,000 plants in Bengaluru south. He said, "I have appealed to the authorities to make a policy wherein while relaying roads /footpaths/medians, they must add the estimated cost of planting saplings at a distance of 20 or 25 feet."
Shanbogh, 70, another volunteer and a retired bank employee from Bengaluru South said that he accompanies Nagaraj every morning and coordinates with the other volunteers. He said, "A lot of people plant the saplings but they forget to take care of it. We regularly look after these plants and take care of them. During the rainy season, we plant and take good care of it and during the summer, we water the plants so that they don't die."