Watch: Junctions meet Corrections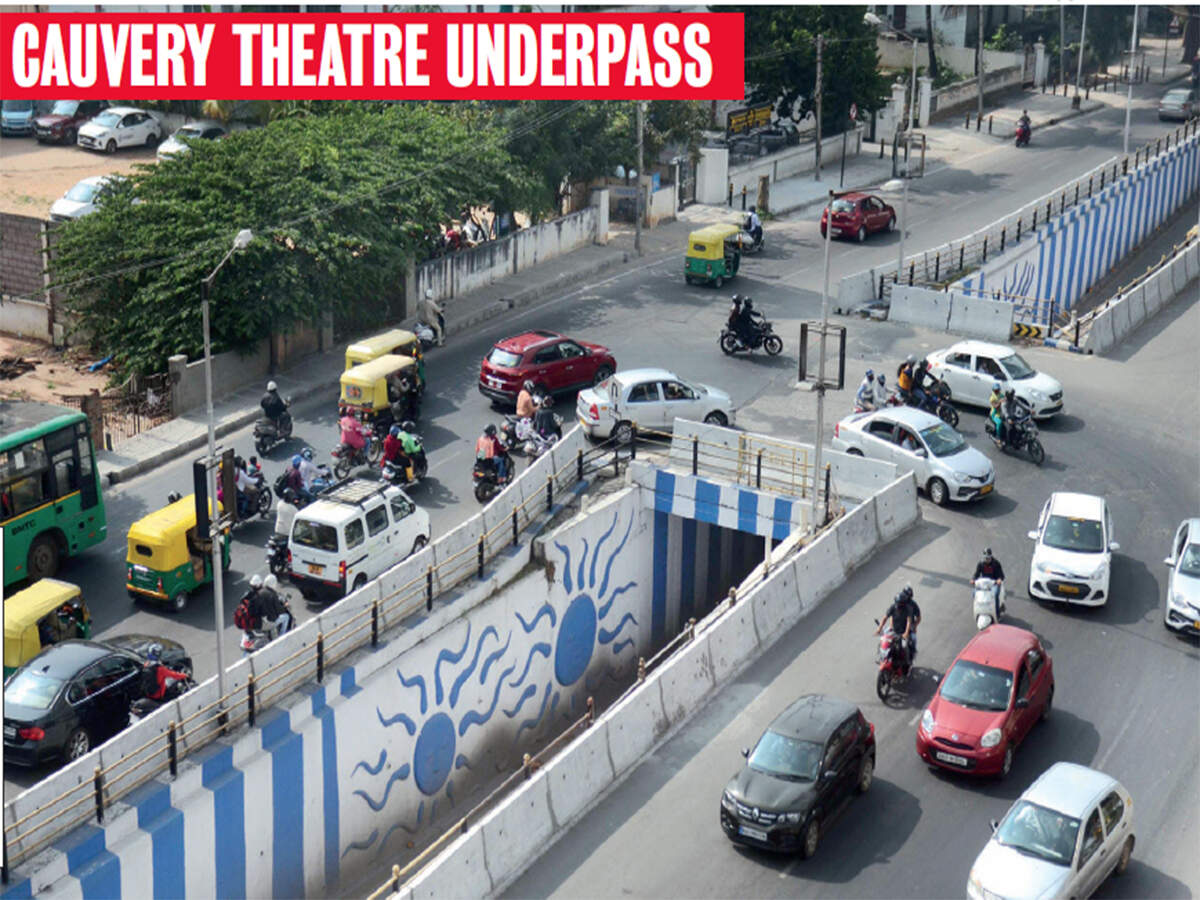 Traffic flow in Bengaluru has been hindered for years due to poor design of medians and islands near signals. Thankfully, they have now started fixing the engineering
It isn't just the poor lane discipline, driving etiquette or narrow roads — at long last, poor engineering at traffic junctions has been identified as the culprit for traffic jams in Bengaluru. And here's the best part about emerging from a life in denial: 85 traffic junctions are being fixed to allow free flow of traffic.
"Majority of the traffic jams in the city are the result of bad engineering at traffic junctions which have become a hurdle for the smooth flow of traffic. We cannot do anything to the existing traffic junctions. Lack of forethought and engineering are the main causes for the chaos at the traffic junctions. There should not be any restrictions on taking a free left turn at the traffic junctions," said Srihari MN, a traffic expert.
Poor design is the bane of Bengaluru's trafic. Try joining the Outer Ring Road to reach Hebbal from Kalyan Nagar side and under the Hennur flyover you will realise what role foresight plays in traffic movement. Or, take Sankey Road to go towards Mehkri Circle — first near the Windsor Manor underpass, the poorly designed median (to ease traffic around the island and into the underpass) forces you to spend at least 20 minutes moving in first gear during peak hours. And don't even get a Bengalurean started about the U-turn on Guttahalli Road.
"It is because of bad road engineering. There is no need for an underpass at this junction. Taking the right turn is a problem and it slow down the traffic proceeding towards Sankey Tank and other areas. I want the BBMP authorities to close the underpass and ensure smooth flow of traffic. What is needed at Cauvery Theater Junction is a little bit of engineering to ensure there are no traffic jams," says Naresh Narasimhan, architect, and the brain behind the Church Street makeover.
"We made a drone video of the High Grounds traffic junction which clearly shows there is need for a re-design here. We have suggested drastically reducing the size of the traffic island, after merging the two into one traffic island, or completely eliminating both traffic islands, along with suitable segregation of traffic moving left, straight and right at this junction. The traffic police officers have agreed with our assessment and are in communication with BBMP. However, instead of doing the needful, BBMP has left the two traffic islands as they are, and have made boundaries around them using concrete median blocks. We are disappointed," said Rajkumar Dugar, Convenor, Citizens for Citizens.
Due to poor workmanship and bad engineering, we often come across engineering defects that impact the smooth traffic flow at these junctions as well as the safety of all road users, including pedestrians
— Ashish Verma, Associate Professor, Transportation Systems Engineering Convenor, IISc Sustainable Transportation Lab
After intervention from Dugar and his colleagues, there is hope for Minsk Square, another junction where pieces of concrete have become a roadblock for traffic. The traffic island was constructed by the Bengaluru Metro Rail Corporation Limited (BMRCL), while constructing the Cubbon Park Metro Station. A projection of the traffic island is causing a bottle-neck and impedes smooth flow of traffic along Raj Bhavan Road.
"Traffic Police have agreed to our suggestion and have written to BMRCL on November 19 asking for removal of the projection by six feet, so as to ensure smooth and safe flow of traffic. BMRCL initially said the projection cannot be removed, but after a joint on-site review by their engineers and traffic police officers, BMRCL MD Ajay Seth assured us of exploring all possible options to solve the problem," Dugar told Bangalore Mirror.
"We noticed that vehicles coming from a side road joining Raj Bhavan Road at an angle, were coming in without slowing down and especially those which wanted to cross over towards GPO were causing problems for smooth flow of traffic. Our suggestion to have a suitable road hump along this side road so as to ensure slower entry of traffic into Raj Bhavan Road was accepted by the traffic police and on December 15, a road hump was installed," he said.
308 more to go

There are 393 traffic junctions in Bengaluru of which work is ongoing or about to be completed in 85. The remaining 308 still need to be fixed. The major one among them is the Cantonment underpass Junction — a highly complex junction along Miller's Road with multiple underpasses under the railway line. "Unfortunately, the junction has been designed in such a way that traffic coming from North (TV Tower, Nandidurga Road and Cantonment Railway Station rear entrance) and moving towards Kodava Samaja is forced to take a detour of an additional kilometre towards Queen's Road and back to the junction. Our study showed that about 10,000 vehicles take this detour every 24 hours, leading to congestion and loss of precious time and fuel. After studying this junction in detail, we have come up with a conceptual design to solve the same. We await the visit of senior traffic officials to the junction to study our solution and take it forward," said Dugar.
Meanwhile, Ashish Verma, Associate Professor, Transportation Systems Engineering Convenor, IISc Sustainable Transportation Lab, has opined that there is a good scope for better engineering of traffic junctions in Bengaluru of all types; signalized, unsignalized, grade separated (underpass/flyovers).
"Due to poor workmanship and bad engineering, we often come across engineering defects that impact the smooth traffic flow at these junctions as well as the safety of all road users, including pedestrians. At junctions with traffic signals, often the signal timings are un-scientific and not optimum (often managed manually by traffic constables by pressing signal controller buttons), which leads to higher delays and tendency of signal jumping," he said.
Verma said that in many cases the directional lanes are missing on approach roads leading to further delays in clearing of queues when the signal turns green. "Moreover, pedestrian signal timings are either not accommodated or it is kept less than what is required, leading to safety risk for pedestrians while crossing the junctions. Non-uniformity of road geometry also leads to frequent points of bottleneck," he said.
Meanwhile, Srinivas Alavilli of Janaagraha said that many changes were done quickly when the new airport came up. "Now that we have had them for more than 13 years, we understand the patterns and bottlenecks better. We should redesign them to facilitate better traffic movement. IISC and DULT should be able to scientifically evaluate the situation and suggest solutions that don't cost us trees but help alleviate the situation not just with traffic but also water-logging which we have seen at underpasses quite often," he said.
Assistant Commissioner of Police (Traffic) of Bengaluru Central, Satish, informed Bangalore Mirror that discussions were being held with the BBMP's Traffic Engineering Cell for improving the traffic junction near Karnataka Golf Association (KGA). "We will take up other traffic junctions and underpasses after completing the work at the traffic junction near the KGA," said Satish.
Work has clearly begun. But with poor engineering clearly visible at nearly every junction, there is still a long way to go.