Watch: Group of 6 women drill around 50 bolts to create a new path from the base of the Madhugiri Hill to the top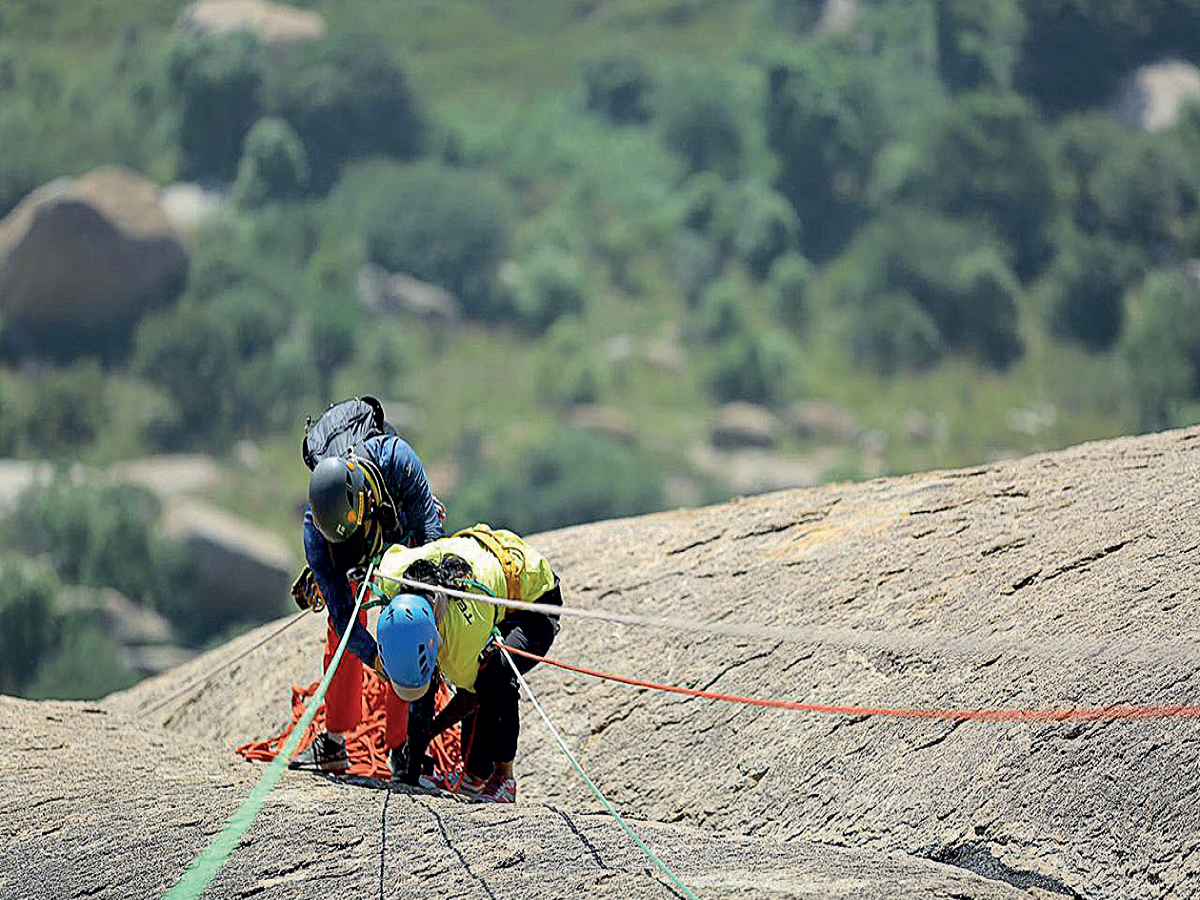 Vertical Limit: Group of 6 women drill around 50 bolts to create a new path from the base of the Madhugiri Hill to the top to give rock-climbers a vertical climb of 1,300 ft:

Each weekend, hundreds of Bengalureans head to Madhugiri to trek. But now, they have one additional outdoor activity to look forward to at the second-largest monolith in Asia. A group of six women have created a new rock-climbing pathway to Madhugiri Hill. This pathway will be a vertical climb of 1,300 feet from the base and will provide a
new adventurous route
for all rock
climbers
.
These six women aged between 15 and 40 years took up the challenge as part of International Mountain Day on Friday morning when they climbed the Madhugiri summit point via the traditional route.
From there, they began their descent using ropes and other equipment. Their primary goal was to drill the bolts to the hill till the bottom which was accomplished by Saturday evening. They have drilled around 50 bolts and from Sunday morning, they will begin to climb using the climbing protection system.



Keerthi Pais, Advisor at General Thimayya National Academy of Adventure, said that the drilled bolts could be used for the next two decades which would mean that Madhugiri will be the new destination for rock climbers. Any rock climber could take permission from the Academy and then begin the vertical ascent using climbing gear in the future. The Academy also plans to start new routes in Savandurga and Badami
in the near future. He also said that though Madhugiri had been a destination for trekkers, it had no facilities for rock climbers but now, the hill will also be thrown open for the rock climbers.
Shalini Rajneesh, Additional Chief Secretary to Government, Department of Youth Empowerment and Sports, said the sheer challenge of climbing a vertical rock was captivating.
"It gives me a great joy to learn that six women will achieve this task by opening a route and subsequently climbing the same," she said. A few years ago, police had asked the Archaeological Survey of India (ASI) to cordon off the entry gates following a techie's fall. Then in 2014, a person had fallen into a gorge during the trek and it took hours to rescue him. The hillock and the fort belong to the ASI and there was practically no one to guard the place. Hopefully, all that is set to change now.