Watch: BBMP's grand plan: Give Avenue Road more leg room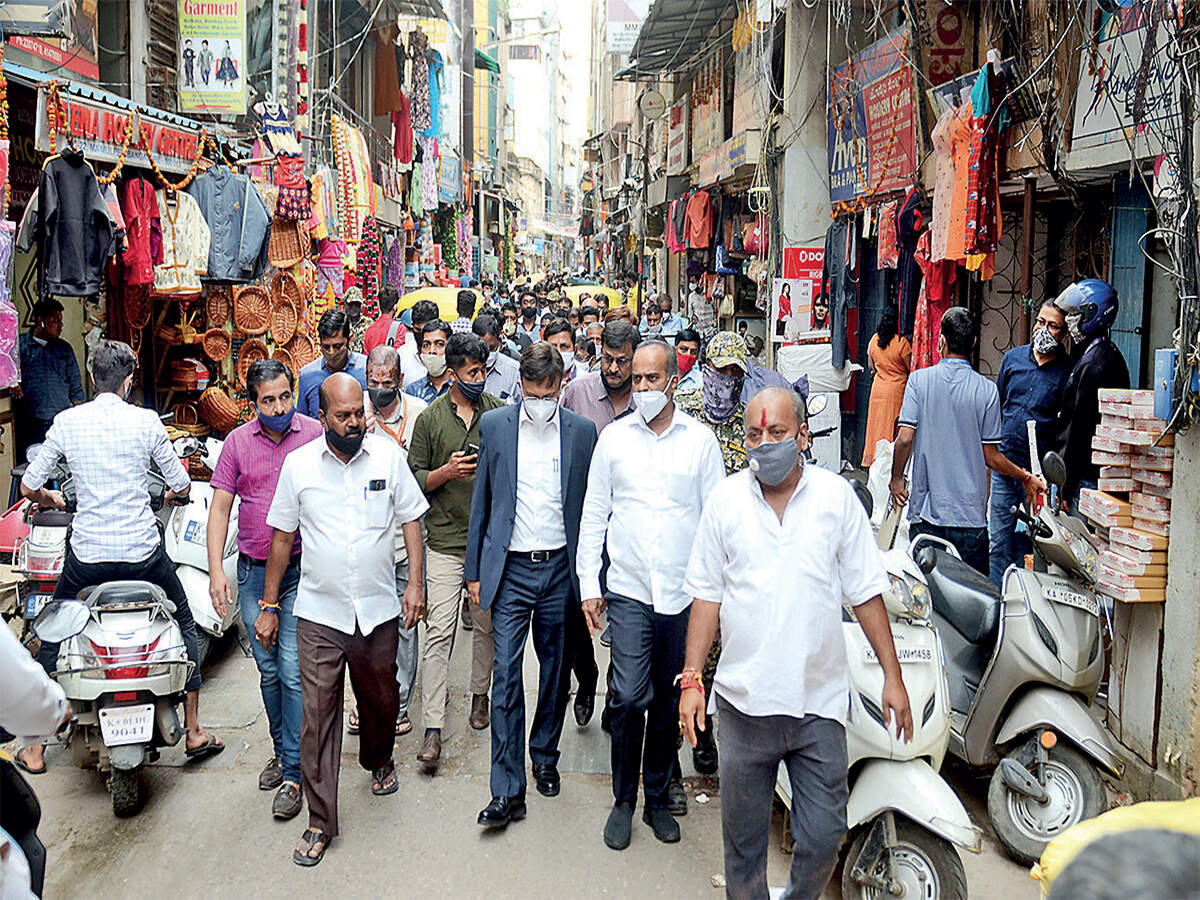 Chickpet road to get uniform carriageways, pavements a la Church Street
A Chickpet with lots of space for vehicles and pedestrians? Don't pinch yourself, this may not be a dream. The Bruhat Bengaluru Mahanagara Palike (BBMP) plans to upgrade one of the three main roads in the thickly-packed Chickpet. The road will be developed along the TenderSURE model with uniform carriageways and a good pavement for pedestrians.
The BBMP has already developed the Cottonpete Main Road, much to the delight of traders and a 1-km stretch of BVK Iyengar Road is likely to be taken up next.

On Wednesday, Bengaluru Central MP PC Mohan and BBMP Administrator Gaurav Gupta took stock of the condition of roads and the drainage system in Chickpet along with officials from different departments.

Many roads such as Mamulpet, OTC Road, Sultanpet, Akkipet and Balepet are left unattended to. These roads are not getting enough attention from BBMP ­
–Sajjan Raj Mehta, trader
Though most of these roads are narrow, the locality with over 20,000 commercial establishments of all kinds, has been a go-to shopping destination for many due to the availability of a wide variety of items at cheaper rates.
During the inspection, Gupta directed officials to work with the police and prepare a traffic diversion plan in order to execute the project with minimal disruption. The stretch, which connects KR Market and KG Road, is being developed by the Bangalore Smart City Pvt Ltd. Traders had also requested the BBMP to develop BVK Iyengar Road at par with Church Street and Commercial Street.
Road restoration

Among the key demands raised by traders was the restoration of roads dug up by the BWSSB for laying sewage pipelines. "After 15 years, the BWSSB has started replacing old pipelines. Many of the roads including Mamulpet, Sultanpet, OTC Road, Akkipet and Balepet are left unattended to after being dug up. These roads are not getting as much attention as they deserve from the BBMP," Sajjan Raj Mehta, a trader from Chickpet said.
Gupta directed officials to prepare a master plan for the area with regard to improving drainage system and road so that the roads are not dug up after they are restored. He also assured traders that the de-silting of the drains along the roads would be taken up once the BWSSB completes its work.
As most of the roads in Chickpet are narrow and also attract huge crowds, the roads are always jammed with vehicles.
Some citizens want the BBMP to convert some of these roads only for pedestrians, an experiment introduced in Commercial Street on weekends.