Video: Ram Mandir is on the cards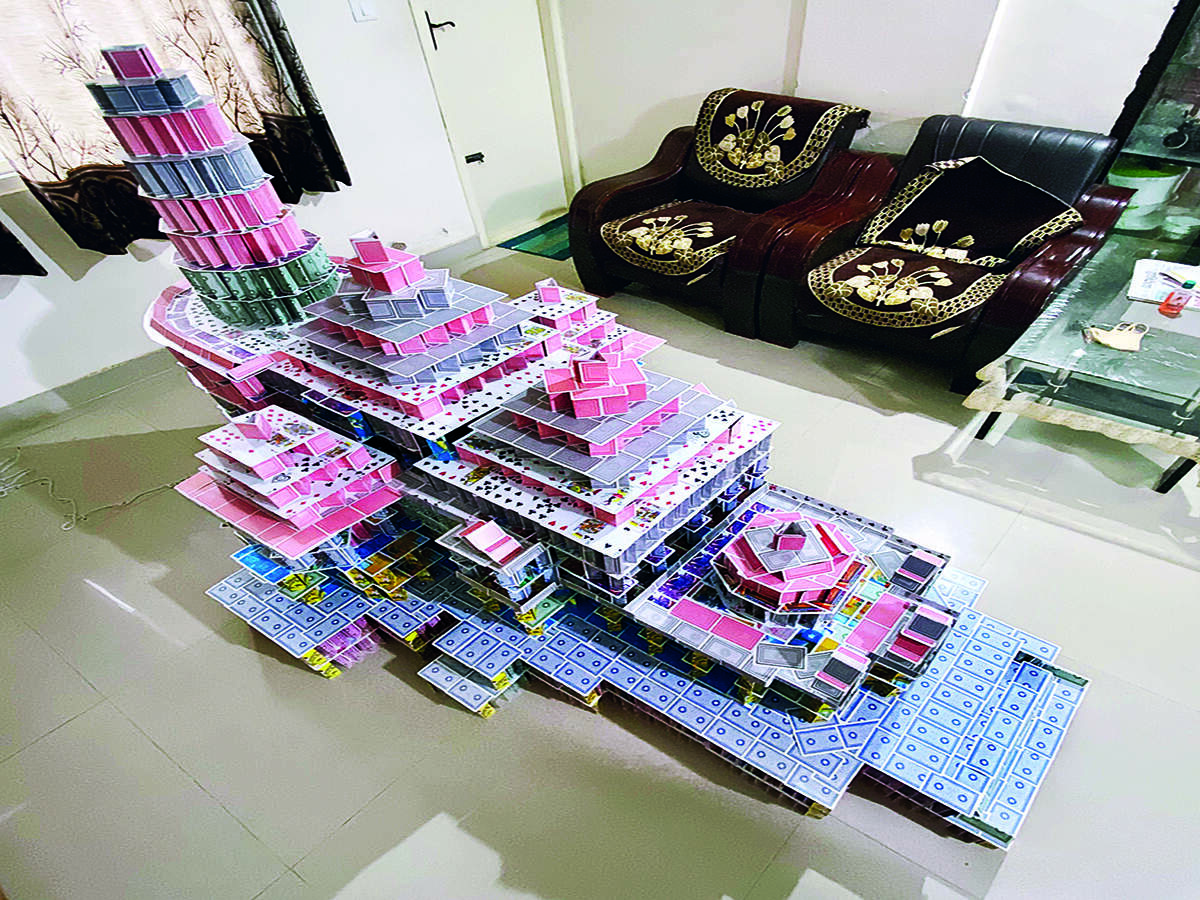 17-year-old builds the proposed Ayodhya Ram Temple with 8,600 playing cards, and creates a 'record' too
Seventeen-year-old Vishnu Vasu PK been making various structures with building blocks ever since he was five years old. So when the lockdown came, he decided to make something truly visionary.
He built a model of the Ayodhya Ram Mandir using 8,600 playing cards. The teenager is a II PU student of St Joseph's College and a resident of Bijith Classic Apartment at Kothanur in east Bengaluru.
Like many others, he wanted to utilise the free time during the lockdown to do something special. He explained that he decided to build the model after his online classes in the afternoons as he wanted to try something new and different.
"I made a small foundation map on a graph paper. I worked on this model after my online classes. It took me two weeks (October 11 to 24) to complete it,'' said Vasu.

He told BM, "When I was around five years old, my dad bought me a set of building blocks, that's when I started building various structures. I used to build models of small houses, ships, buildings etc."
When he was nine, he started experimenting more and began making stadiums with a combination of playing cards and building blocks. "Slowly, I started using more playing cards and built tall buildings. Initially, they used to collapse as I tried to build higher. Slowly I realised that a strong base was needed for taller buildings,'' he added.
With practice, he began building buildings at one point of time he even realised that a structure he had built was taller than him. Taller buildings meant more playing cards. "My father used to bring more playing cards from his friends," explained Vasu.
Last year, the teenager built a replica of the Burj Khalifa. "It almost touched the ceiling of my home," said Vasu.
He said that he came across articles on India Book of Records online and searched for information on whether someone had made a tall building with playing cards. When he discovered that there was no entry, he sent his application to India Book of Records to set a new record titled as the "tallest structure of playing cards". "I received a mail from them asking me to make the structure again as it was being recorded.
As per their instructions, I started building the model of Burj Khalifa on January 19, 2020 at Kerala Samajam Charitable Society Office. I completed it in five hours 30 minutes. The height was 3.25 metres. It was officially titled the 'tallest building created with playing cards' by India Book of Records,'' he said. He received a certificate from India Book of Records on Saturday.
He added that building a stadium was one of his greatest crazes since childhood and during the early days of the lockdown; he built a model of a cricket stadium with 5,000 playing cards.