Vande Bharat: Bangalore Mirror caught up with some of the men to understand what happened when darkness fell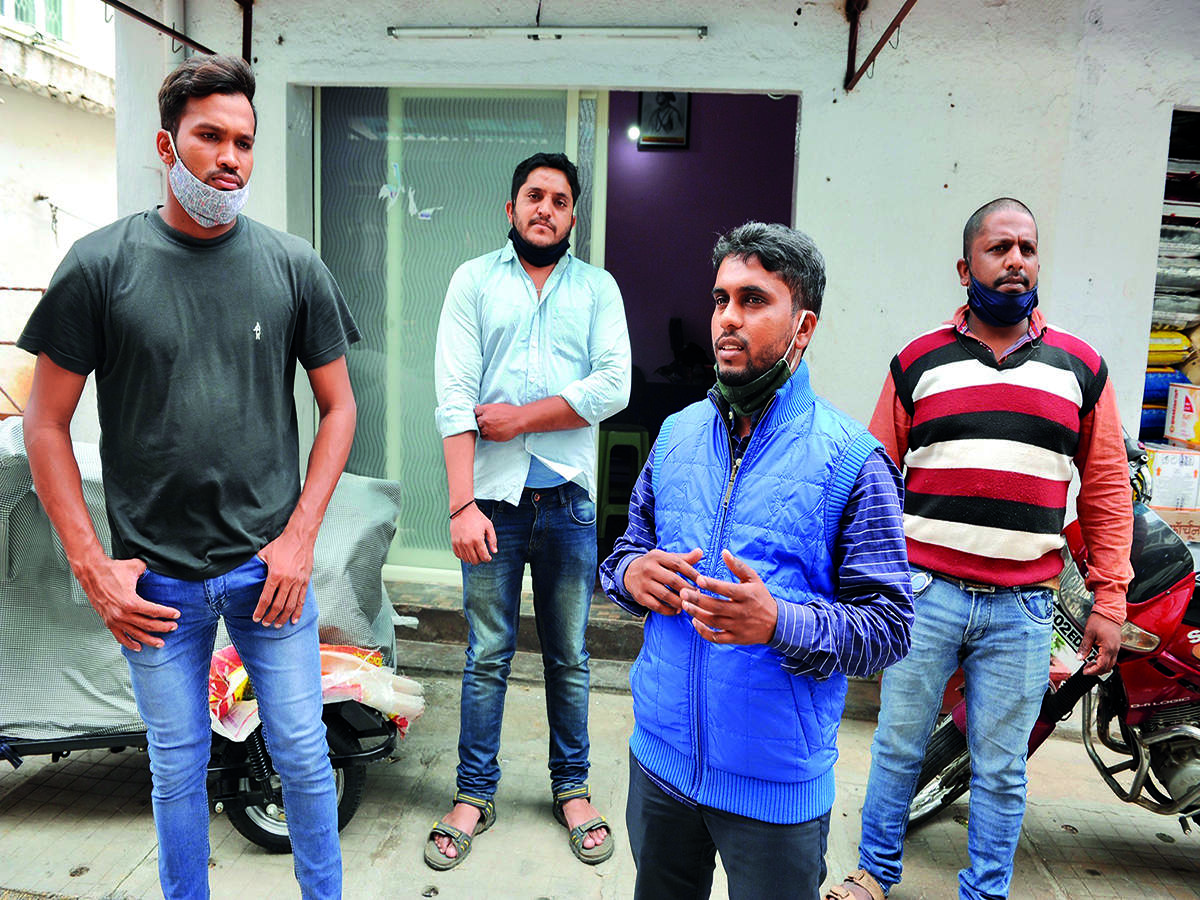 As Kaval Byrasandra burnt on Tuesday night, a group of young men quickly formed a human chain around a temple to prevent the incident from taking on a communal colour. It is acts like these that keep India alive and kicking

If there could be a human Band-Aid on a night of terror, this was it.
Syed Mohammed Haneef (27), along with eleven of his friends, was at Lajawab Restaurant in Mattadahalli in RT Nagar, on Tuesday evening.
Mohammed Asif, one of his friends, was treating them to dinner as his daughter had scored 84 per cent in her SSLC exams. But evening took a different turn when they started receiving disturbing forwards on their WhatsApp, of violence breaking out in Kaval Byrasandra.



"Since the spot where the violence had broken out was hardly a kilometre away from where we were, we decided to go there and check it out," said Haneef to Bangalore Mirror.
An architectural engineer, Haneef runs a YouTube channel named 'Meri Awaz Suno'. When Haneef and his friends set out towards the Kaval Byrasandra bus stop, he thought he could get some video content for his channel. When the group was just 500 metres away from MLA Akhanda Srinivasamurthy's house, they saw three cars torched – one was near the MLA's house and two other cars were set on fire closer to an Anjaneya (Hanuman) temple near the bus stop.
That's when he knew that this was bigger than he had imagined. "A few local youths who belonged to a particular community were standing in a group near the gate of the temple. When we asked them why, they said that they were trying to protect the temple from the protesters," said Haneef.
Haneef and his friends, Mohammed Asif, who runs a flour mill, Noor Mohammed Azam, a farm vehicle driver, Mohammed Khaiser, a cricket player, Nadeem Khan, an interior decorator, Syed Khaja, a carpenter and seven others joined the group of youths and formed a human chain around the temple.
They stood there, from 10.45 pm to 12 midnight, when police platoons arrived and asked them to leave as they were clearing the area.
Watch: Muslim youths form human chain to protect Hanuman temple in Bengaluru
00:19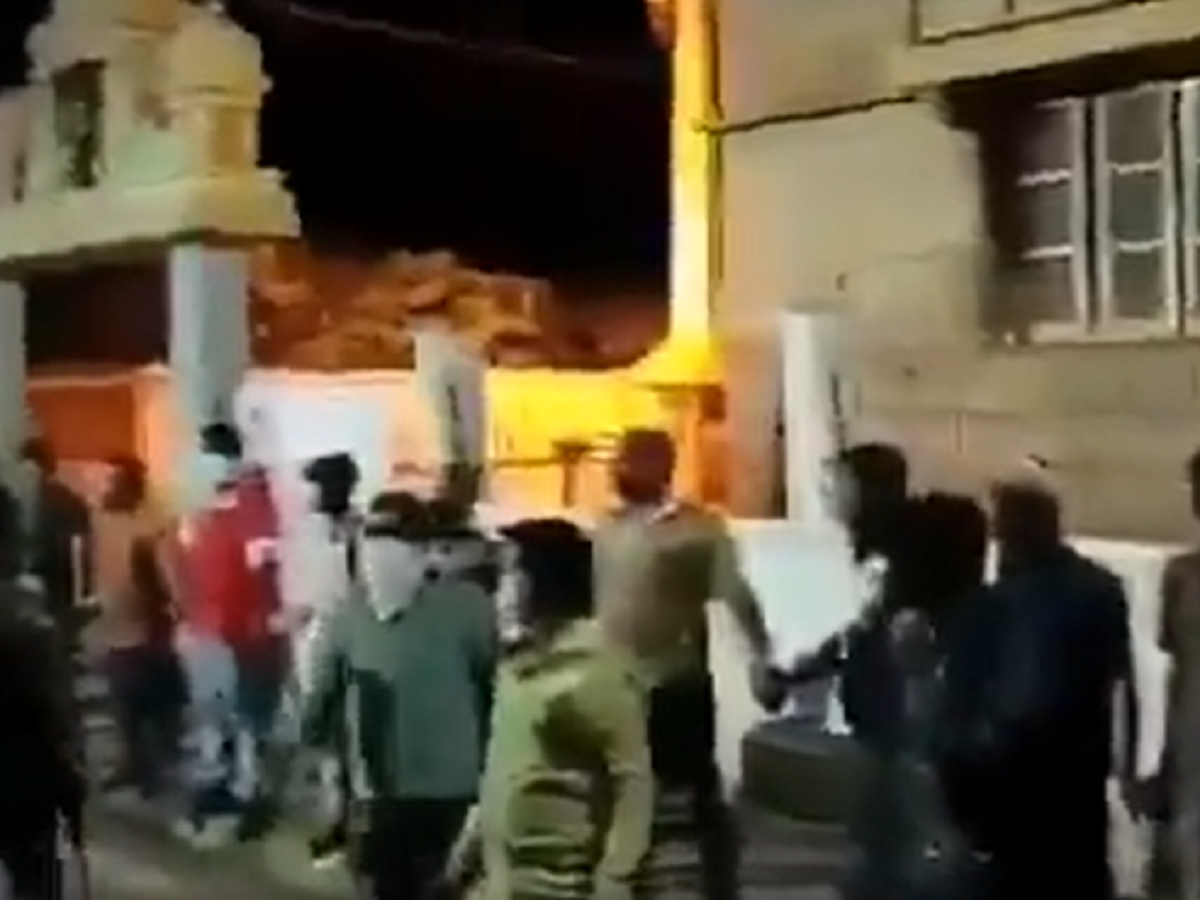 "They were just local boys who lived around Kaval Byrasandra bus stop. When we joined in, they welcomed us and soon, many more joined in, and in a matter of ten minutes, we had around 100 people forming the human chain around the temple. We were protecting the temple from the mob which was out to destroy the neighbourhood," said Haneef.
"We left when the police came and asked us to clear the area. We could see that there was a lathi charge and teargas was used. When we left, we could see more than eight Hoysala patrol vehicles parked near the Pushpanjali theatre with senior police officials inside and a large number of police security forces deployed in the area," Haneef added.

Bengaluru violence: Three dead, over 100 arrested in clash over social media post; Section 144 imposed in city
02:43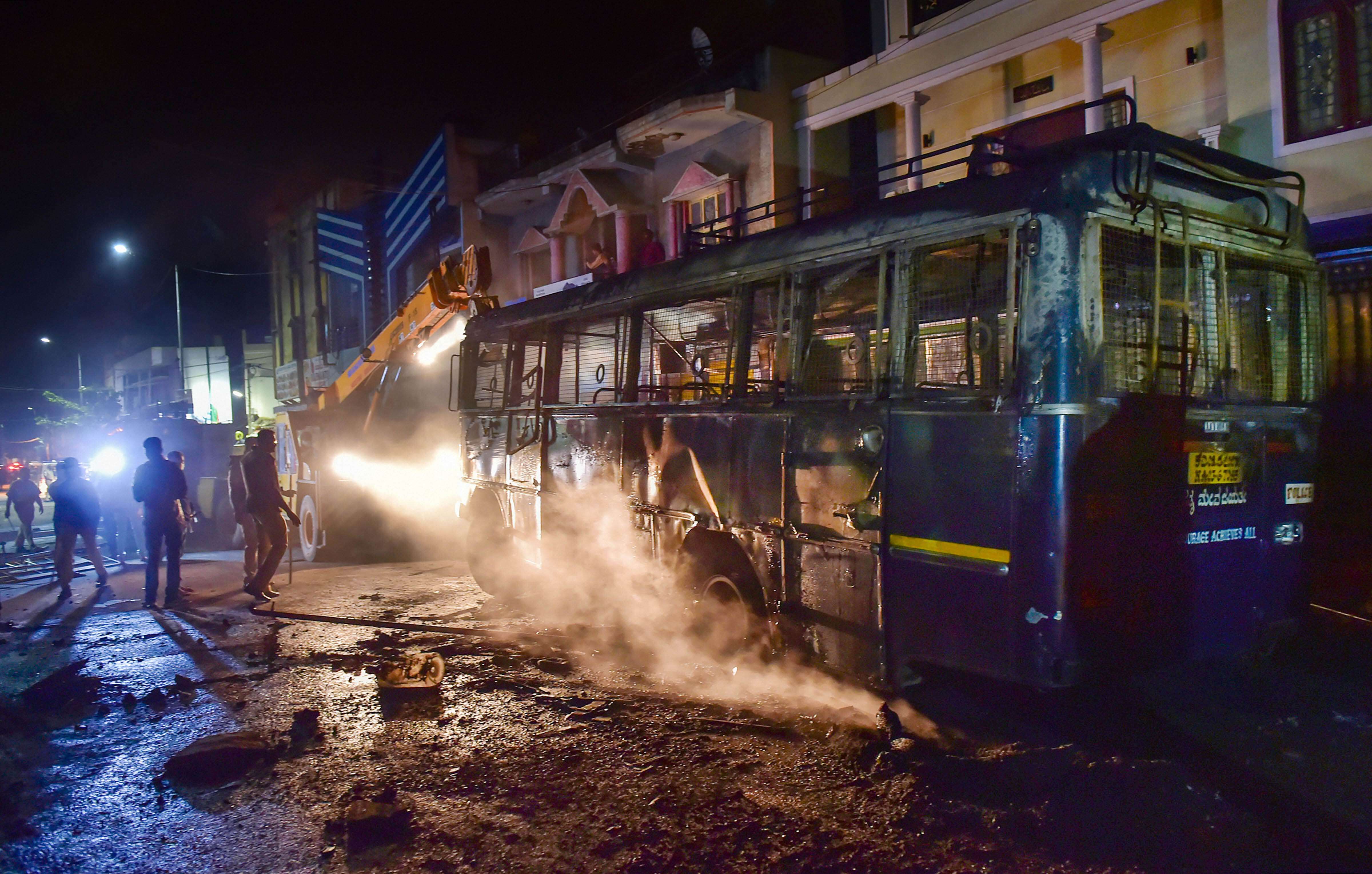 Saqib Idrees, a resident of the neighbourhood told BM that there were two groups, one was indulging in violence and they were mostly members of the Social Democratic Party of India (SDPI) and the other group was trying to stop them and even trying to protect properties from being destroyed in this area.
Trouble on Tuesday night

The violence started on Tuesday night. At around 9 pm, a group of people approached the DJ Halli police with a complaint against Pulikeshinagar MLA Akhanda Srinivasamurthy's nephew, P Naveen (35) for posting a derogatory message on Facebook. However, the police did not entertain their complaint and asked them to sort it out by talking to Naveen.
Enraged, the group started circulating the derogatory message in their groups, and soon a crowd gathered in front of the DJ Halli police station. Simultaneoulsy, thousands gathered in front of MLA Akhanda Srinivasamurthy's house and started vandalising property and vehicles by torching them and throwing burnt tires and petrol bottles inside his house. The irate mob also vandalized the DJ Halli and KG Halli
police stations and set fire to many police and public vehicles they spotted on the road. In the melee, miscreants even barged into houses and robbed cash and valuables.
Fearing that the mob would desecrate a Hanuman temple close to the MLA's house, local youths belonging to a particular community, along with Haneef and his eleven friends, formed a human chain so that the temple was protected and the situation does not escalate into communal clashes.

There's a lesson that Haneef and his friends have taught us on a night of terror. Hope their efforts heal our city.
In Photos: Violence breaks out in Pulakeshinagar over derogatory post shared by Congress MLA's nephew
Violent clash erupts in Bengaluru
At least 3 people dead
Naveen arrested
Police personnel injured
'Strict action against perpetrators is certain'
Communal violence
MLA's house vandalised
Vehicles damaged
Srinivas Murthy appeals to people to maintain peace
Minister says the incident was a 'planned riot'