Tulasi Gouda receives Padma in traditional dress, barefoot; picture wins hearts | Bengaluru News – Times of India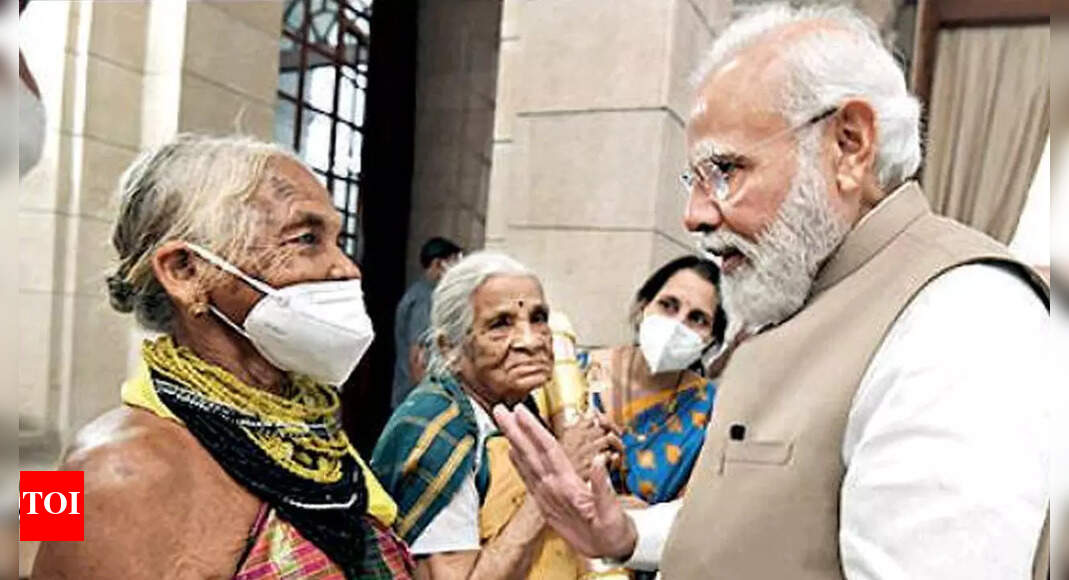 KARWAR: A warm and lasting image from the Padma awards ceremony held in New Delhi on Monday was that of 72-year-old tribal woman Tulasi Gouda from Karnataka receiving the award from President Ram Nath Kovind — clad in traditional Halakki community attire with black beads and corals adorning her neck, she walked to the stage barefoot.
The photographs of Tulasi — a green warrior who has planted more than 30,000 saplings in over six decades — receiving the award and later greeting Prime Minister Narendra Modi were widely shared on social media as they won many hearts.
The PM posted the image on Twitter and Instagram with the caption: "I felt extremely happy to see grassroots-level achievers being recognised for their exemplary efforts to further public good. Congratulations to all those who have been conferred the#PeoplesPadma." Many on Twitter captioned it: 'Image of the Day'.
Have planted 30k trees, wish to do more: Tulasi
Tulasi belongs to the Halakki tribe in Honnalli village of Uttara Kannada district.
Fondly called 'Tulasajji', she grew up in a disadvantaged family and had no formal education. After her husband died when she was 17, she joined the forest department as a volunteer and her job was later regularised.
Called 'Vriksha Devi' for her love towards plants, she has been involved in environmental conservation activities for the past six decades and planted more than 30,000 saplings. She has an ability to identify over 300 species of trees and their flowerings.
With her vast knowledge of plants, herbs and trees, she is known as the 'Encyclopedia of Forest'.
"I've planted more than 30,000 trees so far. I wish to plant more. Trees help to improve and maintain the quality of water, soil and air, and to remove pollutants from the air. Trees enrich people's lives and beautify landscapes. We need to grow more trees since we destroy hundreds of them every day for development activities," said Tulasi.