Trusted circle: More seers show up to support BS Yediyurappa | Bengaluru News – Times of India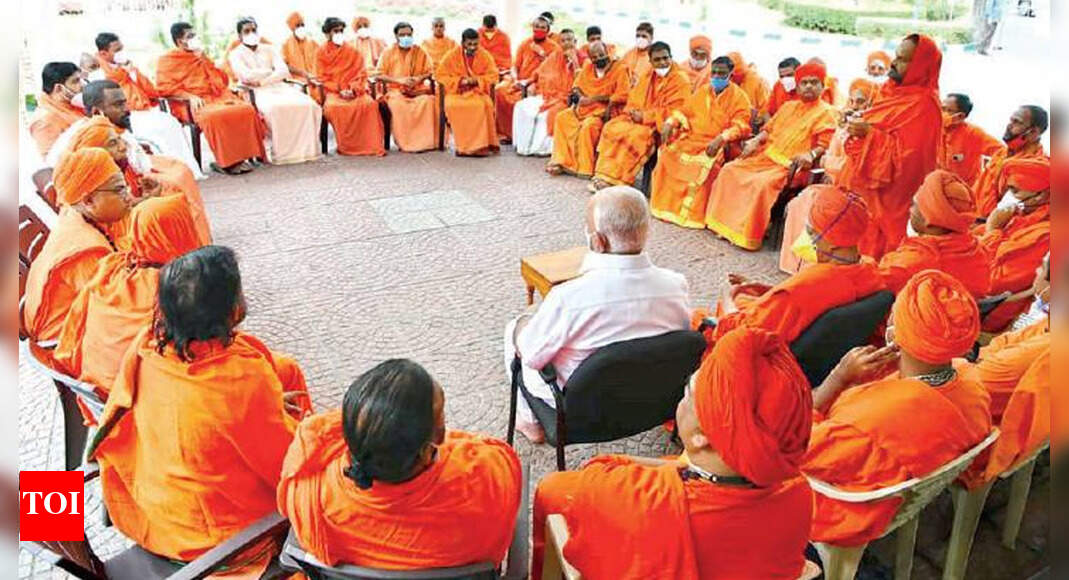 BENGALURU: Chief minister BS Yediyurappa, under pressure because of the increasing speculation over his term, received more support from Lingayat mutts on Wednesday. Several pontiffs visited his official residence for the second consecutive day, throwing their weight behind him.
A delegation of about 40 seers, led by Siddalinga Swamiji of the Siddaganga Mutt, an influential Lingayat seminary in Tumakuru, met Yediyurappa and urged the BJP leadership to allow him to complete his tenure.
"Why is it (talk of leadership change) happening when he is working efficiently in the time of a crisis? The wish of all swamijis is that he should be the chief minister for the full term. Earlier, too, he was not given the complete term," Siddalinga Swamiji said. The delegation sought to tell BJP: this is not the right time to change the chief minister as rains have intensified and there is a possibility of a third wave of Covid-19.
"If there is a change at this juncture, it would not be possible for the government to provide a stable administration and serve the people," Siddalinga Swamiji said. He rejected criticism that seers were indulging in politics, saying that they had supported chief ministers of all parties whenever there was a crisis.
Mallikarjun Swamiji, the pontiff of the Dharwad Murugha Mutt, said that the BJP government in Karnataka would fall if Yediyurappa was asked to step aside. "He is not only the leader of Lingayats but also of other communities, and he has been performing well as the CM. He was responsible for bringing BJP to power in Karnataka, opening the gate for the party in South India. Replacing him will drive Lingayats away from the party," he said.
Panditaradhya Shivacharya Swamiji of the Sanehalli Taralabalu Mutt said that the central BJP leadership should have given Yediyurappa a freer hand, which was essential to run the state administration efficiently.
Kolada Mutt seer Dr Shantaveera Swamiji also backed Yediyurappa, but added that if BJP went ahead with its succession plan, a Veerashaiva-Lingayat should be appointed as the new chief minister.
On Tuesday, more than two dozen seers led by Balehosur Mutt's Dingaleshwar Swamiji met Yediyurappa, who reportedly told them that he would have to abide by the party's decision. More than 300 pontiffs are expected to gather in Bengaluru this week to discuss the next course of action.
Yediyurappa is known for providing regular government grants to mutts and religious institutions, thereby earning their trust, according to some political analysts. During his first term as the CM, he released Rs 50 lakh to various mutts.
Congress, meanwhile, has distanced itself from the statements of senior party MLAs Shamanur Shivashankarappa and MB Patil in support of Yediyurappa. State Congress working president Saleem Ahmed said that the comments were their personal opinions, and not the party's stand. Both Patil and Shivashankarappa showed solidarity with Yediyurappa again on Wednesday.