Traffic cops say they've got city's roads covered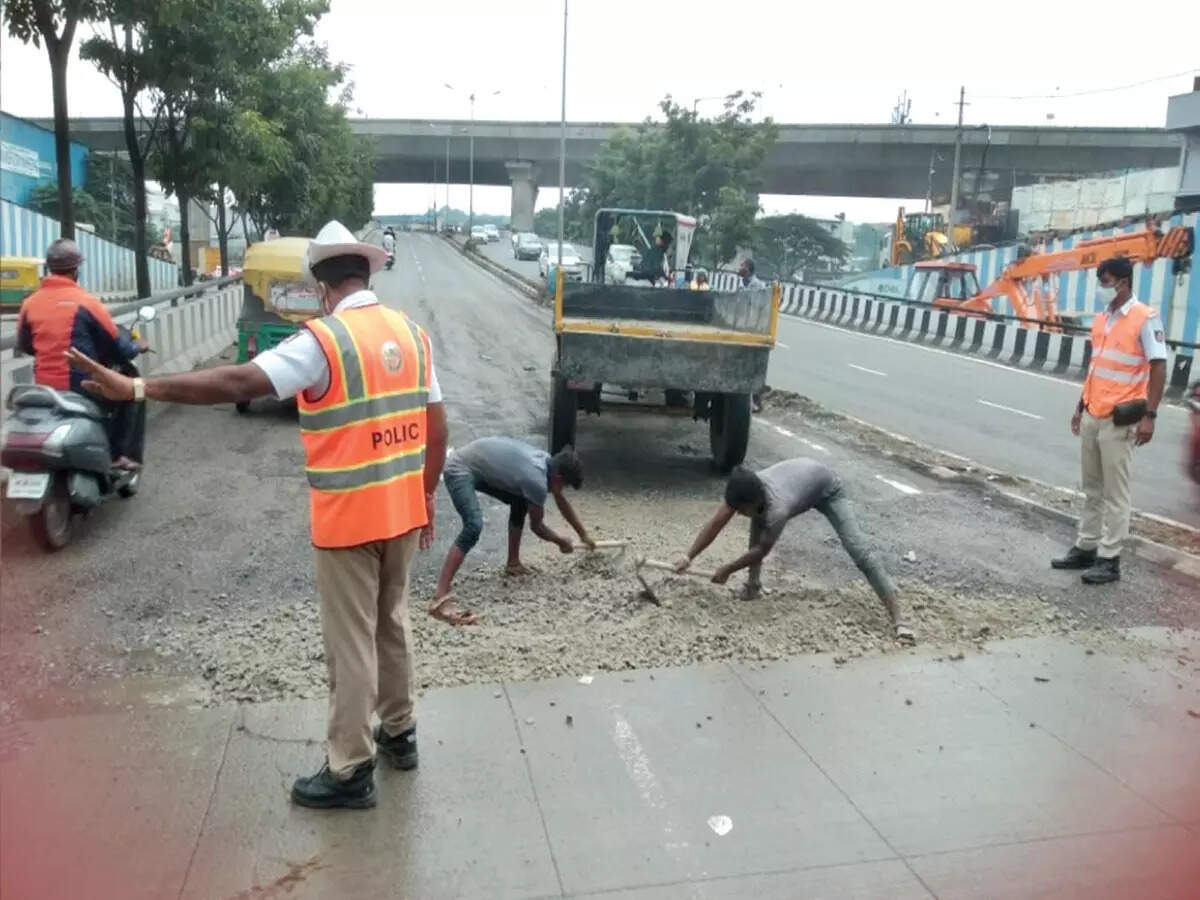 From potholes to waterlogged stretches and so much more… BTP will take care of all road-related damage (at least for temporary relief)
The Bangalore Traffic Police (BTP) has stepped up its game by coming to the rescue of motorists like civic workers. BTP is helping to improve roads by filling potholes, clearing fallen trees and branches of it and mending worn out parts of roads. The traffic police is also plastering the town with boards advising caution against hazardous things. BTP personnel have been aiding citizens in this way since heavy rains.
Recently, a photograph of a traffic cop clearing a rainwater outlet while sitting on a flyover as it was still raining took twitter by surprise. The internet is full of praise for the dedicated policeman who was doing so as vehicles were slowing down, having to turn to a narrow single lane to avoid the waterlogged flyover during heavy rains.
However, this is only one such instance as BTP personnel have been performing many similar tasks across the city during rains. "BTP are assisted by traffic wardens for managing smooth traffic flow during rains, but all traffic cops on ground duty brace for mending potholes — at least temporarily by filling it with constructional debris, before assessing its location and informing Bruhat Bengaluru Mahanagara Palike's (BBMP) major roads division to rectify the problem.

The traffic cops are also identifying areas that are prone to get waterlogged in their respective divisions and are deputising more personnel to manage traffic in such spots," said Kuldeep Kumar Jain, Deputy Commissioner of Traffic Police (West).
However, "Either BBMP has a crisis with road work contractors expediting these works or the civic authority has other issues which are further hampering the traffic movement," said a senior traffic police official. Besides providing first aid for roads, they are also taking care of other kinds of road emergencies during rains, such as when BESCOM lines get snapped due to fall of trees during heavy rainfall.

On Tuesday morning a huge tree fell on two vehicles parked on 2nd Main, Ramachandra Road, in Gandhinagar. This occurred within Upparpet Traffic Police Station's limits.

The cops rushed to the spot and got the tree removed and they cleared the road before peak hours of traffic, right after a case was registered, based on the complaints of the owners of the damaged vehicles. Aside from these things, BTP is also on the lookout to find tree branches that are obstructing the visibility of traffic signals, cautionary boards, and are repainting road dividers too.