They are still waiting for a train to take them home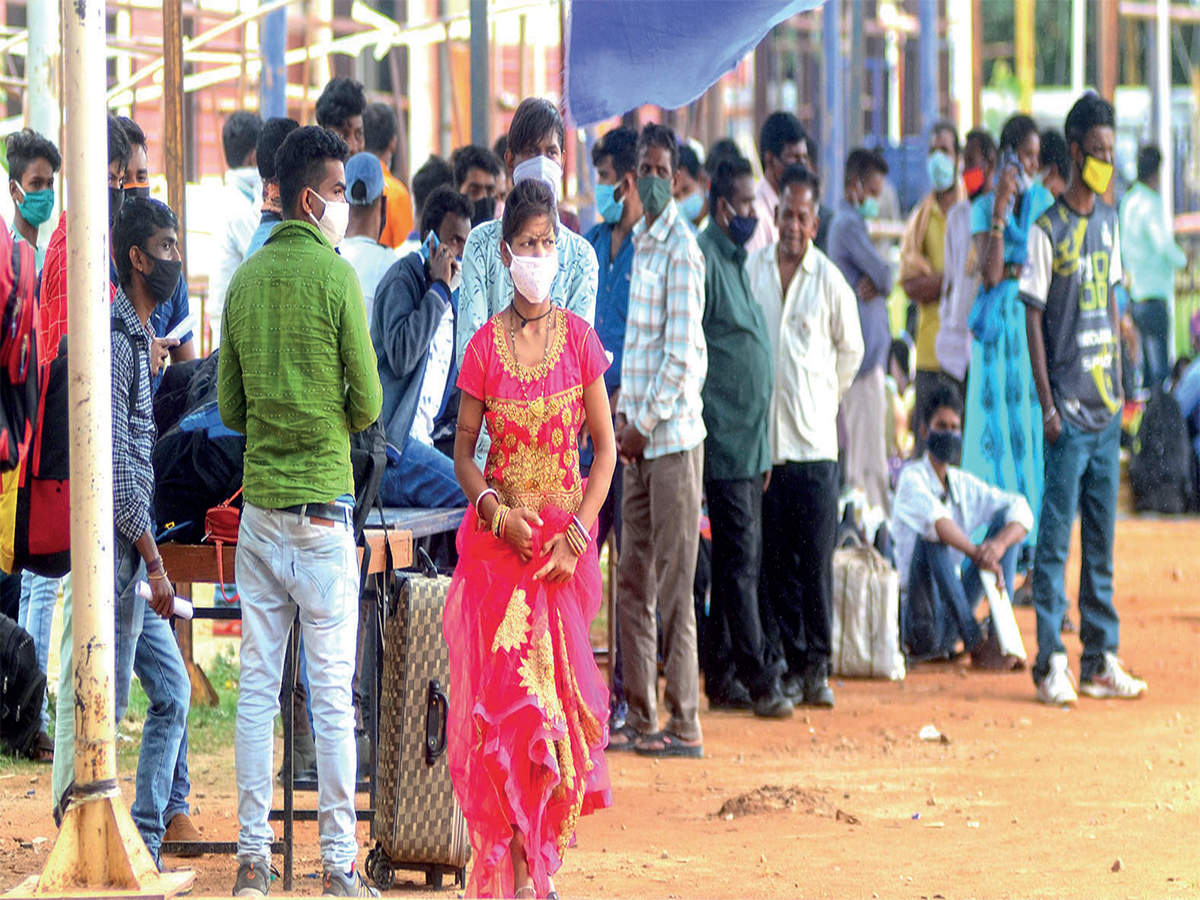 Families with children, wait for hours at Palace Grounds, with no toilet facilities or water
Sitakanta, who hails from Odisha, had been hoping that his employer, a garment unit in Bommasandra, would pay him his dues so that he could go back to his hometown. He had registered on the Seva Sindhu app and each time a message came on his phone that there was a train to Odisha, he couldn't take the train as he had no money. On Saturday noon, he had reached Palace Grounds to get on the train. "I asked my company to pay my dues, but I was told that they could only pay Rs 2,000 as they were running into losses. I decided not to wait for it and took just the money I had to travel," Sitakanta told BM as he waited in a queue to board a train to Bhubaneswar.
Workers from other states too had gathered near Tripuravasini gate no. 2 of the Palace Grounds. There was no one from the government machinery and only the police were around to direct the crowd.
N Rajendra Reddy, 54, told BM he had been waiting there since Friday afternoon with eight associates to catch a train to Odisha. These men are engaged with drilling and other work in Kallakurichi in Tamil Nadu. "We had applied on the Seva Sindhu app three months ago, and I kept checking with a friend, who told me I can come to Bengaluru to board the train," Reddy told BM.
Nobody among Mekanu (36), who works at a brick kiln in Ramanagara, and his family of four can read or write and they do not own a smartphone. But Mekanu pleaded with his employer to give me some money so he could take his family, which consists of two toddlers, back to Jharbali in Balangir.
Sudharshan, a 33-year-old CNC lathe machine operator from Peenya, is smartphone savvy and had come there after checking on the app.
NGOs come with food and water when they hear that workers are suffering and the government assumes everything is addressed
–Rosemary V, Bangalore with Migrants' Coalition
Rosemary Vishwanath, a member of Bangalore with Migrants' Coalition, terms the scenes outside Palace Grounds as mayhem. Around 4,000 guest workers who had to go to Assam, had come to Palace Grounds by 6 am after they got a message on their phone about a train leaving for Assam on Friday. "There were families, women with babies, young children in the queue, but there was no information on any train leaving for Assam that day," Rosemary told BM. "There is no government machinery at work other than police for security, to help these workers. They were put up in a hall without proper flooring or electricity. The roof was tattered and there was only one toilet that was locked and had no water," said Rosemary.
A police officer told BM that he noticed a few women and young children relieving themselves behind the bushes inside the ground, but expressed helplessness in the matter.
Rosemary and members of the All India Centre Council for Trade Unions – Karnataka and other organisations had to call up bureaucrats and politicians as the nodal officer who was in-charge of this travel had gone on leave without deputing an in-charge official, she said.
A few hours later, local leaders along with BBMP officials rushed to the spot and initiated the process of making arrangements of Shramik trains around 1 pm when the process was supposed to be started by 9 am. "A lot of them were put on the train while 800 were sent to a shelter in Nagawara for a train the next day," Rosemary added.
She said there is no systemic response in the time of this crisis. "NGOs come to help with food and water when they hear that the workers are suffering and the government assumes everything is being addressed, while there are several who are unsure as to how to go about applying or inquiring about getting back home," Rosemary added.