The food samaritans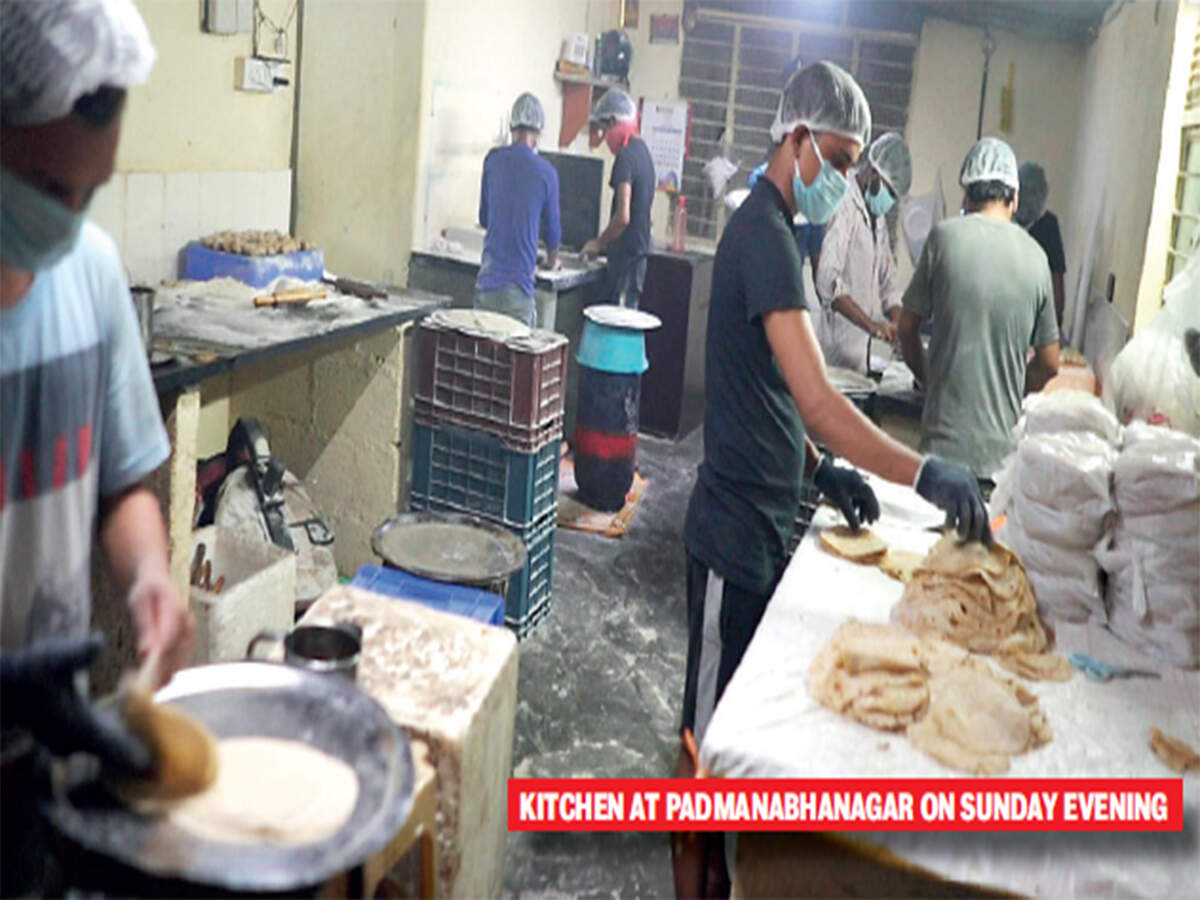 Over 100 volunteers pack rotis, pickle, dates, biscuits and water for guest workers returning home from Bengaluru. For Eid, they worked through the night and packed in a little extra something
Prayers, breaking a month-long fast and celebrations with family and friends are as much a part of Eid as is charity. And this year, charity was directed to the guest workers who have been enduring challenging times during the Covid-19 lockdown. Volunteers of Mercy Mission, an NGO, spent the night before Eid, packing meal packets and lakhs of rotis for guest workers who were departing from Bengaluru on Monday in Shramik special trains.
Before 11 trains departed from the three stations in Bengaluru on Monday, the volunteers had packed 1,00,000 rotis and several meal packets to ensure that the guest workers would have something to eat during their journey home.
Since May 3, the NGO has been supplying food to guest workers who had started departing to their home town on the Shramik special trains. So far, they have served 2,64,100 meals, 10,56,400 rotis and 2,64,100 litres of water to 1,32,050 passengers of 80 trains. The South Western Railway (SWR), which had roped in the NGO for help, said their work has been 'simply wonderful'.
We sat up through the night to pack 1,00,000 rotis, pickle, dates, two water bottles, biscuits, buns and jam sachets. For Eid, we added a sweet to the packet
— Masabb Hafeez Mecci from Mercy Mission
Masabb Hafeez Mecci from Mercy Mission said, "Every night over 60-70 volunteers would get together to pack food for guest workers. Though some of us thought we could postpone the work on the eve of Eid, we decided against it as that would deprive the guest workers who were leaving on Monday, of food. So we sat the whole night to pack the 1,00,000 rotis and other items."
Mecci said that one meal packet comprises four rotis, pickle, dates, two water bottles, biscuits, buns and jam sachets. "For Eid, we added a sweet to the packet."
How it's done

The NGO has three kitchens in Bengaluru – at Electronics City, Padmanabhanagar and Koramangala where the rotis are cooked every day. "The number of rotis depends on the number of trains scheduled to depart the next day. Once the rotis are made, they are sent to the packing centre at Basavanagudi where volunteers pack them from 10 pm to 2 am."
When BM visited the warehouse where packing was under way, we saw the volunteers working without a break. There were a few seven-year-olds and nine-year-olds, helping their families too.
Once packed, over 100 volunteers carry the meal packets from the warehouse to different stations around 11 am. The food packets are arranged on a table outside the station so that passengers walking into the station can pick up a packet.
On Monday, the volunteers took their families along with them to distribute food packets to the guest workers at the railway stations. They said that it was their way of celebrating this year's low-key Eid. On Sunday evening, a group of Sikhs from the city joined hands with Mercy Mission to help distribute the food packets. After the distribution, the volunteers stayed on at the railway station to host an Iftaar for their Sikh friends.
Mohammed Ismail, another volunteer, said, "Funds for the rotis were partly given by the Azim Premji Foundation. There are many NGOs under the umbrella of Mercy Mission and all their funds are put together for this effort. None of the volunteers are paid, but they all come every night for this job."
Ismail added that the distribution of food packets is being carried out with support from the government. "We are working in co-ordination with the South Western Railways (SWR) and the Department of Labour," he said.
Apart from this, Mercy Mission has distributed over 80,000 ration kits and food packets in response to calls for help. "We have also set up a helpline number and published it on WhatsApp groups through which we get calls for food and ration kits," said Mecci.

Lunch served at Palace Grounds
Ever since Palace Grounds became the nodal point for guest workers to collect passes to board trains, several policemen, health workers, ASHA workers and other volunteers have been working tirelessly there. "We serve hot food to the health workers, police and ASHA workers. We have served ghee rice and paneer and other items for lunch," said a volunteer.
They have also prepared separate kits for women travellers. Ismail said, "We are giving sanitary napkins and hygiene kits to women to take on the trains."
Praise from SWR
Ajay Kumar Singh, General Manager of South Western Railways (SWR), told BM, "The work of these volunteers is simply wonderful. The labour department is also coordinating with them. They have been sending 100 volunteers to every station from the time the Shramik trains started. They were fasting every day during Ramzaan but despite that they continued to work to help the guest workers."
Singh said that from one station, nearly five trains depart every day, taking with them 7,500 people. "Initially it was stressful, but later on we realised that keeping packets on the table and allowing them to pick it up one by one was a workable idea," added Singh.