The Corona busters: Meet these 4 BBMP officers who are keeping Covid-19 at bay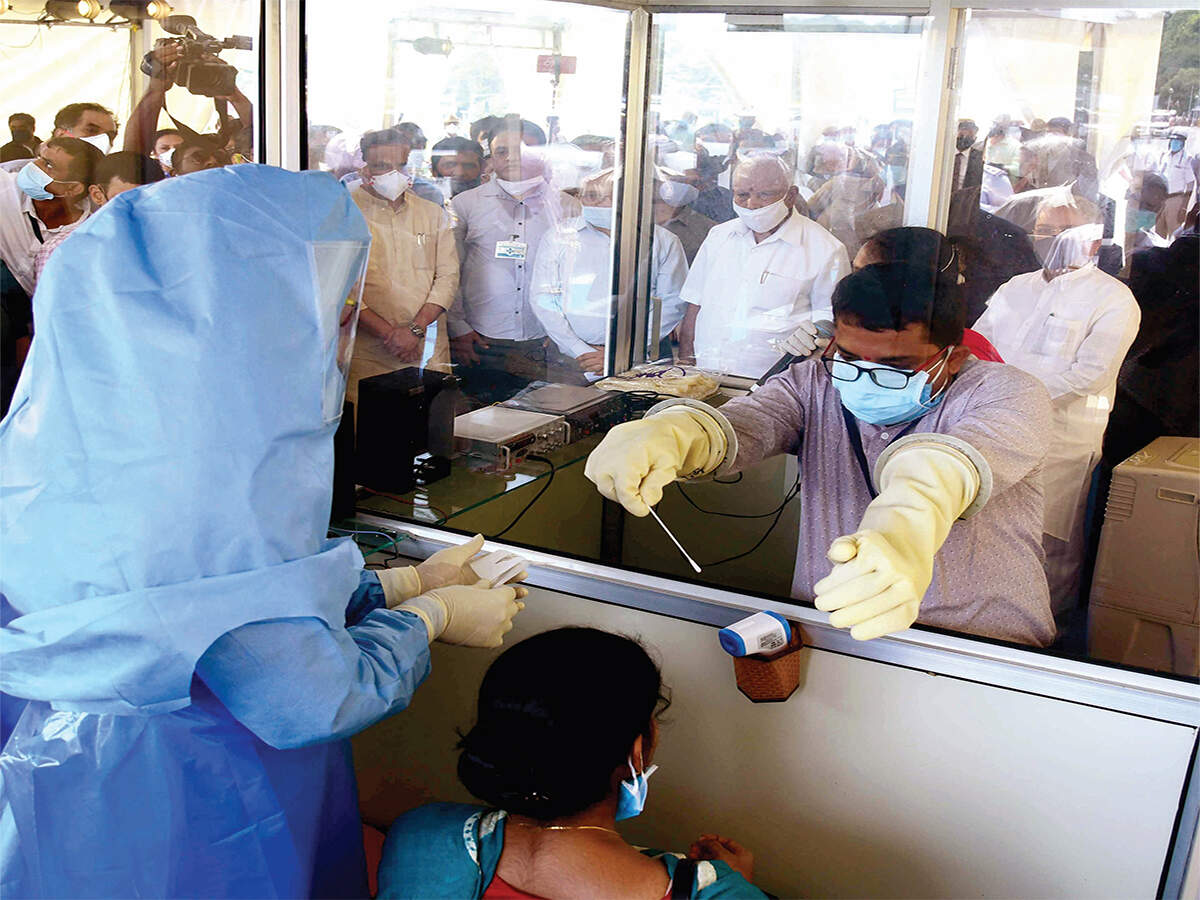 Centre finds 'Bengaluru' model worth emulating; these four officers of the BBMP are the ones keeping Covid-19 at bay
So far, over 27,680 people have taken the Covid-19 test in the City, and only about 0.1% have tested positive for the infection. Many metropolitan cities including Mumbai, New Delhi and Chennai have outnumbered Bengaluru in terms of Covid-19 positive patients. At least two districts in Karnataka have more active cases than the state's most populated district. So, what is the reason behind Bengaluru's sustained low numbers in terms of Covid-19 positive cases?
Authorities say what Bengaluru did was not very different from other cities but they came up with measures on time and implemented them as effectively as possible. One of the key reasons, they also say, was conducting aggressive contact tracing of Covid-19 patients and isolating both the primary and secondary contacts, to ensure they didn't infect others.
At present, the City has registered only 288 cases of Covid-19, which is low as compared to cities such as Mumbai (32,974), New Delhi (15,257), Chennai (11,641) and Kolkata (1,721).
The figures indicate that several initiatives of the Bruhat Bengaluru Mahanagara Palike have earned dividends. Padarayanapura was the first area in the City to be sealed down in the country and much before the state government came up with a Standard

Operating Procedure (SOP) for containment zones. From constituting a war room for data-based decision making to setting up fever clinics for early detection of Covid-19 symptoms and conducting health survey to trace Severe Acute Respiratory Illness (SARI) and Influenza Like Illness (ILI) patients, the BBMP had also achieved many firsts in the process.
On Monday, Bengaluru was among the four cities in India to earn praises from the Centre for having a low-mortality rate and containing the spread of Covid-19 well. Chief Minister BS Yediyurappa too hailed the efforts of authorities in keeping the disease in Bengaluru under control.
Separate teams, headed by IAS officers, were also formed to monitor measures such as contact tracing (Dr. M Lokesh), implementation (Ravikumar Surpur), data analysis and management (Hephsiba Rani Korlapati), creating quarantine facilities (Basavaraj) and D Randeep (disposal of waste generated at quarantine centres and containment zones). BBMP Commissioner BH Anil Kumar, officials say, made a visit to every affected area before announcing it as a containment zone. Most of these officials have worked hours that stretch from as early as 6am to even 11pm, at times, without a day off.
Dr Lokesh, Special Commissioner (Finance) at BBMP and Excise Commissioner, said, "When cases were detected at a congested locality in Padarayanapura, everyone thought Bengaluru will face a Dharavi-like situation, like in Mumbai. We were, however, quick to seal down the area. And, when we suspected community transmission later, about 1,000 people were tested randomly. All these measures helped in containing the spread of Covid-19."
The four T strategy – trace, track, test and treat – helped Bengaluru emerge as a model city in Covid management. We set up 60 labs by end of May, up from two or three in February. Karnataka's testing average stands at more than 3000 per million people, third highest in the country.
— Dr Sudhakar, Medical Education Minister
The BBMP is also backed by doctors from the Health Department, ASHA workers in tracing contacts, the City police in guarding the containment zones and Bengaluru urban district administration in testing and quarantining the inter-district and inter-state travellers.
Korlapati, who is also the managing director of Smart City Mission, said all cities followed the same procedures such as house-to-house surveillance, isolation of suspected and positive cases among others. "What we did right was to act on time," she said. She also said the inputs collated at the war room helped visualize scenarios, predict situations and develop strategies for swift decision making.
Anil Kumar calls it team work. Officials, however, believe there will be challenges as and when movement between districts and states are completely relaxed. "The responsibility will then lie on individuals. While it will be difficult to test and quarantine all inter-state travellers, those coming from the high-risk states should voluntarily quarantine themselves for 14 days and come out only after getting tested," said BBMP Commissioner BH Anil Kumar, who also had a stint at the National Disaster Management Centre.
Four 'T' strategy


Dr K Sudhakar, Medical Education Minister, who is also in-charge of Covid-19 affairs in the state, said the four 'T' strategy of trace, track, test and treat helped Bengaluru emerge as a model city in Covid management in the country.
It's team work. We cannot rest until Covid-19 positive cases hit zero. The responsibility also lies on individuals.
— BH Anil Kumar, BBMP Commissioner
"We have been able to increase the number of Covid-19 labs to 60 by the end of May, up from two or three in February. Karnataka's testing average stands at more than 3000 per million people which is the third highest in the country," said Sudhakar, the doctor-turned-politician.
He also credited the success of Covid management to the integrated war room to combat the Covid-19 outbreak. "The war room was built by the BBMP in just 24 hours and has brought all relevant departments under one roof to tackle the virus problem in a streamlined manner," the minister said.
"The promptness in contact tracing and quick action to seal down areas where cases were reported played a key role in containing the spread of the virus. It is laudable that tracing primary and secondary contacts starts within four to five hours after a patient is found positive," he said.
He said the Centre has recognised Victoria Hospital as a role model for the treatment methods adopted, usage of ventilators, dividing Covid-19 and non-Covid patients. "The hospital has also ensured that the staffers treating patients did not leave the premises by providing them accommodation," he pointed out.
Dr Lokesh M
Doctor-turned IAS officer, Lokesh is a Special Commissioner (Finance) at BBMP. During the Covid crisis, he was tasked with the responsibility of tracing primary and secondary contacts of Covid-19 patients in the BBMP limits.
The team that works under his supervision conducts door-to-door surveillance, quarantines contacts in hospitals or hotels besides taking up a separate healthy survey. He says the initial resistance to go into institutional quarantine has slowly come down as people have also realised the magnitude of the crisis.
R Randeep
An IAS officer of the 2006-batch, Randeep is a Special Commissioner (Solid Waste Management) at BBMP. The department has been responsible for the door-to-door collection of waste especially from the "quarantine centres" and "containment zones" even at a time when the entire City was shut.
The department also conducted disinfecting public places by spraying and fogging activities. Randeep says all of these tasks were taken up while ensuring that the pourakarmikas are protected. The SWM department has also tied up with biomedical waste producers to incinerate waste collected from quarantine centres so that it does not get into the regular disposal units.
Hephsiba R K
Managing Director of Smart City Mission, Bengaluru, the 2011-batch IAS officer led the setting up of a war room in the City, which turned out to be a model for 22 cities. Bengaluru was the first City to establish such a centre.
"Handing Covid-19 was challenging. It was not like preparing for the monsoon that the civic body deals with every year," she says. "The War room has become a nerve centre, helping the BBMP take key decisions."
The centre deliberates on strategies, comes up with daily bulletins and is also helping many stakeholders including the contact tracing team to work effectively through the use of technology.
Ravikumar Surpur
An IAS officer of the 2004 batch, Surpur is a Special Commissioner (Health) in BBMP. From leading the stamping activity of all the 25,000 foreign returnees about two months ago to creating quarantine facilities for inter-state passengers, the surgeon-turned-bureaucrat has played a crucial role in every activity related to Covid-19 management in the city.