Surrender drama in Bengaluru: Seven men in court in lawyers' attire | Bengaluru News – Times of India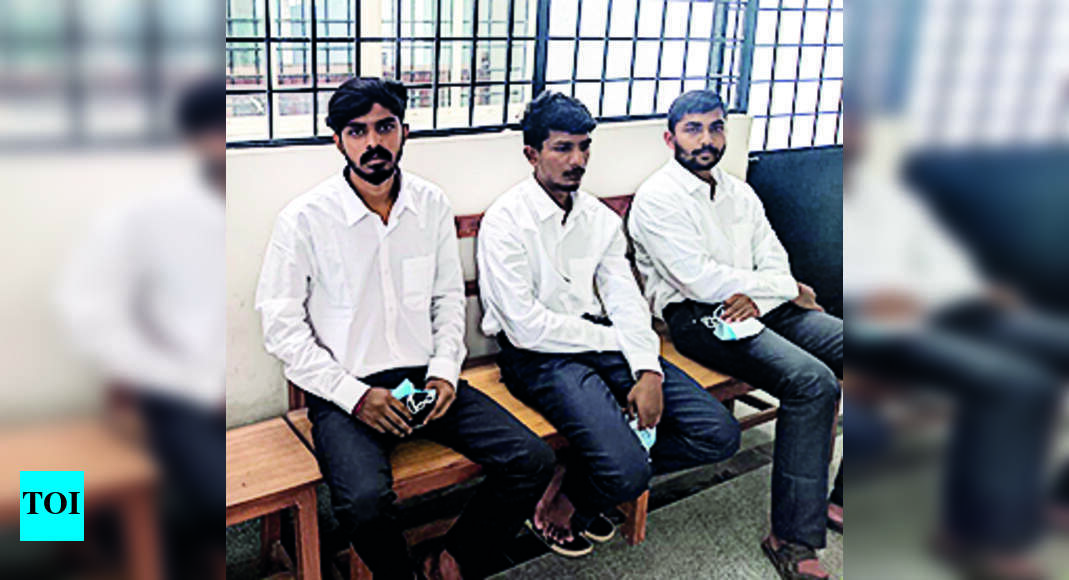 BENGALURU: When seven men dressed in white shirts and black trousers lined up in front of a courtroom in the magistrate court complex on Nrupatunga Road here on Monday, eyebrows were not raised. While everyone assumed they were advocates, the men shocked the courtroom announcing they had come to surrender in a murder case.
They had come to give themselves up before the III additional chief metropolitan magistrate in the murder of N Madan, 44, a financer from Lakkasandra, outside Banashankari temple on July 2.
The seven men's plan to surrender before the court collapsed as the judge said that when the police FIR does not mention any names, their surrender was not possible. The advocate, who appeared for the seven men, had not filed any application, the judge said.
SURRENDER DRAMA
Suspects dressed as lawyers to escape detection: Cops
Jayanagar police, who got a whiff of the development, reached the court before the suspects could walk out. All the seven were taken into custody on stepping out of the building. The men were taken to Jayanagar police station. They will be produced before the court on Tuesday for seeking police custody.
On a complaint filed by Madan's elder brother N Mohan, cops registered a case of murder against unidentified accused. Suspecting an old rivalry, police launched a manhunt for Madan's old rivals.
According to an advocate, the seven men walked into the court premises around 11.15am. They were clad in white full-arm shirts and black trousers. The only giveaway was none of them wore black shoes. Theywalked in a space of a few minutes and assembled outside court hall 37. Some sat on the benches placed outside the hall. Their advocate went inside the court and explained that his clients wanted to surrender.
"The judge replied to the advocate saying that since there were no names mentioned in the first information report registered with Jayanagar station, it was not possible to accept their pleas. The advocate walked out and explained the outcome to his clients," sources said.
By now, a few curious advocates began questioning the youths. "They defame the advocates' profession ," an advocate said.
Police said the suspects seemed to be keen on avoiding getting arrested first by cops and dressed as lawyers to escape detection. "If they surrender before a court, they will first be sent to jail and we will have to then seek their custody. Besides, they may also be influenced by a few recent incidents where some heinous criminals were shot in the legs during their attempt to escape from police custody after attacking cops," the sources explained.
The men are said to be old rivals of Madan. "They are suspected to be the associates of Viji and Linga, who were murdered in 2018 in Lakkasandra and Shantinagar, respectively. Their associates said Madan financed the two killings," an officer said.