Shock gives way to grief as Puneeth Rajkumar's fans mourn | Bengaluru News – Times of India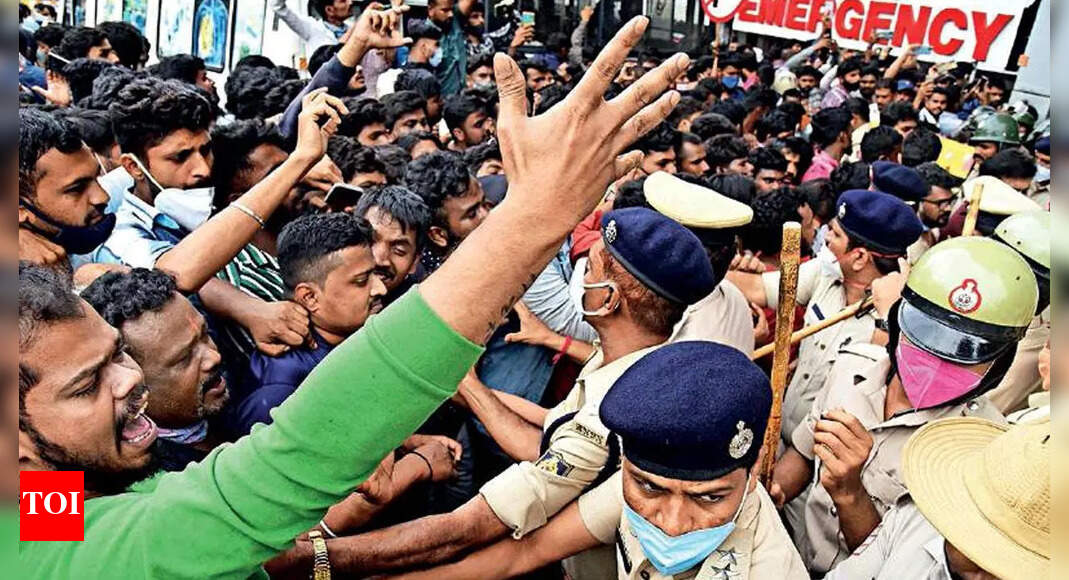 BENGALURU: Barely minutes after news that actor Puneeth Rajkumar had suffered a heart attack and was being treated at Vikram Hospital broke on Friday, thousands of fans converged outside. Shock and disbelief gave way to grief when news of his demise trickled out.
Fans in the thousands also gathered at his house in Sadashivanagar and later at Kanteerava Stadium where the body was kept for viewing.
"I named my son Puneeth and fondly call him Appu out of love for the actor," said a distraught Radhika Narayanswamy, a garment factory worker from Peenya, who waited at Kanteerava Stadium with her husband and threeyear-old son from 4.30pm to get one last glimpse of their icon.
"I sought my permission from my manager to leave early so I can pay my last respects. It was during the release of Puneeth's movie 'Hudugaru' that I met my husband and fell in love," said Radhika.
Over 10,000 people were waiting at Kanteerava Stadium when the body of the 46-year-old actor arrived around 7pm. Fans wearing T-shirts with Puneeth's photo emblazoned on them were seen ululating and lamenting the untimely demise of Appu, as the actor was fondly called, at Sadashivanagar and Kanteerava Stadium. Fans stuck photos of their 'hero' on roadsides as a mark of respect.
Rohit SK, a budding photographer, said he cancelled his firstever assignment on hearing the news of his favourite actor's death. "I've watched his films since childhood. My favourite movie is 'Appu'," said Rohit.
Actors Darshan, Yash, Sudeep and Sudharani were among the early visitors at the hospital. Given that the actor's condition was deteriorating, around 400 cops rushed to Sadashivanagar. They were later joined by additional forces. BR Ravikanthe Gowda, joint commissioner of police (traffic), was given the task of monitoring bandobust in Sadashivanagar.
Police began erecting barricades on all roads leading to Puneeth's residence. Announcements were made, directing fans to go to Kanteerava Stadium to pay their last respect. Sources say, over 1,000 policemen were deployed in and around Puneeth's residence by 3.35pm, when his body reached the house.
Cops, however, allowed producers, politicians, close relatives and VIPs into Puneeth's residence. His brother Shivarajkumar, actorpolitician Kumar Bangarappa, cousin Vijay Raghavendra and relatives brought the body to the residence where it was kept for over three hours before being taking to Kanteerava Stadium.
Former Prime Minister HD Deve Gowda, former CM Siddaramaiah, minister CN Ashwath Narayana, cricketer Anil Kumble, actors Srinivas Murthy, Leelavati, Vindoraj, Sumalatha Ambareesh and B Sarojadevi and producer Rockline Venkatesh were among VIPs and celebrities who visited Puneeth's house.