Shaurya Chakra awardee has Mysuru roots | Mysuru News – Times of India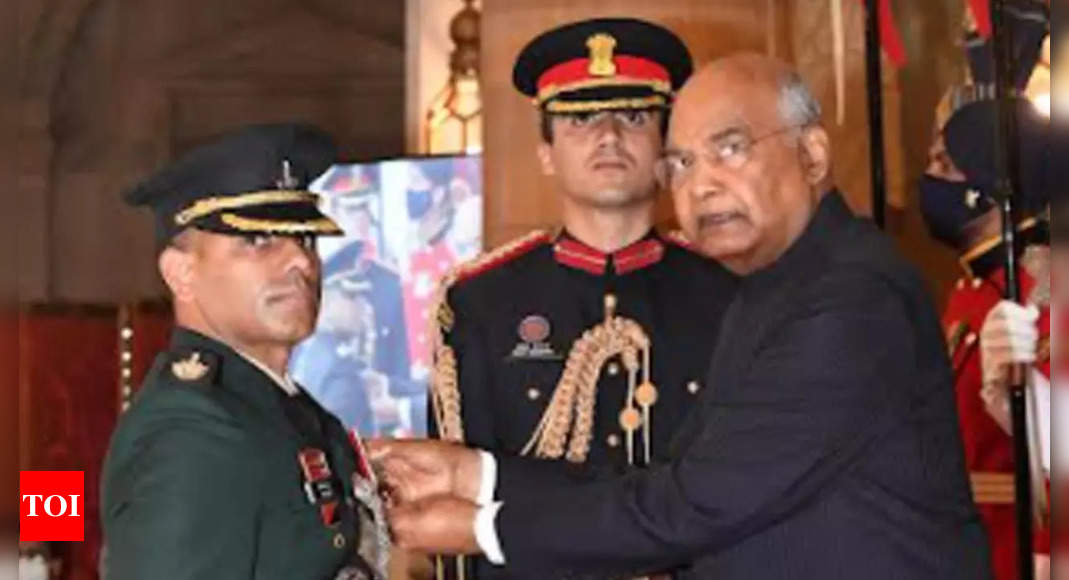 MYSURU: Lt Col Anil Urs who was born in Mysuru was conferred the prestigious Shaurya Chakra award by President Ram Nath Kovid. He is a second-generation soldier from his family.
Lt Col Urs was selected for this coveted award for exhibiting exceptional leadership qualities, resolve, nerves of steel, and the spirit of a soldier while stopping five terrorists from sneaking into the Indian side at the Line of Control (LoC). He neutralized three terrorists across the LoC after laying an ambush. He displayed great tactical acumen, resolve, and leadership qualities. As he was very close to the Loc, the parties from another side including Pakistan army gave violent fire.
Even though his life was in danger, he waited for other terrorists. After waiting for fifteen minutes, he and his team gunned down two more terrorists. In total five terrorists were neutralised in this operation.
His father Major BSN Urs had also served the Indian army. BSN Urs was commissioned into OTA in 1969 and actively participated in the 1971 war against Pakistan in both the eastern and western sectors. His mother is Radha Urs.
Anil Urs pursued his early schooling in Army School, Bengaluru. Later he pursued his graduation in biotech. He got commissioned in September 2007.
A second-generation Indian Army officer, he is presently posted in 4 Maratha Light Infantry.
"Seeing my father, I decided to join the armed forces. Right from the beginning, it was also my parents' dream that I join the armed forces. Anyone who dons the uniform is taught to serve the motherland with utmost sincerity and dedication," he said.
He married Manju Singh, the daughter of Gangeshwar Singh, DGP, West Bengal. The couple has a daughter Ananya Urs.
Earlier Lt Col Anil Urs has also been conferred two commendation cards from Northern Command and ARTRAC command.