Second time in 15 months, SWD woes swamp Bengaluru residents | Bengaluru News – Times of India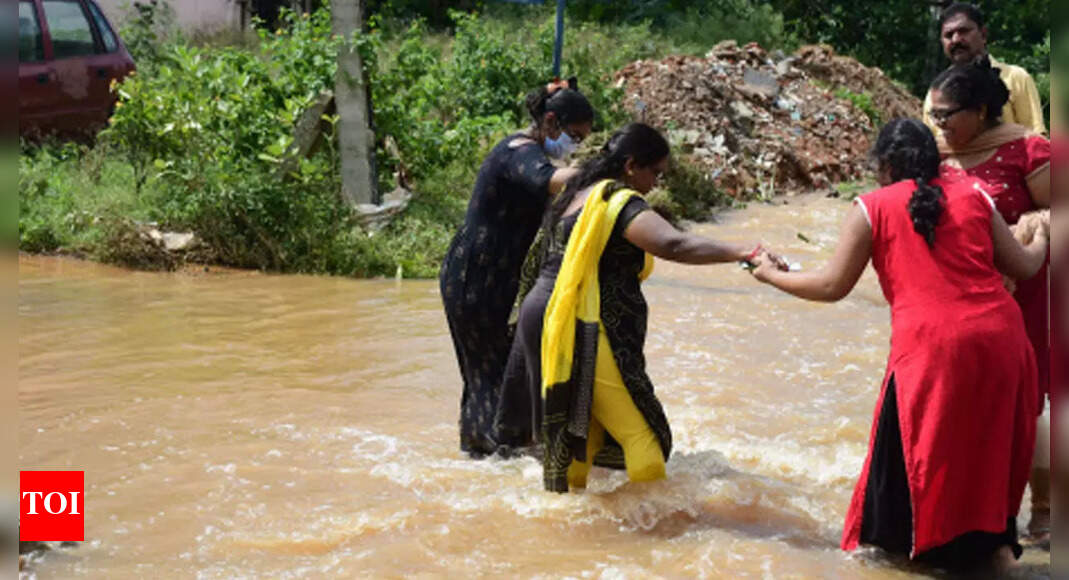 BENGALURU: A stormwater drain overflowed in Patel Muniswammpa Layout in Horamavu, northeast Bengaluru, sending water gushing into several houses late Sunday midnight.
Residents rued this is the second time in 15 months that they are facing such a nightmare. When a similar incident occurred in August last year, several of them had lost their cars. This time, they were cautious enough to park their vehicles on the main road.
Given that the locality received about 103mm rain in just three to four hours, things turned out to be worse this time for many residents. Water started entering the houses after 11pm. In fact, several college girls lost their certificates, laptops and other valuables.
Swathi Vikraman, an MBA student in a city college, said, "We didn't realise that water levels had come up to this extent. Our landlord, who lives upstairs, woke us up and asked us to spend the night at their place. Then we suddenly realised that we hadn't turned off the fridge and rushed down to switch it off to avoid short circuit."
When Swathi and her roommate came down, water stood at two feet inside the house and the gas cylinder was afloat. The girls grabbed a couple of items, including clothes and groceries, and placed them at a height for safety. "My original marks cards and certificates were soaked. Class 10 and 12 marks cards are something I'd need for the rest of my life. Now all of them have got spoilt," Swathi added.
Meanwhile, Swathi's another roommate's laptop got damaged too. The device belongs to the company the girl is interning with.
Residents living in duplex houses had the privilege of moving upstairs, while others either had to seek shelter at neighbour's or relatives' places.
"The road has a slope because of which water gushes in. After water entered our house last year, we renovated it and increased the height of the main door and living room by a few inches. As it turns out, even after spending so much, we haven't been able to prevent water from entering the house."
Residents claimed mucky water brought along insects, mosquitoes and even a snake. Ibraiz Khan, a resident, said, "We don't know if we should clean our houses considering the forecast, which says it will continue to rain. Authorities need to find a permanent solution." Locals say the problem can be fixed if BBMP builds a higher retaining wall or increases the width or depth of the stormwater drain.
It's almost impossible to walk in this layout without slipping and falling during rain as roads have no asphalt. "When the weather is damp, silt and sludge don't dry up for days. We regret buying a house here. We are scared, anxious and frustrated," said Ozma Veigas, another resident.