Santosh's suicide attempt takes a CD turn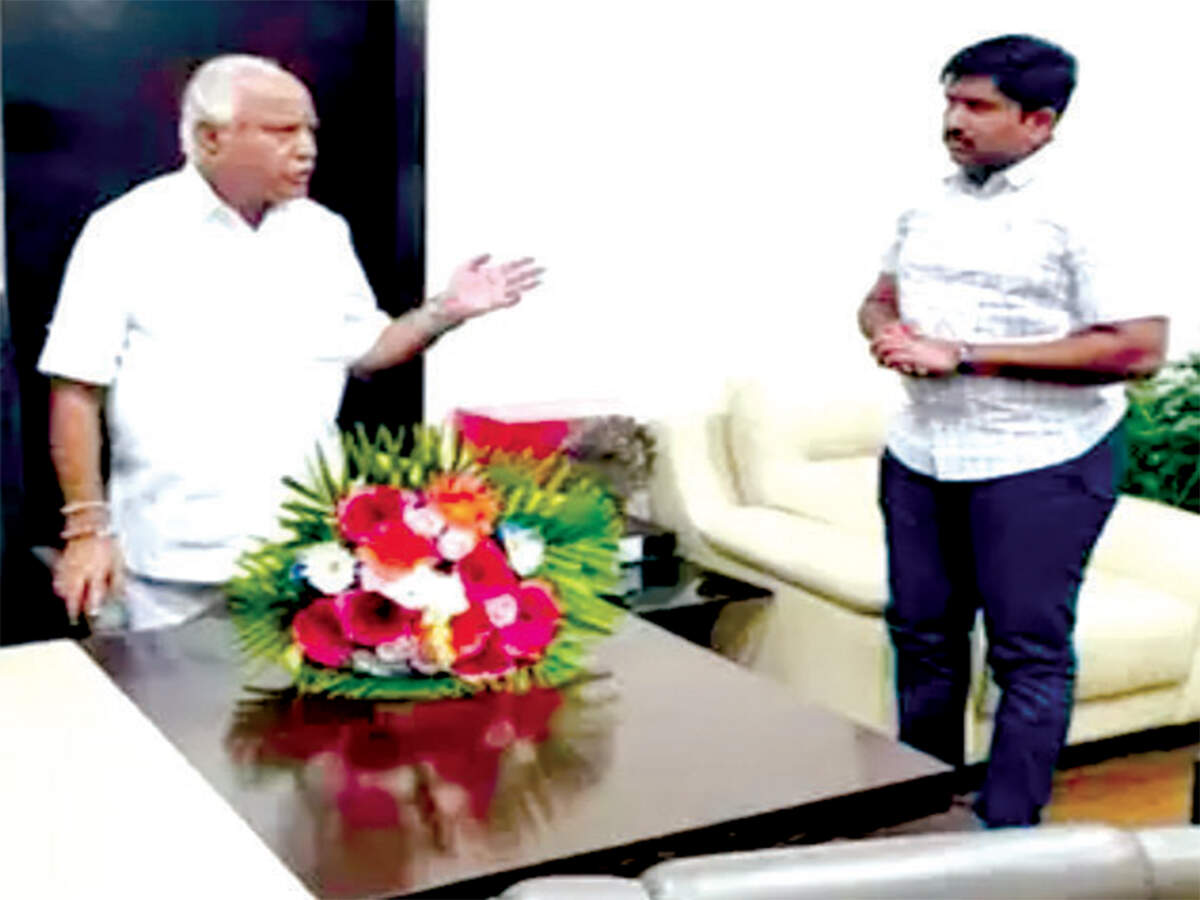 Did the CM talk tough to political secretary NR Santosh or was it a personal issue? Congress prefers the CD theory

Chief Minister BS Yediyurappa's political secretary and grand nephew NR Santosh is recovering after he allegedly made a suicide attempt.
According to the police FIR, he had consumed 12 sleeping tablets and was found in a semi-conscious condition. Doctors told Bangalore Mirror that 12 tablets may not prove fatal if the person is healthy.
Soon after the news broke, Yediyurappa rushed to the hospital late on Friday night and met doctors treating his grand nephew. "He was fine and cheerful. We attended a marriage together on Thursday. On Friday morning, we went for a walk for over 45 minutes,'' he said.



Asked about what the reason could be for the suicide attempt, the CM only said, "There will be issues, you know."
According to Dr Naresh Shetty, President, Ramaiah Memorial Hospital, Santosh was drowsy when brought to the hospital. "However, all other parameters were stable. Appropriate treatment administered immediately and all investigations carried out. He has been taking sleeping tablets occasionally for his sleep disturbances as per past history,'' Dr Shetty said in a statement. Dr Shetty told Bangalore Mirror that soon after he was brought to the hospital, doctors performed Gastric Lavage, a process to clean the stomach and later he was given an antidote.
Santosh responded well and was fine, Dr Shetty said, adding, "On Friday morning, the patient was stable. He had his breakfast and was cheerful. He may be discharged in a day or two based on his health status and recovery.''
Political storm and imbalance

Santosh's suicide attempt gave way to a political storm with the Congress president DK Shivakumar alleging that there was a CD, an MLC and a Minister behind the incident.
"For the last three months, we were hearing reports of some personal CDs (of Yediyurappa) being given to party leaders in Delhi by a MLC and the Minister (in the State Cabinet),'' Shivakumar said, hinting at CP Yogeshwar and Ramesh Jarkiholi. He said that soon the truth will be out and refused to share any more information when asked if he had a copy of the CD. The Congress leader demanded a probe by higher authorities as the State Government may not ensure a fair probe.
In an indirect endorsement of Shivakumar's statement, Santosh's wife Jahnavi said, "For the last few days, he was facing political imbalance. On Friday, he went to the room saying he wanted to read a book. When he didn't come for a long time, I went to check and found him losing consciousness. I also noticed strips of the tablets and we rushed him to the hospital.'' She denied any marital discord and said that they were a happy couple and discuss all issues candidly.
BJP leaders, however, rubbished Shivakumar's statement. RDPR Minister KS Eshwarappa termed the KPCC president's statement "foolish" and challenged him to release the CD if he had one.
In Raichur, Home Minister Basavaraj Bommai asked Shivakumar to submit a copy of the CD so that the police could investigate that aspect as well. "If he has a CD, let him submit it. The police will investigate,'' he said.
Jarkiholi too hit back at the KPCC president and said that people from Belagavi do everything directly. "Even Ashoka was there,'' he said, referring to Shivakumar's statement that a MLC and Minister took that CD to Delhi two days back.
BSY admonished Santosh?

Reports of Yediyurappa talking tough to his grand nephew on Friday having led to the attempted suicide were flowing thick and fast too. Sources claimed that there was also pressure from the CM's son and BJP state vice president BY Vijayendra on Santosh to resign as political secretary. After his talks with Yediyurappa, Santosh went home and consumed the sleeping pills, sources said.
For the CM, the timing couldn't have been worse. He had recently sacked his political advisor M Marmkal, allegedly at the instance of his son. Yediyurappa's media advisor Mahadev Prakash too had quit.

An engineering graduate, 31-year-old Santosh has been with Yediyurappa for almost 10 years as his assistant before being kept out, reportedly by Vijyendra. He is the grandson of Yediyurappa's elder sister. He had played a key role in ousting the Congress-JD(S) coalition government by ferrying turncoat MLAs to Mumbai in 2019. He was kept out of the power equation by members of the CM's family. On May 28, he was appointed as the CM's political secretary. There were rumours that Santosh who knew the CM's secrets had blackmailed him to get the post. His association with Yogeshwar and Jarkiholi is also quite well known in the BJP circle, which could have led the CM to talk tough to him for allegedly leaking information about him to his rivals.
CD politics back

CD politics back in Karnataka. An alleged suicide attempt has once again brought CD politics to the fore.
On May 11, 2017, Santosh and Rajendra Urs, then general secretary of the BJP Yuva Morach and nine others were arrested by the police for attempting to kidnap Vinay, then personal assistant of RDPR Minister KS Eshwarappa from Iskcon temple in Rajajinagar.
In 2019, Vinay had sought police protection as he feared a threat from Santosh. In his complaint to the Yelahanka police, Vinay had claimed that he was in possession of a CD, pen drives and other documents that could tarnish Yediyurappa's image.
Vinay had alleged that Santosh wanted to harm him as he had decided to hand these documents over to the police or the court.
It is not clear whether Shivakumar is speaking about the same CD or a different one. Much before this, in 2006, former minister G Janardhan Reddy had claimed that he had a CD against the then chief minister HD Kumaraswamy, who was heading the JD(S)-BJP coalition government.
In the CD, Reddy had claimed that then forest minister C Chennigappa was seen demanding Rs 150 crore bribe for allowing mining in Ballari.