rob: Bengaluru: After a decade of delay, Byappanahalli ROB is finally ready | Bengaluru News – Times of India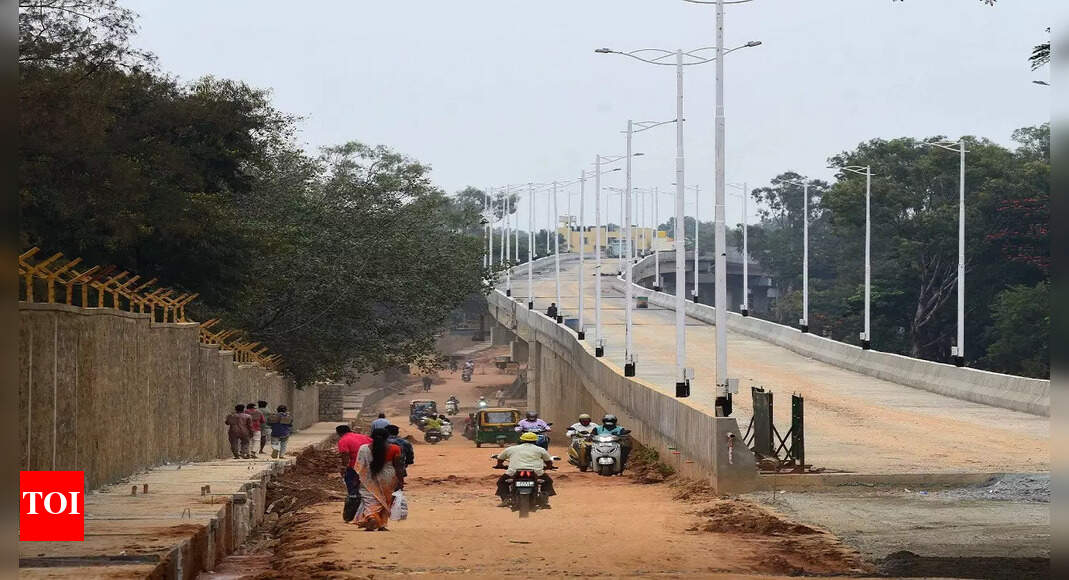 BENGALURU: One of Bengaluru's longest pending infrastructure projects is finally completed. The 810m-long rail over bridge (ROB) at Byappanahalli, which was proposed in 2010-11, has now been completed after a delay of more than a decade.
Last month, Union minister for railways Ashwini Vaishnaw had said Sir M Visvesvaraya Terminal (Byappanahalli third coaching terminal) will be opened only after connectivity issues are resolved. The Rs 314-crore Sir MV terminal which offers airport-like facilities and was ready in March 2021 is yet to be inaugurated.
TOI had carried a series of articles regarding the delay of Byappanahalli ROB.
This ROB will ensure connectivity between Sir MV terminal and Swami Vivekananda Metro Station on Old Madras Road. However, this two-lane wide ROB is unlikely to reduce congestion. BBMP has recently floated another two-lane wide ROB along this bridge. BBMP is planning to build an elevated rotary flyover at Maruthi Sevanagar–IOC junction However, it is not clear when these two projects will be completed.
South Western Railway officials confirmed that the structure is complete. "Only some finishing work and painting are pending," said an official. However, BBMP is yet to complete road and drainage work on the approach road from Old Madras Road. While streetlights have been installed on the ROB, they are yet to be functional.
SWR officials said work on the ROB was stopped in 2012 after Madras Engineers' Group (Madras Sappers) refused permission to SWR to carry out the construction work on its land. Work resumed only in 2019 after the defence ministry gave the nod. However, the project which was supposed to be completed in June 2020 missed a series of deadlines.
SWR officials said ROB work faced several obstacles, including delay in getting permission from defence and shortage of workers due to the pandemic and lockdowns. SWR officials said they have already completed the subway below the ROB for two-wheelers and pedestrians.
The facility will also provide better access to areas like Maruthi Seva Nagar and Old Byappanahalli to Old Madras Road. It will also eliminate two level-crossing gates on the busy Bengaluru-Chennai railway line, which sees frequent passenger and goods train movement — people used to wait 72 times a day at the gates.
Completion of the ROB would have given a relief for commuters, especially office-goers and schoolchildren, who often get caught at these crossing gates. Many regular commuters said they are relieved now. "It's better late than never. BBMP should install streetlights and complete the road work. The approach road is unsafe for commuters especially for women at night. We want SWR to open this ROB without any further delays since the work has completed. We have suffered a lot due to delays" said Ramesh Kumar, a resident of Old Byappanahalli.