Reluctant actor to businessman, Puneeth Rajkumar's arc grew with him | Bengaluru News – Times of India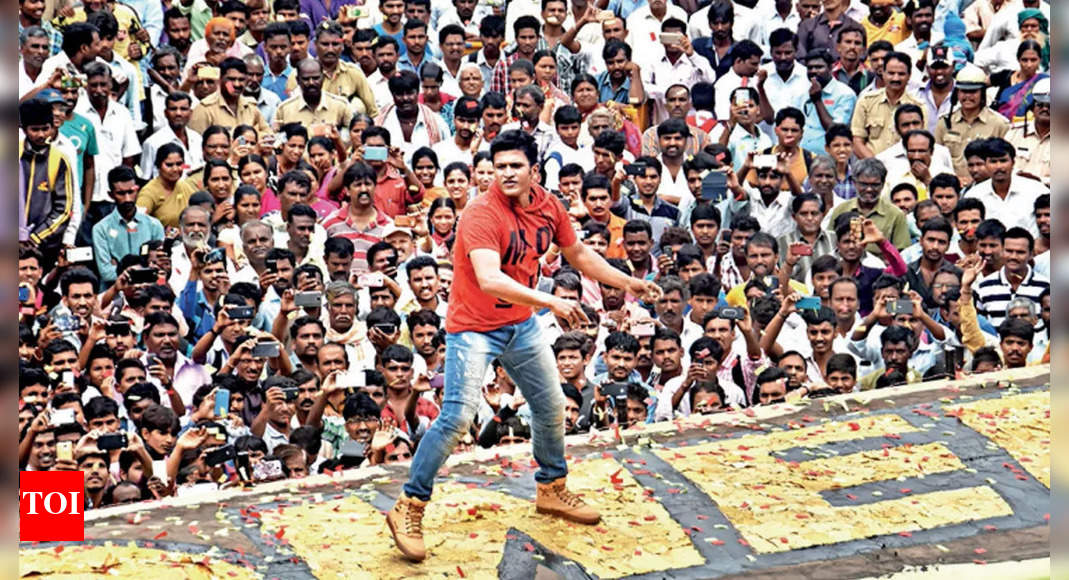 Puneeth Rajkumar during the shooting of a film at KC Circle in Hubballi. Despite ruling the roost in Sandalwood, Puneeth took it upon himself to launch fresh talent
BENGALURU: Actor, singer, producer, entrepreneur, businessman, philanthropist. Puneeth grew into each of these roles in his lifetime, some with gusto, some with reluctance, but delivered on all of them with great elan.
The legendary Rajkumar lauded his son's national award at the age of 10 as something he himself could not achieve in his acting career but if one asked Puneeth, he might have just shrugged it off and moved on to the next thing.
Egged on by Rajkumar and his mother Parvathamma, Puneeth did jump into films at a tender age but he had to be cajoled for every other shot.
"He would listen only to me as I knew how to placate him with toys and chocolates. I would enact his role in a shot and he would repeat it. He had said he would act only if accompanied by me," said Honnavalli Krishna, a character artiste and close associate of Rajkumar.
But such was his appeal that filmmakers spun out some 10 movies in quick succession to pair the charming boy with his father.
Singing followed acting, and once again, turned out to be a revelation.
"We made him sing a few lines in Vasanta Geeta when he was just four and he went on to carve his niche as an actor-s inger like his father," said film director SK Bhagavan. By the time he made his debut afresh as a youngster in 2002 in 'Appu', he was dabbling in several things alongside, from business to technical innovations in filmmaking.
"He was more interested in adopting modern methods of production to enhance the standard of Kannada filmmaking.
Puneeth was the first to introduce the Jimmy Jib camera in 2000 soon after it was first used in Bollywood," recalled Bhagavan.
"However, once he was in front of the camera, he would transform into a different person, become a director's actor." Pannaga Bharana, who directed the new-age film ' French Biryani ' f o r Puneeth's banner PRK Productions, said the actor had prepared a comprehensive plan to take Kannada films to global audiences and to new markets by leveraging digital and OTT platforms.
"'French Biryani' was the first Kannada film to release on Amazon Prime and it happened because of Puneeth's vision about the evolving business model. He was the Power Star when it came to acting, but also a powerful businessman when it comes to entrepreneurship," said Pananga Bharana. His business interests spanned real estate and even hospitality.
Despite ruling the roost in Sandalwood, Puneeth took it upon himself to launch fresh talent as well, as seen in content-rich films like 'Kavaludaari' and 'Mayabazaar'. Pannaga Bharana also recalled how Puneeth recently introduced the ARRI LF camera and had planned to purchase a motion-controlled trolley.
Those close to him credit his mother Paravathamma not only for his business acumen, but also his philanthropic pursuits. Along with wife Ashwini and sisterin-law Geeta Shivarajkumar, Puneeth patronised Shakti Dhama, an or phana g e in Mysuru for women.
"Puneeth had adopted many schools and remuneration for his songs was dedicated to those schools," added Pannaga Bharana.
FacebookTwitterLinkedinEMail