Rain in Bangalore: Nivar leaves Bengaluru drizzly; two more days of rain likely | Bengaluru News – Times of India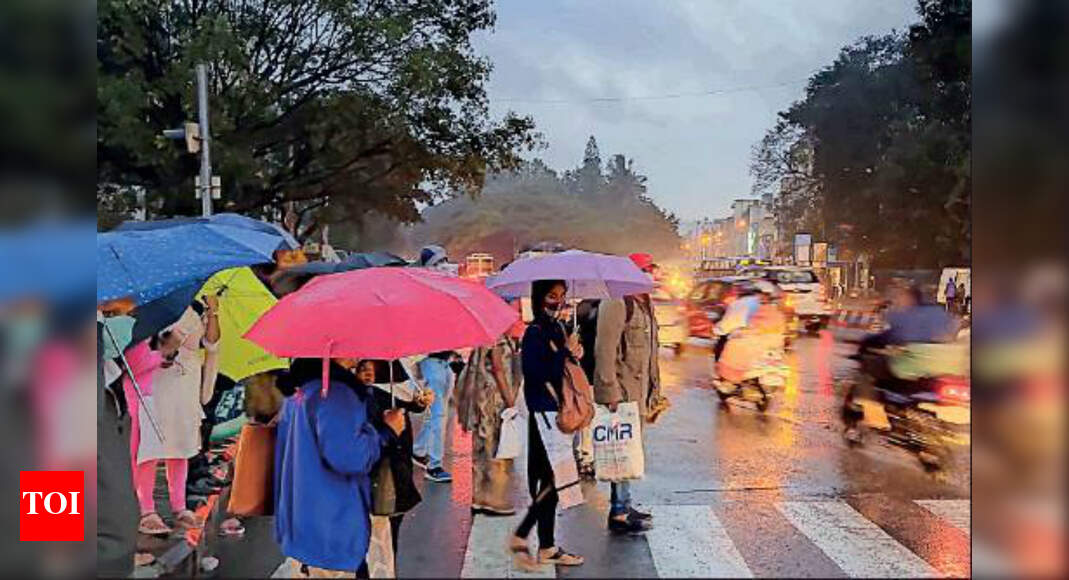 BENGALURU: Overcast sky, nip in the air and a long drizzly day — Bengaluru on Thursday appeared to have escaped all the havoc that cyclone Nivar wreaked in neighbouring Tamil Nadu after its late-Wednesday landfall.
With an early alert from authorities about likely flash floods in the city, Bengalureans woke up to a drenched morning. Hoodies, brollies and raincoats were out to match up to the rain-soaked day.
While the city received 6.5mm of rain, HAL got 13.8mm and KIA 14.4mm until 5:30pm. The maximum temperature was 22.4 degrees Celsius and minimum, 19.6. The mizzle was accompanied by thunder and gusty wind in some parts of the city, the average wind speed being 29kmph.
CS Patil, director of IMD, said, "The temperature was the same even yesterday (Wednesday). The reason why it feels more cold is because of the 'wind-chill effect'— a combined effect of temperature and wind. One doesn't feel the chill unless it's windy, even if the temperature is low."
According to Karnataka State Natural Disaster Monitoring Centre (KSNDMC), Bengaluru is likely to see a generally cloudy sky with widespread light to moderate rain over the next two days. Widespread light to moderate rain with isolated heavy rain is predicted over Kolar and Chikkaballapura districts, while scattered light to moderate rain likely over Mysuru and Chamarajanagar. The remaining districts are likely to experience isolated very light to light rain.
Though not heavy, the rain brought down a massive branch on 4th Main, BEML Layout. BBMP officials said no one was hurt and the branch was cleared immediately. Officials at the control room claimed there were no complaints of waterlogging from any part of the city.
BOX:
Thoughts & words in virtual space
Social media was abuzz with recollections of the cyclone days Bengaluru witnessed every time the sea turned rough off neighbouring Tamil Nadu. "It is raining continuously in Bangalore. Somehow today's weather reminds me of rainy days during my school days," Prachi Pareekh tweeted.
"Mornings like this make a day perfect," wrote Rahul Hoysal.
Anant Kumar posted on social media: "When Chennai catches a cold, Bengaluru catches a running nose, nonstop dripping since morning."
And Satya Nambirajan wondered: "Is Cyclone Nivar taking the SRS Travels route from Chennai to Bengaluru?"