Rain batters parts of Karnataka; man swept away in Belagavi | Bengaluru News – Times of India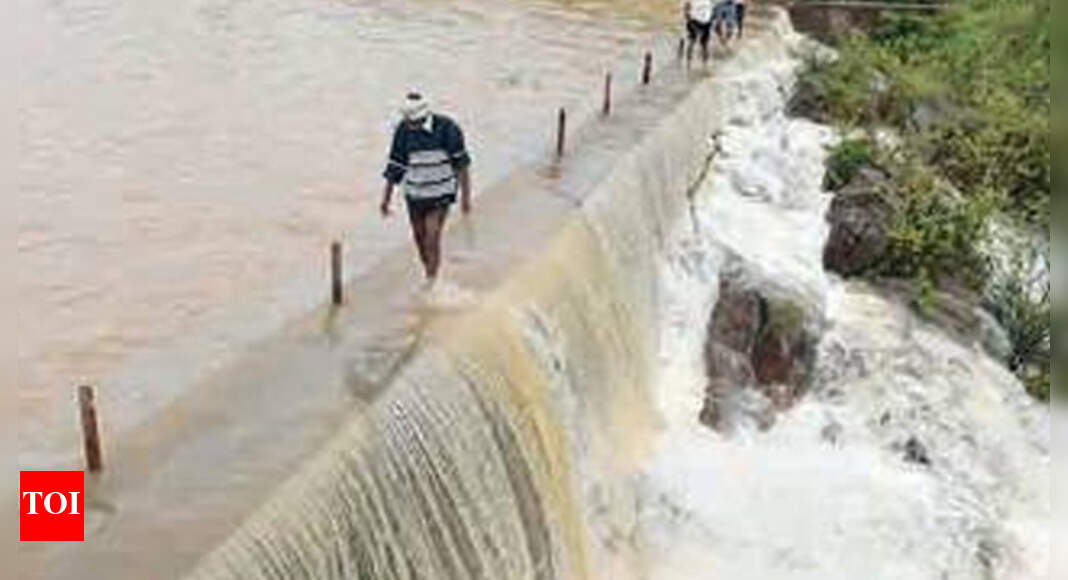 BENGALURU: Swollen rivers and a flood-like situation are once again posing threat to lives and property in several parts of Karnataka which have been ravaged by rain over the past few days.
Incessant rainfall in South Maharashtra and some North Karnataka districts led to increased release of water from reservoirs, which has been causing some damage along the Bheema and Krishna basins.
A 65-year-old farmer, Siddaraya Doddarama, was swept away in Markandeya river in Belagavi while he was washing himself after sowing. A 13-member State Disaster Rescue Force (SDRF) team has launched an operation to trace him. Kabini reservoir authorities have issued a flood alert, warning residents living downstream of the dam in Mysuru's HD Kote and asking them to move to safer locations. Nearly 5,000 cusecs of water has been released from the dam since Saturday.
A landslide was reported near the Hopcoms building opposite Madikeri post office in Kodagu on Friday, but authorities claimed it was due to unscientific digging for construction of a private building. Kodagu has been witnessing incessant rain over the past week and most of its rivers are flowing above the danger mark. As all major rivers are swelling, the government has begun preparations for rescue and relief. NDRF and SDRF teams have been stationed in flood-prone districts, including Belagavi, Bagalkot, Yadgir, Mysuru and Kodagu.
The administrations of these districts have also been urging farmers in all low-lying areas to move to safer zones. Some districts have set up 15-member rescue teams of youths in villages. They have been trained by experts in CPR (cardio-pulmonary resuscitation).