Public travel hit as KSRTC & BMTC staff go on flash strike | Bengaluru News – Times of India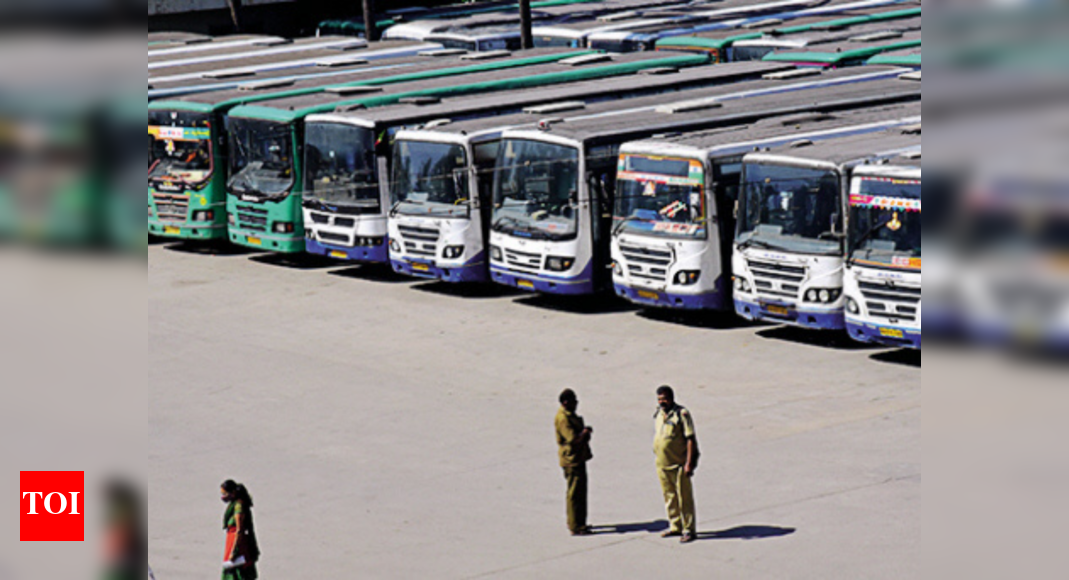 BENGALURU: A day after transport employees staged a massive protest in the city demanding that they be put on government payroll, a flash strike on Friday affected state-run bus services across Karnataka.
KSRTC operated 1,393 of 5,500 buses till 3pm. KSRTC officials said 32 buses were damaged across the state due to stone pelting. "We have to wait and watch the situation. The strike appears to be an instant reaction," said a KSRTC official. In Bengaluru, BMTC operated only 108 of its 4,932 buses. Protesting employees under the banner of State Road Transport Employees Joint Associations Federation have decided to go on with their indefinite strike until their demands are met. BMTC officials said 12 buses were damaged on Friday due to stone pelting.
Transport minister Laxman Savadi requested the employees to end the strike. Sources said the government may invoke Essential Services Maintenance Act if the strike is not called off. BMTC has called the strike illegal.
The major demands of the protesters are that they be brought under the government's payroll and be provided the same privileges and incentives as government employees. They have also sought compensation of Rs 30 lakh to transport workers who died on Covid duty.
Many passengers in the city, who were unaware of the strike, were stranded at major bus terminals, including Majestic, Shantinagar, Shivajinagar, KR Market, Yeshwantpur, Peenya, Kengeri and Banashankari on Friday. The busiest bus stations, including Majestic, were deserted.
TRANSPORT STRIKE
Protesters stop services, ask travellers to disembark
Sources said services of all bus corporations were affected as majority of transport employees, including drivers and conductors, refused to report for duty. While a few services operated early morning, protesting workers stopped
those services at several places and asked passengers to disembark.
Though state-run bus corporations on Thursday had assured that transport services won't be affected because of the strike, many employees staged protests at their respective depots and bus stations on Friday.
Many passengers in the city relied on autorickshaws, cabs and private buses due to the strike.
Intra-state and interstate KSRTC operations were also affected and several passengers were stranded at bus stations.
Ryots extend support
Farmers protesting the new farm laws extended support to the transport staff. Over 1.2 lakh workers are employed with KSRTC, BMTC, NEKRTC and NWKRTC.