pichhwai: The Pichhwai: Exhibition of Jacquard woven textiles | Bengaluru News – Times of India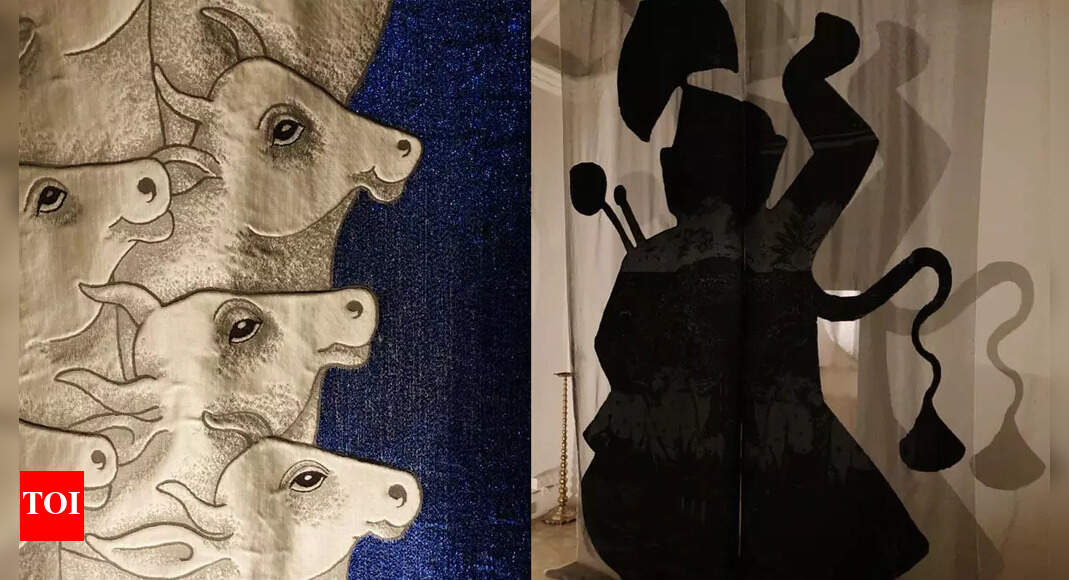 BENGALAURU: An exhibition of Jacquard woven textiles by Himatsingka Seide's textile mill is under way in Bengaluru.
Based on the traditional painted Pichhwais of Nathadwara in Rajasthan, the artwork of Jayshree Poddar expresses the spiritualty through the textile art in a playful and personalised way.
Poddar, a design director at Himatsingka Seide since 1986, is an alumnus of the National Institute of Design. She has been working with textiles for over 35 years.
The essence of the Pichhwai is extracted through the silhouette of Krishna and other forms like trees, flowers, cows and the sky, emblematic of Pichhwai paintings.
The exhibition, that opened on November 14, 2021, will go on till November 21 between 6pm and 8pm.
ARTWORK ON DISPLAY
Vishwarupa
– A rather large silhouette of Krishna is Shrinathji width – 130 cms, Height – 400 cms. An opaque form woven with black, charcoal and grey coloured yarns of five different kinds, appears on a translucent ground of sheer fabric.
Ethereal Moon
– The moon woven with silvery yarn rotates as it does on its axis, in front of the woven image of Shrinathji. A magic moment of experience.
Godhuli
– Woven on a fine dense white silk warp, with many weft yarns and several kinds of interlacements, this horizontal sweeping, curved panel of almost 8 meters, is about cows which in mythology represents 'Rishis' who descend on earth with the avatar of Krishna. They gaze lovingly at the lord.
Banks of Yamuna
– Smaller cows set in repeat on a golden ground of silk with swirling waters. A yardage called by the name of "Banks of Yamuna".