pfi: Uppinangady violence: PFI stages protest in Mangaluru | Mangaluru News – Times of India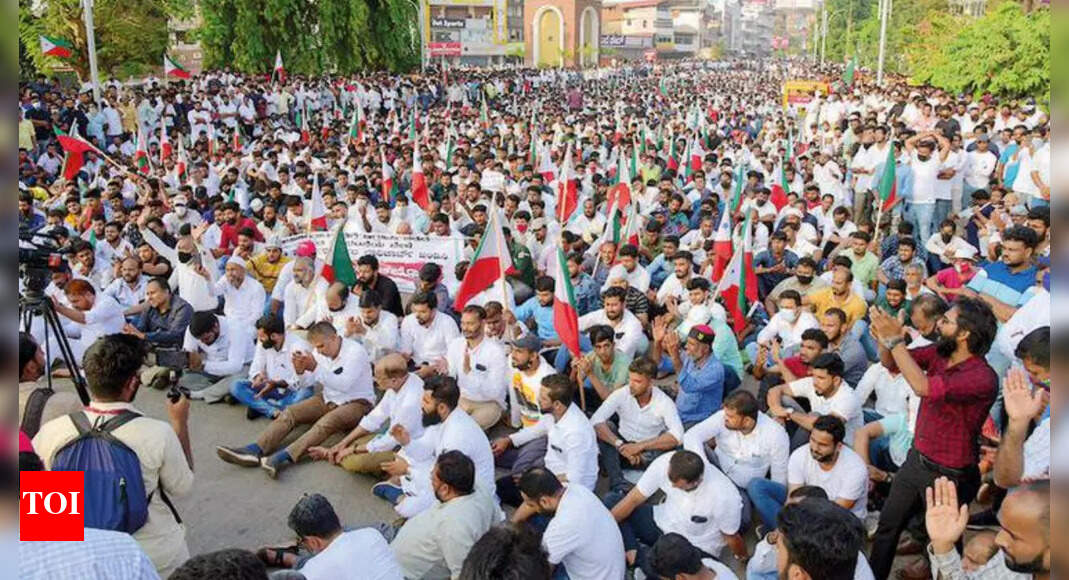 MANGALURU: In a show of strength, the Popular Front of India (PFI) organised a huge protest condemning the Uppinangady violence in the city on Friday. People gathered in large numbers near the Clock Tower, raising slogans against the police, and demanding justice as part of the 'SP office chalo' protest.
PFI state vice-president Ayoob Agnady said that the Uppinangady station police were creating false stories to cover up the lathicharge incident. He asked the police to release videos showing the protesters indulging in assault or any such activities. The protestors urged the the district police to release PFI leaders and take action against police personnel who lathicharged the protestors. SP Rishikesh Sonawane who arrived at the spot, accepted the memorandum submitted by them, and said that three FIRs have already been registered, and an investigation is on. All points raised by the protestors will be looked into, he said.
Mangaluru city police had made elaborate security arrangements. The police had given the PFI activists permission to carry out a protest march up to the SP's office. Earlier during the day, SDPI state president Abdul Majeed Mysuru demanded a judicial probe by a high court judge, into the Uppinangady incident.
Congress minority cell district president Shahul Hameed told the media, that looking at the developments in the district, people may lose trust in the police.
In a joint statement, Citizens Forum for Mangalore Development, We the Women Mangalore, Bahutva Karnataka, Hate Speech Beda, Defend Democracy Karnataka, All India Lawyers Association for Justice and All India Students Association, have demanded that immediate action be taken against the erring police personnel.
Further, they demanded that an FIR must be registered, and disciplinary inquiries must be initiated against the police. The Karnataka government should take financial responsibility for the treatment of the injured protestors through a victim compensation scheme. It is also necessary to note that there has been a communal continuum at play in Dakshina Kannada, and the complicit role of the police in this cannot be ignored, the release stated.