Pandemic precautions go for a toss in Karnataka | Bengaluru News – Times of India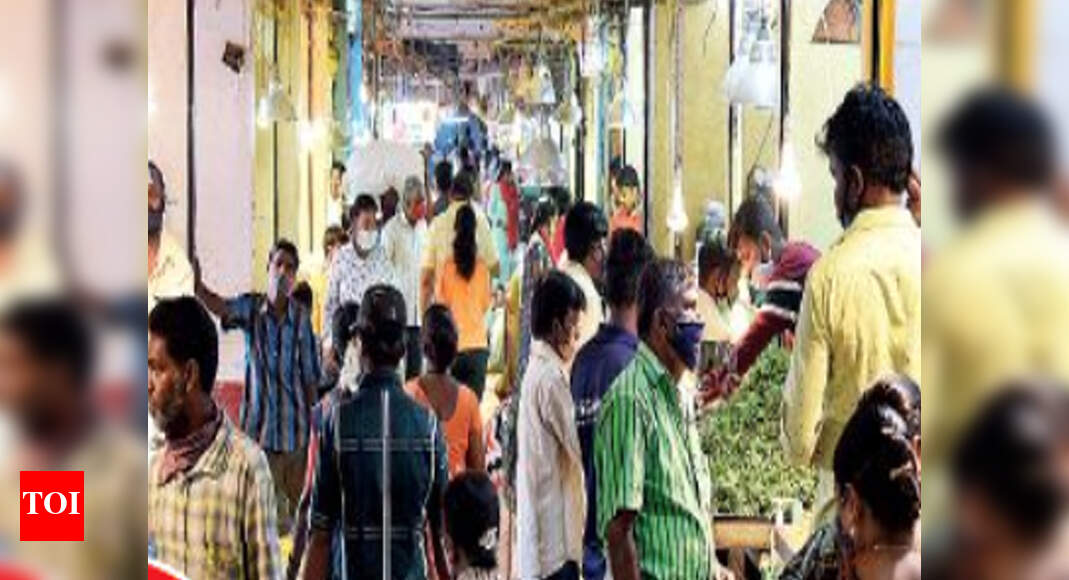 BENGALURU: Coronavirus infections in Karnataka have crossed 4 lakh and there have been nearly 7,000 deaths. Despite the worrying numbers, many people are disregarding basic public-health precautions such as wearing a mask and maintaining a safe distance.
Pictures and videos shared widely on social media show how people blatantly violate norms as they shop, eat, pray and conduct business. Large numbers are seen at political, religious and social gatherings, and major markets in Bengaluru and other parts of Karnataka also draw crowds, where enforcing safety guidelines was a challenge even during lockdowns.
Health officials say the pandemic is still raging and the only difference now is that most economic and public activities have been resumed in the 'Unlock 4.0' phase. While restrictions like a lockdown are unlikely to return, citizens cannot drop their guard as the state is reporting 5,000 to 9,000 Covid-19 cases daily. "It's really surprising. When Covid-19 cases were in three digits, people in the state were more careful and followed norms. When the cases have exploded, everyone is flouting the rules," said health expert Dr Shankar Patil.
One possible reason behind the lax attitude could be the pandemic fatigue: people are tired after being on the edge for nearly six months and want to hurriedly resume their old routines and life.
The young are flocking to parks, gardens and playgrounds and they don't always maintain social distancing. Places of worship, which were shut for more than five months, are also seeing a rush of devotees. All this is adding to the worries of state health officials. Inter and intra-district transport services have seen significant improvement in ridership and buses are now crowded during peak hours. Many passengers don't wear masks.
Since September 1, the fund-starved state government has reopened up to 90 per cent of economic activities. In the process, the focus on creating pandemic awareness with regular appeals appears to have eased up. Despite the risks, politicians are organising large public meetings and protests.
"There is little evidence that the coronavirus crisis is going away anytime soon. The government should continue public communication strategies on masking and distancing and strict enforcement till the time the vaccine arrives in India. There is no other way," said activist P Ravindran.