Orangutans back in Mysuru zoo after four-and-half decades | Mysuru News – Times of India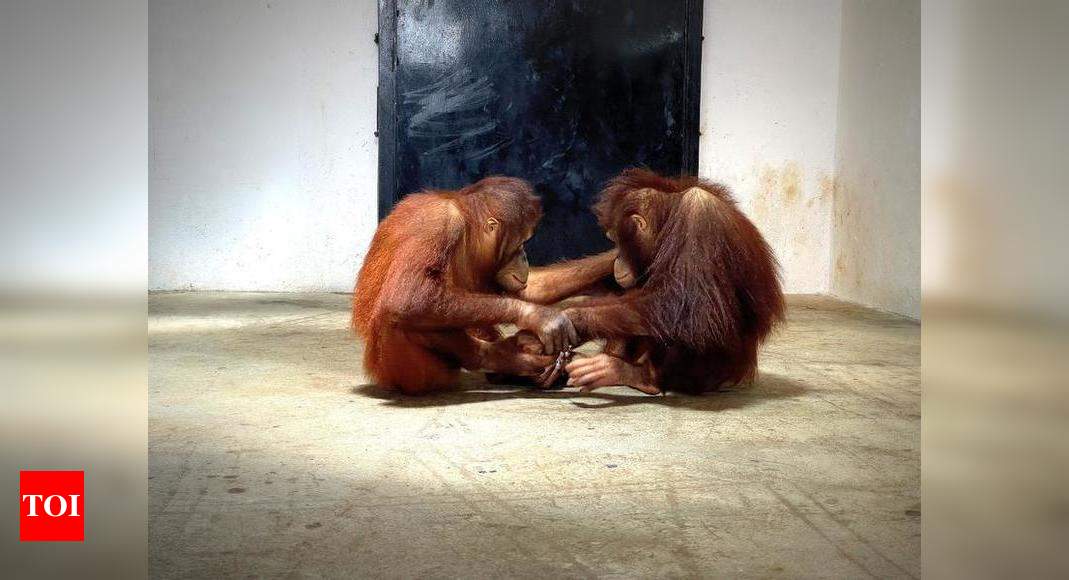 MYSURU: The 129-year-old Mysuru zoo that boasts of displaying many exotic animals is adding one more feather in its cap by bringing two exotic animal species – Orangutan and Gorilla.
This will make the zoo the only facility in India to house these primates in captivity. The zoo will be displaying Orangutan nearly after five decades, say authorities.
It was in the early 1970s that the Zoo had a pair of Orangutans. They were popularly addressed as 'Subba – Subbi.' After their passing, None of the Indian zoos had the primate. Mysuru zoo has been making its best efforts for the last few years to get the Orangutan. Finally, the facility has received one pair each from the Singapore zoo and from a Malaysian zoo.
The apes reached Mysuru after journeying for 12 hours including air and road travel in August. Since then, they have been kept under observation.
Zoo executive director Ajit Kulkarni says the two pairs of orangutans and a pair of gorillas will definitely be star attractions. "They will be the prized possession of our zoo as we're the only zoo to display the powerful and intelligent primates in entire India," he said.
Visitors of Mysuru zoo will definitely enjoy seeing the primates that will be put on display in four weeks. New enclosures are being readied to house them.
Orangutan are sensitive but bright apes. They are an endangered species that are from the Borneo islands. Mysuru zoo, which is the only facility to successfully breed giraffe, spared a pair of giraffe calves in exchange for the orangutans.
The lifespan of orangutans in captivity is around 40 years. Afa, 7, a male, and Minnie, 5, are from Malaysia while Merlin, 17, a male, and Atina, 13, are from Singapore. Six caretakers have been trained to look after the primates which are herbivores and feed on foliage and fruits.
Gorillas travelled for 30 hours!
A pair of Gorillas – Thabo, 14, and Demba, 8, both males, reached Mysuru after journeying for 30 hours from a zoo in Germany via Qatar and landed in Bengaluru. From there they were brought to Mysuru by road.
Ajit Kulkarni, an IFS officer, said apes are healthy and active. "After we lost Polo, a gorilla that entertained visitors with its mannerism in 2014, the zoo was trying hard to get gorillas. After years of effort, we have received a pair. The International Zoo Association has promised to spare female gorillas," he said.
With these two new exotic species, Mysuru zoo has a long list of exotic species which other Indian zoos do not have. It is also the only zoo that has White Rhino, African Cheetah and now the primates.
Infosys Foundation donates Rs 20 lakh
Mysuru zoo authorities expressed gratitude to Infosys Foundation chief Sudha Murthy after the Foundation recently donated Rs 20 lakh for the upkeep of animals. Earlier in 2020, the Foundation had given the zoo Rs 20 lakh on two occasions.
1,450 Individual animals displayed
Mysuru zoo is spread over 80 acres in the heart of Mysuru. It has houses 145 species of birds and animals including exotic species like the white rhino, giraffe, African elephant, gorilla, chimpanzee, orangutan, and gibbon. It is keeping as many as 1,450 different types of birds and animals on display.