On slow track: Namma Metro operations grew just 5.6km/year over a decade | Bengaluru News – Times of India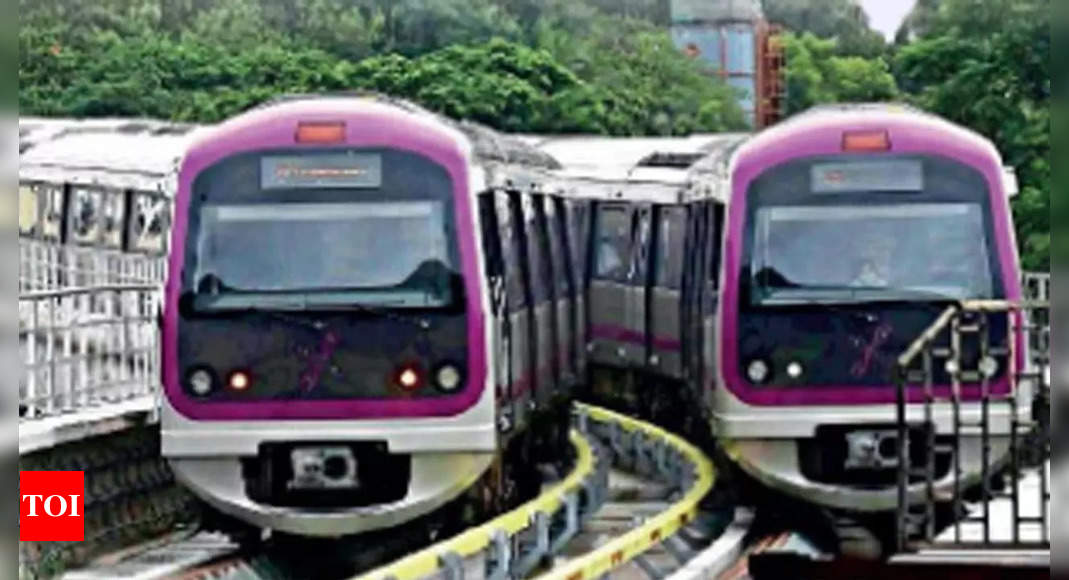 BENGALURU: From being considered a 'toy train' by many, when it first rolled out between MG Road and Byappanahalli (6.7km) on October 20, 2011, Namma Metro has grown into a 56km network. On Wednesday, it will complete 10 years of operations. But it has a long way to go before becoming the city's lifeline. Despite thousands of crores been pumped into the project, Metro's daily ridership is only around 2.5 lakh compared to BMTC's 20 lakh.
Currently, only two corridors: Purple Line (25.6Km Byappanahalli–Kengeri) and Green Line (30Km Nagasandra–Silk Institute) are operational. This means BMRCL could operationalise an average of only 5.6km a year in the last decade.
In contrast, Metro rail systems in other cities, including those started much later, are expanding at a much faster pace. Delhi Metro, which launched in 2002, now runs a 349-km network, growing at an average of 18km a year. While Hyderabad Metro, which started in 2017, operates 67km, Chennai Metro that began in June 2015 spans 54-km.
South India's first Metro rail is also hit by delays, missed deadlines and failure to expand to the city's outskirts. Delay in Metro work on arterial roads is causing severe inconvenience to commuters across the alreadycongested city. In fact, Metro is yet to cover Bengaluru's choke points such as ORR, Electronics City, Whitefield, Hebbal, Bannerghatta Road and KIA and work for the same is progressing at a snail's pace.
BMRCL officials said three Metro corridors: Nagasandra–BIEC, Byyappanahalli–Whitefield and RV Road-Bommasandra will be operational in 2022, while Kalena Agrahara-Nagawara will be ready by 2024. While preliminary work on Silk Board-KR Puram (18km) on ORR started, work order for the KR Puram-KIA (36km) section is yet to be issued. Both corridors have a 2025 deadline.
Namma Metro's Phase 3 planning has been slow. DPR is being prepared for ORR West Line — 32.1km between Kempapura and JP Nagar 4th Phase, and 12.8km- Magadi Road Line (Hosahalli station to Kadabagere). There is no word on other proposed Phase 3 corridors like Whitefield-Domlur (16km), Katamnallur Gate near Hoskote-Sarjapur Road-Hebbal (52km) and 34km underground corridor along Inner Ring Road.
Activists point out that the Centre approved the 72-km Phase 2 in 2014 with a fiveyear deadline, but only two extensions have begun operations. In fact, Phase 2 project cost escalated from Rs 27,000 crore to Rs 30,695 crore due to the delays.
"Phase 2 should have been completed by 2019. There is a massive cost overrun due to the delays. BMRCL is yet to focus on multi-modal integration. It never adheres to deadlines so people don't take it seriously. There was also a delay in mobilising finances and acquiring land for the project," said Sanjeev Dyamannavar, a rail activist.
India's Metro Man E Sreedharan had told TOI: "The general thumb rule is, for every 1 lakh population, one km of Metro is necessary in a developing country like India. On that basis, Bengaluru must have 80-85km of Metro system by now. The pace at which the network is expanding is deplorably poor."
However, BMRCL officials claim that land acquisitions and PILs have been the major hurdles. It faced challenges in acquiring land from individuals, NICE, forest department and defence ministry. "We faced delays due to PILs against BMRCL for tree felling. There were also hurdles in acquiring land and handing it over to contractors on time," said an official. He said though Phase 2 was approved in 2014, work started only in 2015- 2016. Funding and land acquisition for the project were delayed.
While NICE dragged BMRCL to court over acquiring its land, there was a delay in getting permission from the forest department to set up depots in Kadugodi and Anjanapura. Financial crisis of contractors like IL&FS and Simplex Infra added to the woes.Covid-19, subsequent lockdowns, exodus of migrant workers and shortage of industrial oxygen too hit Metro works.