Not all heroes come on screen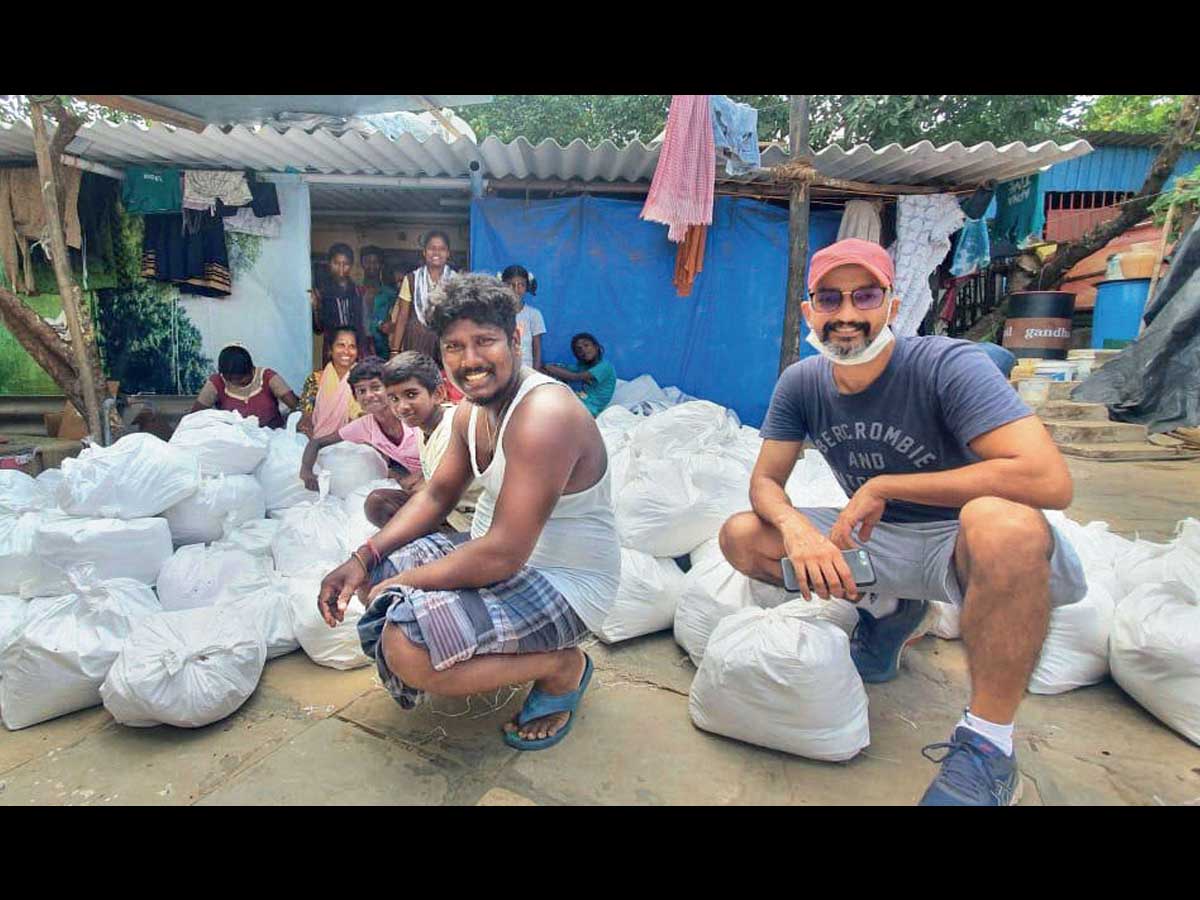 From providing rations and hot meals to sanitary napkins and emotional support, the entertainment industry is stepping up to help the distressed
When actor-writer Amitosh Nagpal found vegetables and fruits scattered across a road in Madh Island after a BMC crackdown, he was heartbroken. Just recently, the Hindi Medium dialogue writer and his friends had gone great lengths to source the very things that were lying discarded. For the last three months Nagpal has been providing to people in need, from supplying groceries to reaching hot meals. "I had read a post urging senior citizens from the neighbourhood to connect if they needed anything delivered, and felt that I should help out too," says Nagpal, who received an overwhelming response when he reached out to friends from the fraternity. Actor Sonu Sood generously organised for 1,000 kg of rice while filmmakers Anubhav Sinha and Karan Anshuman, and actors Tisca Chopra, Manav Kaul and Manu Rishi Chadha also chipped in, some even lending their SUVs to deliver rations.
Nagpal, along with casting director Shubham Tiwari, teamed up with actors Afroz Ansari, Pranav Singh, Pradeep Vishwakarma and Ovais Khan to convert a cafe in Andheri's Aram Nagar area into a makeshift kitchen where hot meals are prepared daily and delivered to homes from Andheri to Naigaon. "Now that many migrants have returned home, we're down to 800 meals a day. Till last month, we were making 3,000 a day," says Tiwari, whose team of 22 also delivered fruits for sehri and iftar during Ramzan.
"As a casting director, I know how difficult it is for some people to get by," says Tiwari, whose crew have fed almost 2.5 lakh Mumbaikars, and distributed over 5,000 masks across the city. "One night, we got a call at 11 pm that a train for the migrants had been cancelled, so we reopened our kitchen at midnight and made meals for those who had been left stranded," he says.
Nagpal's NSD batchmate, theatre actor Rasika Agashe was pulled into the initiative through a Facebook post too. Agashe and her actor husband Mohammed Zeeshan Ayyub have since helped raise funds and deliver foodgrains and essentials to over 900 families. When the need arises, they post it on social media and friends chip in. "If there's a gap, Zeeshan fills it up," says Agashe, who has built a network of volunteers across the city. "In the early days of the lockdown, travel was not possible, so we would transfer some money to volunteers who lived close by and ask them to source whatever was needed." But not every requirement can be fulfilled, says Agashe who once fielded a request for 10,000 food packets from an area in Mumbai Central. "At such times, we connect them to a local NGO," she says.
Not all philanthropic endeavours started with social media though. For actor-filmmaker Kuldeep Ruhil, all it took was noticing a board outside a construction site near his home in Goregaon East, a few days into the nationwide lockdown. It said 'labourers living here and have nothing to eat'.
Ruhil instantly transferred some money to help the 13 families residing at the site. A few days later, he came to the aid of two junior artists who needed a gas cylinder and hadn't e aten in days. Shortly after, Ruhil began assembling and delivering 'food kits' comprising rations to sustain a family for 10 days. "After helping 100 families by myself, I decided to enlist my friends," he says. A WhatsApp group was created to connect with volunteers residing between Andheri and Nalasopara, and about 700 families have been helped with essentials since. Ruhil also sought the help of Ganesan Vellaiswamy, an out-ofwork carpenter who used to work on film sets, to source and assemble the food packets. "It's not easy to come by 1,000 kg of rice at a go, so we have to buy in advance to meet the demand," says Ruhil, who directed Cheer Haran, a documentary on the aftermath of the Jat reservation in 2016. Since this effort is backed by pooled funds, Ruhil's team verifies the authenticity of every requirement. "We call up the local volunteers and tell them that if someone is needlessly hoarding, someone else has to go without a meal and that's not going to work for us."
With many junior artists and technicians from film and TV eating on the sets when shooting is on, most don't even have the means to cobble together a meal at home. "And many also feel ashamed to ask for help, so we had to figure out through sources who was in need and discreetly reach out to them," says Nagpal, whose number was circulated across WhatsApp groups in the city, inviting various requests. "Once, someone reached out for financial support for someone else's cancer treatment," says Nagpal. "We're not an NGO and don't know how to go about it." Luckily, some extra funds raised by his friends engaged in similar efforts helped cater to this need too.

Agashe feels that maintaining the dignity of those who are being helped is crucial. She talks about the day when she and her husband went to deliver food supplies to 15 families of housemaids in Andheri. "These were women who earn their own living and were awkward about having to accept charity. So we just handed over the packets without making a big deal of it," says Agashe, who admits that her personal resources are now drying up. "Once I tweeted that 150 families from Kranti Nagar in Kandivali needed daily essentials and Zeeshan Siddique, the Bandra East MLA, helped out with supplies." The 35-year-old actor says that often government schemes and policies don't reach the larger public. "Those who can fill up Google Docs are not the ones grappling to survive during the lockdown," she says.
Badhaai Ho director Amit Sharma is another filmmaker involved in similar endeavours and has delivered around 70,000 ration kits across the country with the help of volunteers from the International Association for Human Values (IAHV). But Sharma has also taken up another important concern which affects locals in villages in and around Palghar: Scarcity of water. "We have been working to ensure 15 tankers fill up their wells every day," says Sharma, who also got his friends Kanika Dhillon, Garima Arora and Ness Wadia to contribute. "Recently, we learnt that women from a Chembur slum didn't have sanitary napkins and were relying on cloth, which led to hygiene problems. In such times, when providing for their family is paramount, they looked at this to be a luxury item," says Sharma, who dispatched the requisite supplies.
Another pressing concern, apart from providing essentials, is the growing levels of anxiety in an uncertain job market. Founder of the short film club Shamiana, Cyrus Dastur responded to this by starting Shamiana Helpline, a pro bono call centre service that addresses these concerns. "Right now, when there's no work and little hope to get any in the near future, one is bound to be worried," says Dastur, who identified a team of four to take on such calls. Not every concern raised could be redressed, but Dastur assures that his team follows up with every caller to check if they're fine. "We've got calls from technicians and artists saying they've not been paid for months. We don't paint a false, unrealistic picture for them, but communicate that we are all in this together and if you're not working, then be assured that no one else is either," he says.