No aid to kin of 14 Covid martyrs from Karnataka private hospitals | Bengaluru News – Times of India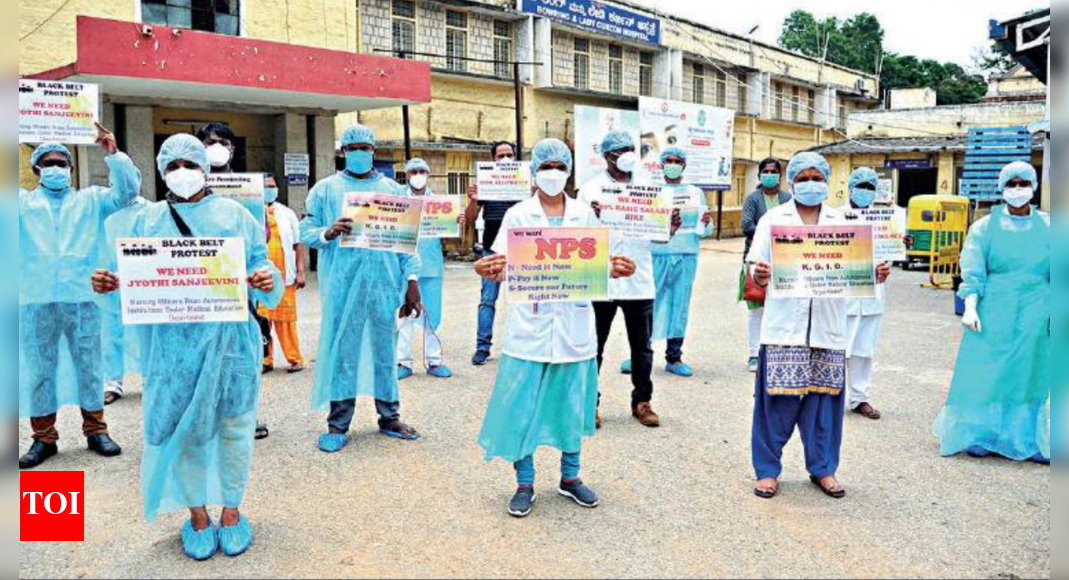 A file picture of doctors protesting in Bengaluru. Officials say the state is only following Centre's guidelines on compensation
BENGALURU: The state government has rejected applications for compensation from bereaved families of 14 doctors who succumbed to Covid-19, claiming the Pradhan Mantri Gareeb Kalyan Yojna is only for doctors involved in treating Covid-19 patients in government hospitals.
The 14 doctors were involved in treating infected patients in private hospitals and the scheme offers compensation of Rs 50 lakh. The private hospitals association and Indian Medical Association have condemned the move, saying the government is discriminating between Covid-19 martyrs from government and private sectors.
The state government said it processed a total of 45 applications, which were to be forwarded to the Centre, but withdrew 14 of them – all from families of doctors working in the private sector – on grounds that they were ineligible.
While replying to a question in the state legislative assembly, health minister K Sudhakar said the state had received a total of 45 applications from April 1, 2020, and compensation was disbursed to families of 21 deceased doctors. Eight applications are still pending and 16 were withdrawn.
The latter 16 includes applications from families of two doctors who worked in the health and family welfare department. While one from Chikkaballapur is said to have suffered from cardiac issues, another doctor from Hassan died due to brain haemorrhage, Sudhakar said.
"Both doctors died while on Covid duty. It's unfortunate that the state withdrew their applications," said health department officials. "The stress doctors have gone through while working in Covid wards and screening patients in OPDs of government hospitals has been ignored."
Dr HM Prasanna, president, Private Hospitals and Nursing Homes Association, said the government is shirking its responsibilities. "This is a gross injustice to the medical fraternity, and we will protest. In fact, the government should have pursued these cases even more vigorously," said Dr Prasanna.
Dr Madhusudhan Kariganoor, former president, IMA-Karnataka chapter, deplored the move. He revealed that the government, in early 2020, had instructed private doctors to keep clinics open.
"Through Rajiv Gandhi University of Health Sciences, the government held virtual meetings with IMA members to spread awareness among doctors to keep clinics open at the beginning of the pandemic in April 2020. They promised they will take care of insurance," Dr Kariganoor revealed. "The doctors were infected while treating patients in OPDs in their clinics and nursing homes. To now differentiate based on their service in government and private facilities is ridiculous."
However, a senior health official said the state was only following the Centre's guidelines. Health minister Sudhakar was not available for comment.
'Injustice to my dad'
The families of the 16 martyrs, however, are still in the dark. The wife of Dr Shivananda R Begde, 67, a general practitioner who ran a nursing home in Kalaburagi district and died on July 25, 2020, had filed an application but the family says they aren't aware of the status and are waiting.
Dr Abhinand Begde, Dr Shivananda Begde's son, said taluk health officials had held meetings with his father to screen patients with influenza like illness (ILI) and severe acute respiratory infections (SARI) at his clinic. He said the family had to run from pillar to post between Kalaburagi and Bengaluru to even submit the application.
"The government had made it mandatory for hospitals to function and keep an eye out for SARI and ILI patients. He got infected while screening these patients. The government is now shamelessly saying families of doctors who worked in private nursing homes won't be given compensation," said Dr Abhinand.
FacebookTwitterLinkedinEMail