Neighbours fight, break water pipes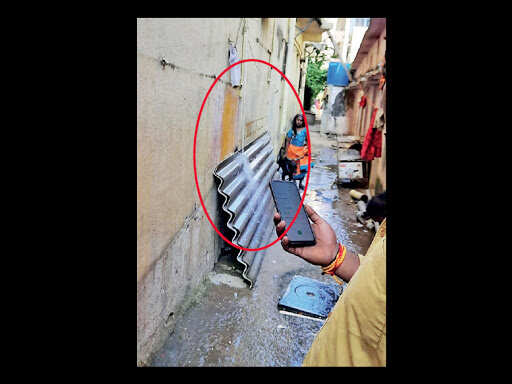 The fight has resulted in taps going dry in this building with six houses and a shop
A fight between two neighbours living in a building with six houses and a shop on the ground floor, has affected six families. In this fight between two neighbours, one of them broke the water and sanitary pipes, leaving the entire building without sanitation facilities. The residents have been forced to go to hotels and their relatives' houses for meals and to bathe.
The owner of the house, a 74-year-old man who went to question the neighbours for destroying the pipes, received threats to his life.
M Mariyappa, a resident of Tavarekere, has filed a complaint with the Madiwala police on Friday over this incident. His son, Gajendra Kumar M said that his family and their neighbours shared a common passage, which was also where the water and sanitary pipes were laid.
"They always had problems with us and would pick fights about us using the common passage. The passage is more than six feet wide. On Friday morning, they picked a fight with us again saying that our water and sanitary pipes could not be on their side of the passage. When the fight got out of hand, we informed the local police. They came to the spot and tried to resolve the fight by telling them to let the matter rest as it was a common passage. After the police left, they continued to argue and fight.

Around 2:40 pm, they started destroying the pipes using iron rods and a hammer. When we tried to stop them, they wouldn't listen to us and even threatened to kill us. When my father went to the common passage to record a video of them breaking the pipes, they tried to snatch the phone from him and abused him using vulgar language."
Kumar saw the fight deteriorating and rushed out to inform the police again who returned to the spot. He said, "Thought the police came within a few minutes, they had already broken the water and sanitary pipes. We managed to fix one of the water pipes so that we could use it for drinking purposes at least. The police asked us to file a written complaint against them and we did so with the Madiwala police. After this, they destroyed the pipe we had fixed, leaving the entire building without water."

He said the three-storey building has six houses and a shop on the ground floor. "All of us are suffering from two days with no water to drink and no water for washing and cleaning. We have been going out to hotels and our relatives' houses to eat and bathe. They have threatened to break the pipes if we try to fix them again. They have threatened to harm us too," said Kumar.
Madiwala police have registered a case and investigations are on.