Mysuru relives glory of 800-year-old tradition | Mysuru News – Times of India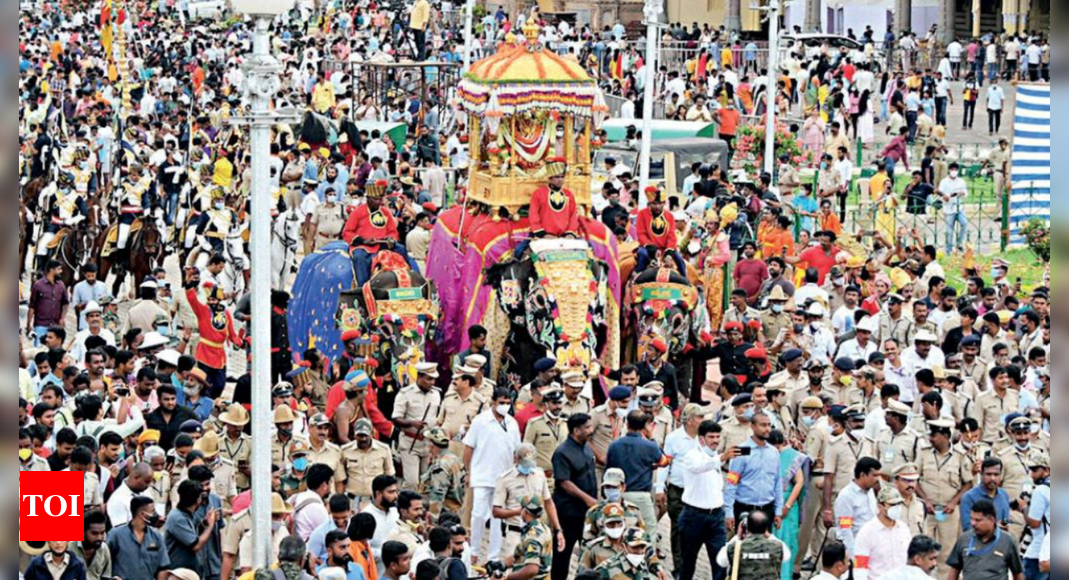 MYSURU: The City of Heritage basked in the 800-year-old tradition of victory celebration of good over evil with a muted procession on Friday of cultural troupes and caparisoned elephants. It marked the culmination of the nine-day Mysuru Dasara celebrations during the Covid pandemic.
The festivity abridged and confined within the Mysuru Palace premises was nevertheless magnificent.
An idol of goddess Durga being taken for immersion at Ulsoor tank in Bengaluru on Friday.
Dasara tusker Abhimanyu carried the golden howdah with the idol of Goddess Chamundeshwari for the second time in a row. The hour-long procession commenced at 4.40pm.
People gathered in the thousands outside the northern and eastern gates of the palace to catch a glimpse of the procession.
Members of the Bengali community came together to celebrate Vijaya- dashami
The government had announced that only 500 guests would be allowed inside the palace and they would be at a safe distance from each other. But no one followed Covidappropriate behaviour. There was seating for around 2,000 persons and twice that number, excluding officials and participants, were in the palace premises.
Chief minister Basavaraj Bommai offered puja to the Nandidwaja at 4.30pm and later brought down the curtains on the celebration by showering petals over Chamundeshwari idol. Mayor Sunanda Palanetra, district minister ST Somashekar, scion of erstwhile royal family Yaduveer Krishnadatta Chamaraja Wadiyar, Chief Justice of high court Justice Ritu Raj Awasthi, deputy commissioner Bagadi Gautham and city police commissioner Chandragupta were on the dais.