Motorists ill-treated at Hubballi-Dharwad bypass toll plaza | Hubballi News – Times of India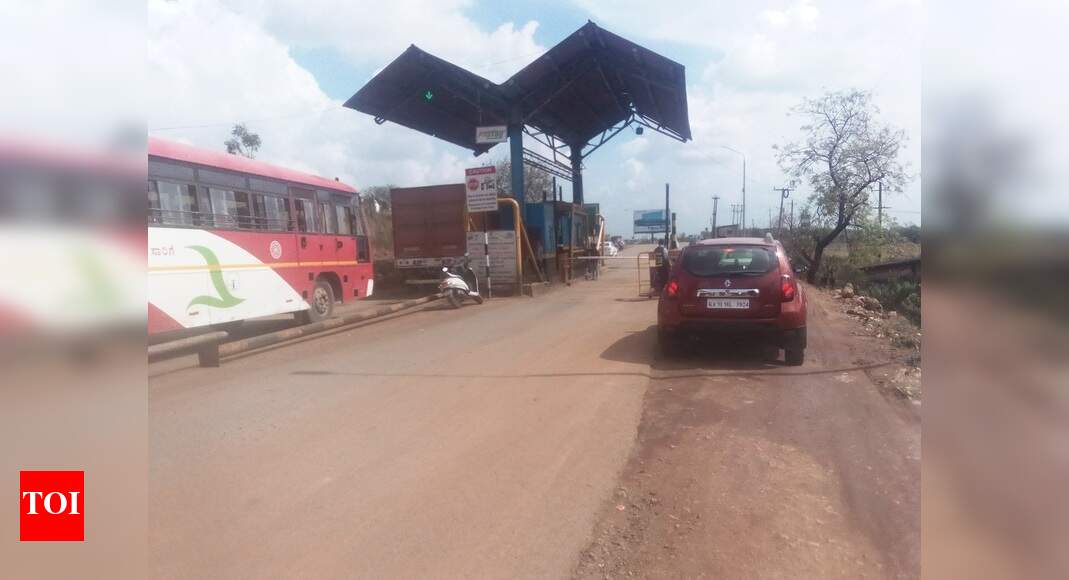 HUBBALLI: The Hubballi-Dharwad bypasss from Narendra to Gabbur, where 11 people were killed in a road crash in January, is again in the news for the wrong reasons.
The busy stretch has left two and three- wheeler riders fuming as it has only narrow and slushy space for vehicles to pass.
According to motorists, two and three-wheeler riders are allegedly being ill-treated as they do not pay toll.
Many riders also sustained minor injuries after their vehicles skidded on the slushy road.
Speaking to TOI, Tarihal's Gram Devata Trust president Mounesh Badiger said the authorities have left only 2.6feet space for two-wheelers at Tarihal toll and are diverting local four-wheelers on wrong side where only space of about 5feet is left.
"Several accidents have happened with bikes skidding on mud road. Situation turns scary in rainy season. Earlier, there was only one toll gate at Tarihal for two way traffic. After our repeated demand, they set another gate for vehicles coming from Dharwad end. Now, despite our repeated requests, authorities are not ensuring better path for non-toll vehicles. Farmers are severely affected when they carry goods by four-wheeler goods carriers," he alleged.
Private firm employee Mayur Patil recalled that he had fallen from his vehicle once and had requested the toll staff to take measures to repair the non-toll path.
"They replied they won't do it as they are not collecting toll from two and three wheelers. When I objected, they arrogantly suggested that I visit their office located in Gabbur, which is 15km away from the spot. They have taken two and three wheelers for granted and treat us like second grade citizens," he rued.
Vikas Soppin, a social activist said the structure of bypass and plan execution is unscientific. "Condition of two and three wheelers is pathetic on the stretch and at toll plazas.
'Will issue notice'
"We are aware that two and three wheelers are being ill-treated at all six toll plazas on the stretch. We have noticed it during our recent visit and have warned the contractor in this regard. We will issue another notice to them," said Vasanth Nayak, superintending engineer, national highway zone, PWD, Dharwad Circle.