MLCs manhandle dy chair, scuffle at 1-day special session | Bengaluru News – Times of India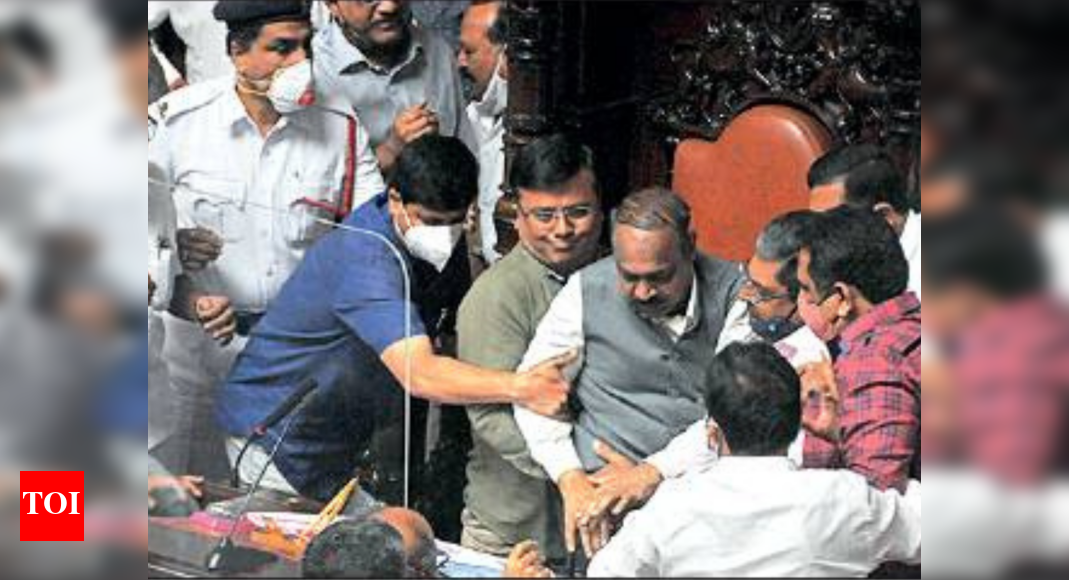 BENGALURU: The BJP government's bid to remove Prathap Chandra Shetty as legislative council chairman by convening a special one-day session on Tuesday led to pandemonium and ugly scenes with members of the ruling party and Congress creating ruckus.
The no-confidence motion plan of the government ran aground, with Shetty adjourning the house
sine die
barely 35 minutes after it convened. With the ruling party short of a majority in the upper house, BJP has been leaning on JD(S) to pass bills. The move to oust Shetty was part of a BJP-JD (S) plan to take posts of council chairman and deputy chairman and facilitate easy passage of bills and smooth conduct of the house.
Trouble started when Congress members found deputy chairman SL Dharmegowda in the chair soon after the council met at 11am. Some of them ran to the podium and forced Gowda out. In the melee, Gowda stumbled and fell, leading to a scuffle between members of Congress and BJP. The Congress members contended that it was unconstitutional for Gowda to chair the proceedings when the chairman was present.
Chaotic scenes in legislative council
To lend legitimacy to its plan of installing Gowda in the chair for the one-day session, BJP members said Shetty has lost the confidence of the house and tried to prevent his entry by blocking the door. The party members swarmed the podium in support of Gowda, claiming the government asked him to chair the proceedings.
Party sources said BJP asked Gowda to chair the proceedings since Shetty did not list the no-confidence motion on the agenda. Shetty argued that since he had already turned down the notice seeking introduction of the noconfidence motion, the subject cannot be listed on the agenda for the one-day session. This triggered off a duel, and members of both parties started pushing and shouting down each other.
At this point, Congress members led by Naseer Ahmed and Narayanaswamy dragged Dharmegowda out of the chair. Gowda fell in the melee, leading to a second round of scuffle.
Congress MLC Chandrashekhar Patil immediately occupied the chair. Narayanaswamy was seen trying to throw the glass table. BJP and Congress members came close to exchanging blows when Congress members tried to open the door behind the chair to allow Shetty into the house. The BJP members tried to stop Congress members. Congress MLC Naseer Ahmed was seen kicking the door.
Amid the bedlam, Shetty entered the house and adjourned the house sine die much to the anger of BJP and the JD(S) members, who had reportedly joined hands to remove him from the post.