Megalithic menhir found at Karnataka's Basrur | Mangaluru News – Times of India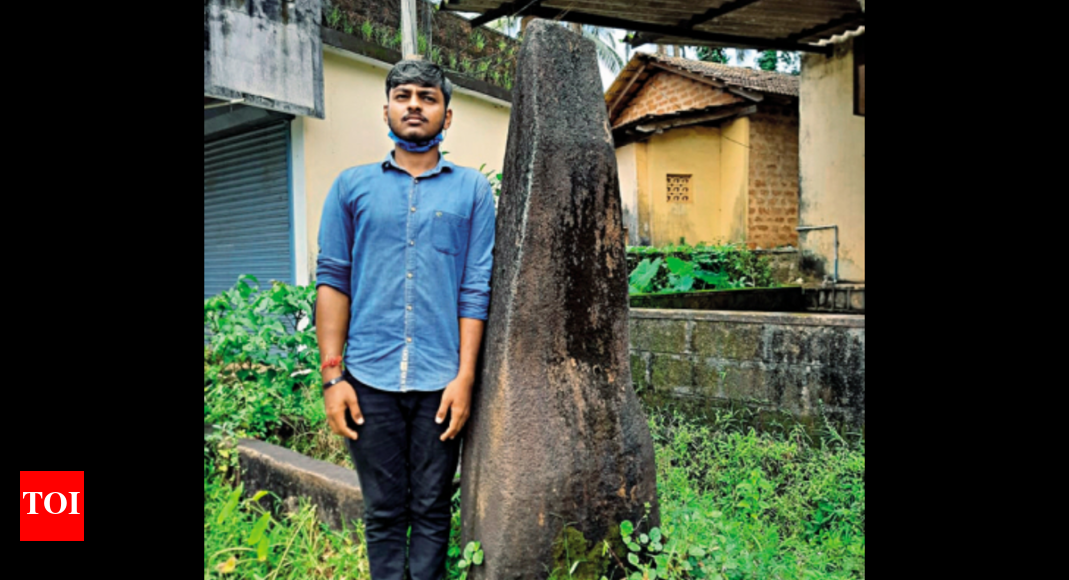 UDUPI: An ancient history expert has found a megalithic menhir at Basrur in Udupi district. Providing details of the same, Prof T Murugeshi, archaeologist, said on Monday that the seven-feet tall stone slab was found near the Venkataramana temple.
"The menhir resembles a pregnant woman, but we cannot ascertain if it was built in memory of a deceased pregnant woman. It was found at Basrur, a historically important region," he said.
"'Basure' or 'Basiru' means pregnant in Kannada and the region was an important city for trade and was known as Basurepattana, Basurepura, Vasupura, Basaruru in the past. There are many temples indicating its splendid wealth. The Devi temple of Basrur has special importance as it is probably the only temple in India where the temple feast is performed once in every 60 years," said Prof Murugeshi.
"The other temples in the region are Mahalingeshwara temple, Venkataramana temple, Kote Anjaneya temple, Tuluveshwara temple, Devi temple, Ramachandra temple, Uma Maheshwara temple, Bhairava temple, Garadi and Sadananda Mutt, a few surviving examples of the place's glorious past," he said.
The word menhir was adopted from French by 19th-century archaeologists. In India Menhirs are as tall as 20 ft, majestic, monolithic stone slabs often planted in memory of the dead – that is, memorial stones that mark graves of the Megalithic period. Menhirs are dated from 1000 BC to 800 BC, said Prof Murugeshi.
"The discovery of a menhir near Venkataramana temple at Basrur has a close similarity to the menhirs found at Baise and Nilskal villages of Shivamogga district," he added.
Basrur Venkataramana Temple trustees Murulidhar Hegde and Pradeep Basrur supported the professor while archaeology students Shreyas, Gowtham, Nagaraj, Karthik, Ganesh and Chandru assisted him.