Measures in place, Bengaluru's KIA ready to fly | Bengaluru News – Times of India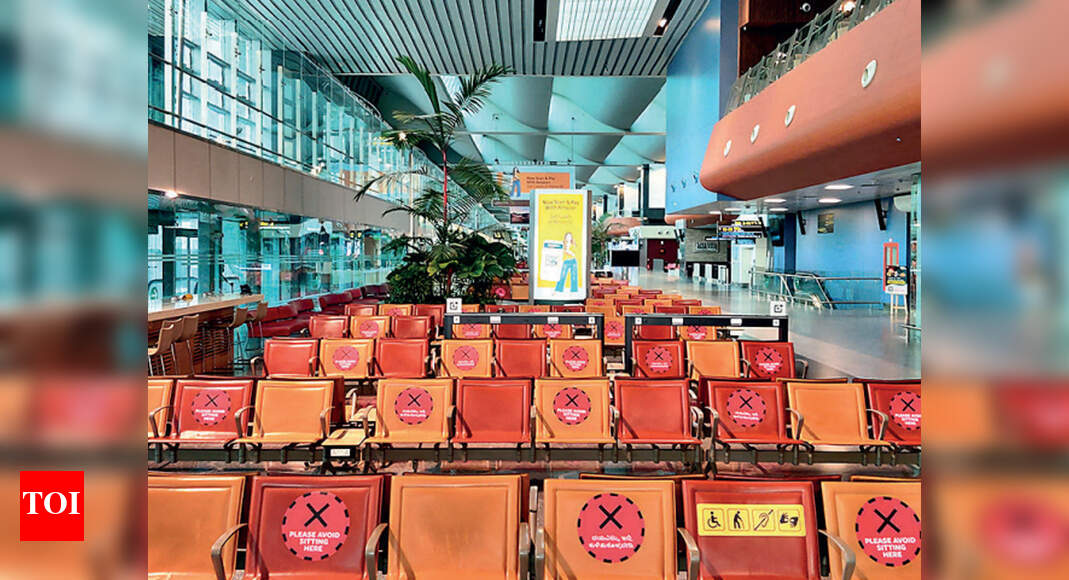 BENGALURU: With domestic flights set to resume on Monday, Kempegowda International Airport (KIA), Bengaluru will zoom to life with 215 flights – 108 departures and 107 arrivals – expected. The first flight out – an Air Asia aircraft to Ranchi will depart at 5.15am, while the first arrival will be a flight from Chennai at 7.35am.
Bangalore International Airport Limited (BIAL), which operates KIA, said it will have a minimum 10-minute interval between flights to ensure social distancing. It has also promised contactless travel for passengers, besides safety measures for food and beverage and retail outlets, taxis and parking areas.
F&B outlets
Food and beverages can be preordered using 'FSTR by BLR' tab the BIAL website (www.bengaluruairport.com) or selfordered at FSTR kiosks or by scanning the QR code displayed across the terminal. Customers can have their orders delivered at a location of choice at the terminal. Menus are digital and payments can be made digitally. Cutlery will be sterilised after each use.
Taxis
Elaborate safety measures have been put in place for airport taxis. Vehicles will be sanitised and drivers screened before arriving at the pick-up zone. Able-bodied passengers are advised to load their luggage into the car without the driver's assistance. Masks are mandatory and passengers without masks will not be allowed to board the vehicle. Penalties will be levied on drivers spitting in public places. Each taxi will accommodate a maximum of two passengers beside the driver. BMTC buses will operate at 50% capacity.
Parking facility
Parking of self-driven cars will be contactless from entry to exit. A machine will dispense a ticket at the gate, capturing time and date. At the exit, passengers will have to scan the ticket against a machine and pay using a digital platform. In case of card payment, the card will be sanitised before it is returned to the customer.
No curfew curbs
Air passengers will be allowed "unhindered/unrestricted" movement even during curfew hours between 7pm and 7am and Sunday, a government order has stated. Passengers must produce valid air tickets on demand. The government has also exempted airline and staff and crew members from curfew, although they must carry valid identity cards.