Many Bengalureans think skywalks are waste of money | Bengaluru News – Times of India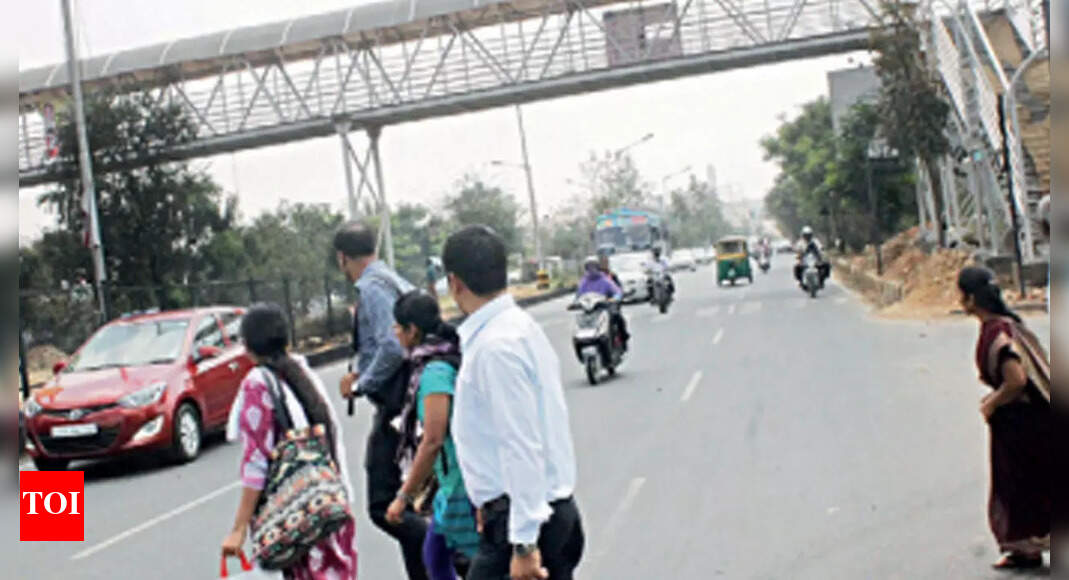 BENGALURU: There's a skywalk, but Ramesh Purab prefers to cross the busy road near KSR City railway station. Asked why he chooses to brave the speeding vehicles, the college student said: "The skywalks have a lift which can accommodate only five people. When we are in a hurry, it is easier to cross the road than take stairs or wait for the lift."
According to Purab, skywalks in Bengaluru are nothing but a waste of money. "If they don't increase the size of lifts or replace the stairs with escalators, people just won't use them," he told a TOI team doing a reality check on the state of skywalks and their (dis)use.
The team kept a close watch on a colourful skywalk near Da Ra Bendre Junction in Jayanagar for an hour during which only two persons preferred to use. "The skywalk is clean, but the lifts do not work properly. To cross a road where the traffic is well regulated, why do we need a skywalk?" asked Padmini Puttur, a resident of Jayanagar.
As per BBMP d ata, there are 51 skywalks across the city, but more than 30 of them do not serve their purpose as they either do not have lifts, or have lifts that are dysfunctional. The structures built to enable smooth passage across busy stretches are too cumbersome to be used, or are poorly maintained.
The skywalk across MH Marigowda Road at Lakkasandra, near Nimhans, has CCTV cameras, lifts and a generator back up, but none of them are seen operating.
"The skywalk was completed in 2019, and since this is a busy road, I use it every day. The skywalk is cleaned up every day, but I have never seen the lift operational. Maybe on days when senior officers come to check, they switch it on for a few minutes, but later it is again turned off," said Jagadish Channabasappa, a Nimhans employee.
Bruhat Bengaluru Mahanagara Palike (BBMP) officials, however, said skywalks are put up in response to requests from traffic police. "We normally do not suggest skywalks. It is the police department that requests us for it. We call for tenders and whoever gets it, is permitted land to build the structure," said a senior BBMP official.
"We have suggested skywalks, but it's the duty of BBMP to maintain them and they aren't doing it properly," said BR Ravikanthe Gowda, joint commissioner (traffic), adding: "Every skywalk needs to be clean, people-friendly and safe, especially for women and children and must have elevators."
On checking with a few contractors tasked with maintaining the skywalks, they admitted that people barely use them. "Sometimes a lot of illegal activities happen in the elevators, which is the primary reason for keeping the lifts switched off," said a contractor.