Mangaluru: Monday downpour causes loss worth lakhs to merchants at APMC Yard | Mangaluru News – Times of India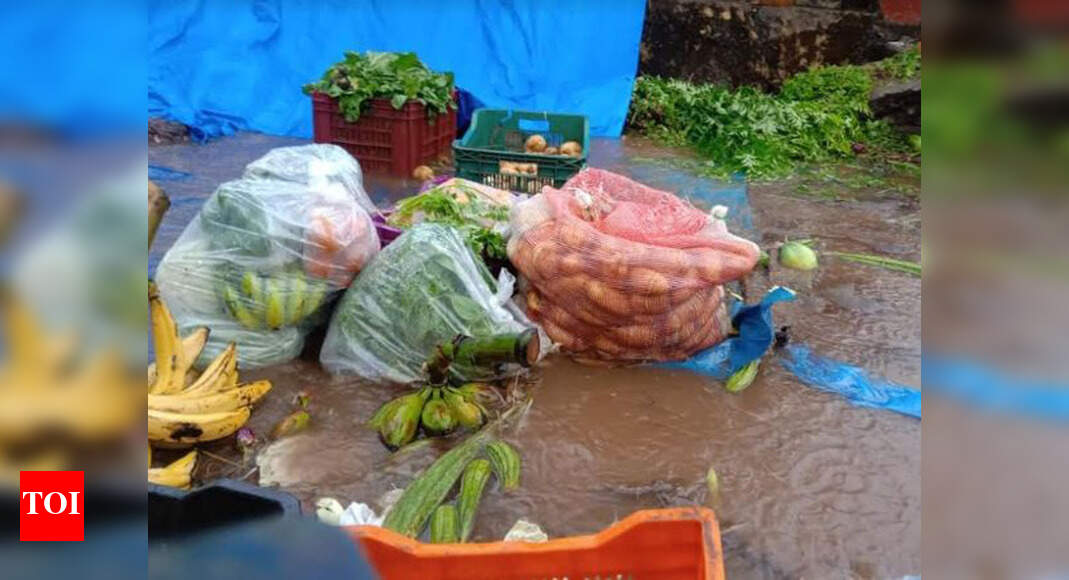 The Monday's rain saw all the vegetables and other produce for sales being washed away or damaged in the four-…Read More
MANGALURU: Monday's downpour and the resultant mess at the APMC yard at Baikampady that turned the market yard into a Kambala track, prompted merchants to rue their decision to shift their business to the yard from the Central Market, trusting the district administration.
The Central Market Merchants Association estimates that the downpour has caused a loss of more than Rs 50 lakh to the 70-80 wholesalers and another equal number of retailers who set up the shops at the yard after trusting the district administration. Mustaffa, president of the Association, demanded the administration to make up for their losses.
The Monday's rain saw all the vegetables and other produce for sales being washed away or damaged in the four-hour long downpour since 6 am.
The busy Central Market was shifted to APMC Yard in Baikampady as part of an emergency measure to control the crowd, put in place social distancing and thereby prevent spread of Covid-19. Since large number of retailers and public gathered, Dakshina Kannada district administration banned all activities at the Central Market and all wholesale merchants were asked to shift business to APMC Yard, located about 18 km from the city centre.
Though the wholesale market for vegetables and fruits had been shifted, the authorities failed to provide basic amenities at the Yard. Merchants have been forced to sell vegetables and fruits in an unhygienic environment.
Mustaffa said the APMC Yard established three decades back was in a dilapidated shape with nil facilities and demanded they be allowed to shift back to the Central Market till some other arrangements are done. "The Central Market was established six decades back and it is still in good shape. Our plea to shift us back have fallen on deaf ears. The DC is indecisive and keeps postponing the decision and is playing with our lives. If this goes on we may be forced to find our own alternatives," he said.
Another merchant said APMC authorities are least bothered about providing proper facilities. City Corporation Commissioner Shanady Ajith Kumar Hegde, who had issued public notice announcing the closure of Central Market, said that it was not bounden on the corporation to provide facilities but squarely lay on APMC authorities.
Former MLA J R Lobo slammed BJP MLAs and District administration for shifting the Central Market business to APMC Yard prematurely without setting up adequate facilities to facilitate business. He said at least after this fiasco, the authorities should wake up and provide necessary facilities or shift them back to a suitable place of business in the city.