Mangaluru: 75 days after they left Indian shores, KMC interns are finally back home | Mangaluru News – Times of India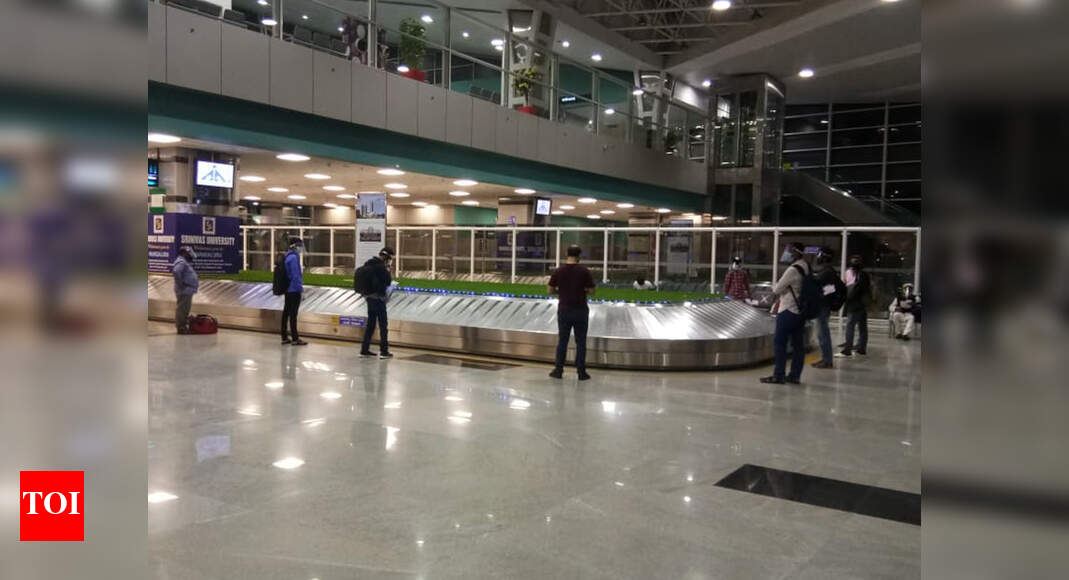 MANGALURU: The sight of aircraft taxiing in to park at Mangaluru International Airport (MIA) is routine for Rajeev Kumar Gupta, joint general manager (engineering-civil), MIA, but on Tuesday, when an IndiGo aircraft docked at the aerobridge, it brought to end a 75-day ordeal that he underwent as a father.
On board this flight was his daughter Mahima Gupta, an intern of Kasturba Medical College, Mangaluru, who was stranded in Kuala Lumpur for more than 50 days.
Mahima and fellow intern Navin Mallya had left for their surgery internship at International Medical University, Seremban, Kuala Lumpur, on March 12. Five days later, a lockdown was clamped in Malaysia, due to which the duo got stranded there. They were finally able to make it to Chennai on May 11. After completing 14 days of institutional quarantine there, the duo landed at MIA in an IndiGo flight via Bengaluru, and they will be in home quarantine for another 14 days.
Waiting for health authorities to come and put a stamp on his hand for home quarantine, as they were not present at the airport when the flight came in, Navin said in the interim they have informed Dr M Venkataraya Prabhu, their dean, about their return, and have sought his permission to complete their internship at Wenlock Hospital after their quarantine period ends on June 10. "We are doctors first, and want to be on the front line of our fraternity's fight against Covid-19,"| he adds.
The duo had applied for internship in surgery at IMU via GEMX, a global educational exchange platform for medicine and health professions. Happy to be home, Navin soon happily tucked into piping hot conji (rice gruel) and
bibbya upkari
(tender cashew kernel curry), that his mother Nayana had prepared than the famed daali tove that GSBs love. "I had dal daily at the institutional quarantine in Chennai and had asked mother not to prepare dal again," Navin quipped.
With Mahima still catching up on sleep, a relieved Rajeev Gupta, filling in for her, said, "She is very methodical when it comes to her professional and personal obligations, and it is a matter of 14 days before the family can get together again." Navin said the 14 days of home quarantine should be a breeze for both him and Mahima, in that they are medical professionals, and know the drill. "Mother keeps the food on a stool outside my bedroom, and takes all the necessary precautions," he said.
Solidarity that Dr Ramdas Pai, Chancellor, MAHE showed with our families in this hour of need by writing to Prime Minister Narendra Modi to evacuate the two from KL and request that DK MP Nalin Kumar Kateel made to union ministers R Jaishankar and Hardeep Puri in the same vein was a big morale booster to us, Rajeev Gupta said. Friends and families also sent out more than 3000 tweets to authorities concerned seeking their repatriation, he added.