Lockdown effect: Losses mount for zoos, safaris in Karnataka | Bengaluru News – Times of India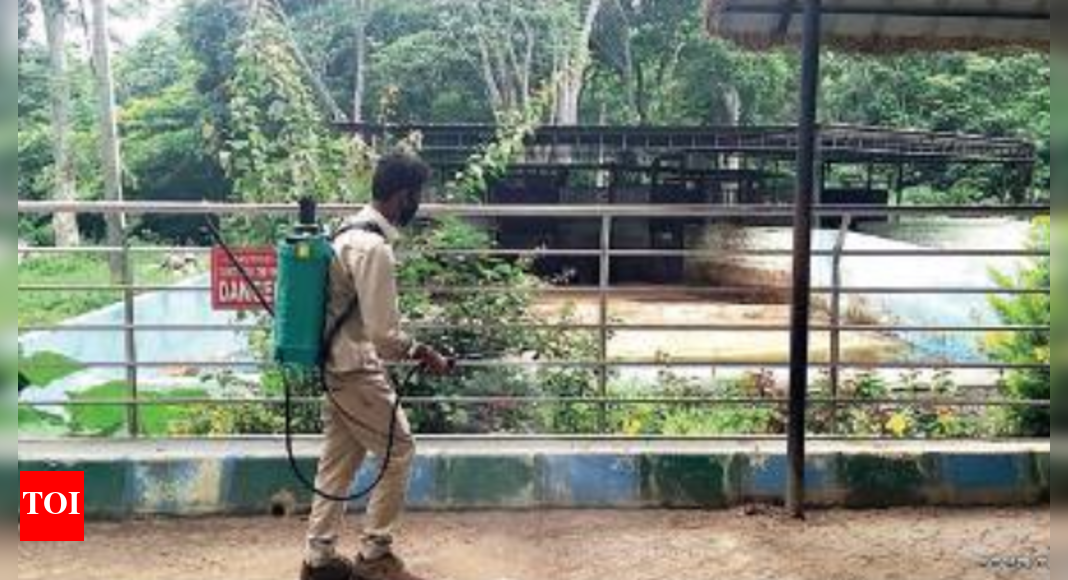 A file picture of a worker sanitising Bannerghatta Biological Park after the outbreak of the Covid-19 pandemic
BENGALURU: Closed for more than 120 days since the pandemic hit last year, zoos, wildlife safaris and fish aquariums in Karnataka are struggling to keep afloat, especially after the second Covid-19 wave-induced lockdown.
Zoos across the state have incurred a collective loss of Rs 37 crore and safaris about Rs 10 crore since last year. April through June is the peak season and the time when most revenue from ticket sales is generated. With two consecutive seasons wiped out and no clarity yet on reopening for visitors, the future is uncertain.
Officials say they spend Rs 17-19 lakh per month on animal feed and maintenance alone. They say they require Rs 6 lakh per annum to take care of a tiger and Rs 12 lakh for an elephant.
Sri Chamarajendra Zoological Gardens, popularly known as Mysuru Zoo, and Bengaluru Bannerghatta Biological Park are the two major zoos in the state. The others are either small or mini zoos and many are in the process of development.
In a bid to turn the tide, officials tried many avenues to raise money, including adoption and outreach programmes, but with little success. While the government had sanctioned Rs 20 crore last year for zoos, the sum generated through adoptions and donations was about Rs 65-75 lakh.
BP Ravi, additional principal chief conservator of forests and member secretary, Zoo Authority of Karnataka (ZAK), said they depend heavily on gate revenue. "With no revenue due to the lockdown, it is very challenging since we have to feed animals, maintain enclosures and pay staff their salaries."
ZAK launched a mobile app last year to encourage adoptions and donations. "Adoption does not necessarily mean donating large sums of money," Ravi said. "It can be as low as Rs 50. Initially the response was poor, but it picked up after actor Darshan Thoogudeepa, a wildlife enthusiast, appealed to fans to contribute generously."
However, the animals haven't felt the pinch yet. An animal keeper at Mysuru zoo said irrespective of whether animals are adopted or not, they are well cared for. "It is love and enthusiasm to contribute that matters and it does help us. In any case, we leave no stone unturned in taking care of our animals," the man said.
Authorities are hoping the government will allow visitors soon. But that does not mean revenue will be back on track. The second wave of the pandemic has blunted tourist enthusiasm and has had a crippling effect on wildlife tourism.
"Ever since the nationwide lockdown was announced last year, jungle safaris have hardly had huge footfalls. We also have the challenge of protecting tigers and other animals from viruses due to human intrusion," said Manoj Kumar, chief conservator of forests, Chamarajanagar.
A conservationist and professional safari operator, who organises tours in Bandipur and Nagarahole, said the pandemic has rendered many in the tourism sector jobless. "Several contract employees who helped protect forests and wildlife have not received their salaries for many months," he said.
FacebookTwitterLinkedinEMail