Karnataka: Youths collect 12,000kg footwear from 200-meter beach stretch in Kundapur | Mangaluru News – Times of India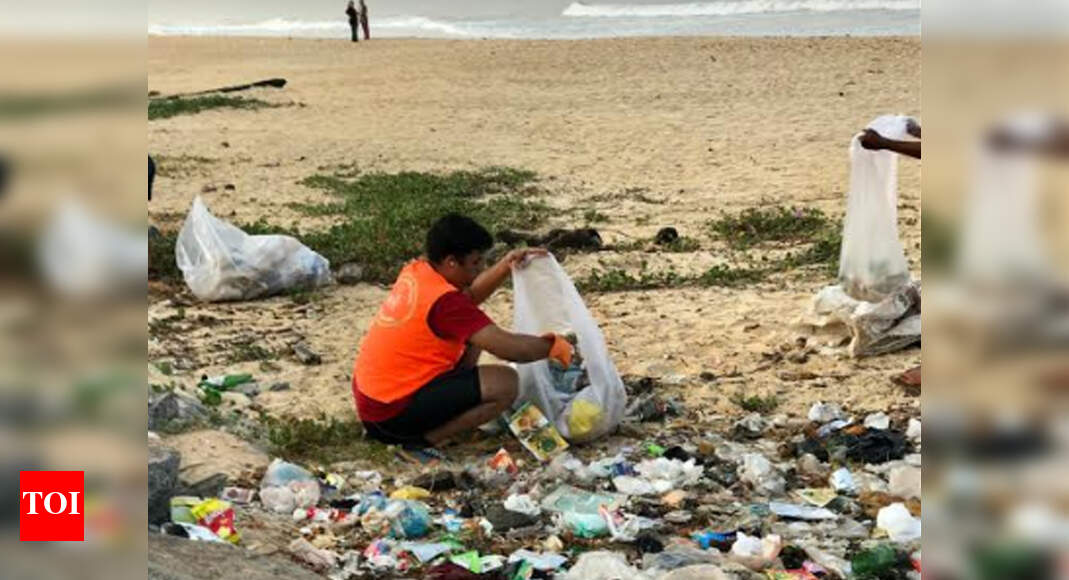 MANGALURU: A whopping 12,000kg of plastic and rubber footwear collected from a 200-metre stretch of Kodi beach in Kundapur on seven Sundays during November-December last year shows the devastating impact plastic pollution has on the ocean life.
The high pollution levels came to light thanks to the beach clean-up drive launched by Clean Kundapura Project along with FSL India. The revelations were also part of a report released by Reef Watch Marine Conservation. The volunteers of Kundapura Project also found bottles – PET, medicine and alcohol – in large numbers on the beach.
*Source: Report on assessing the composition and impacts of marine debris at Kodi Beach, Kundapur
The report, titled 'Assessing the composition and impacts of marine debris at Kodi beach' and compiled by Ashna Abi is an attempt to quantify and document the accumulated marine debris. The report also explores the scope of Extended Producer Responsibility (SWM Rules, 2016) to hold producers accountable for eco-friendly modes of disposal of their products.
According to Bharath Bangera, a volunteer of Clean Kundapura Project, the Covid-19 pandemic will also contribute to high levels of plastic waste in the waters around the world. Environmentalists across the world are now worried about surgical masks and gloves washing up on the shores in large quantities.
"Coastal zones in Dakshina Kannada district are thickly populated. Fisherfolk, tourists and local vendors generate different categories of waste which gets accumulated on the shorelines. Huge amount of garbage also comes from five rivers, including those from the neighbouring districts. We found that the waste gets accumulated at Panchagangavali river mouth," Bangera said.
"Our team participated in over 60 weeks of beach cleaning drives. Pollution poses a threat to sea creatures which may consume plastic waste or suffer injuries due to glass bottles. There are chances of marine organisms getting entangled in abandoned fishing gears which could result in dissolution or discoloration of calcium carbonate shells due to ocean acidification," he added.
The report bats for a comprehensive marine conservation policy. "Scrap dealers should be included in the chain of waste collection to ensure recovery and recycling of waste collected from the beaches. Collection and sale of accumulated marine debris should be treated as a source of livelihood," it said.