Karnataka: Village sealed, ryots dump milk in drain | Bengaluru News – Times of India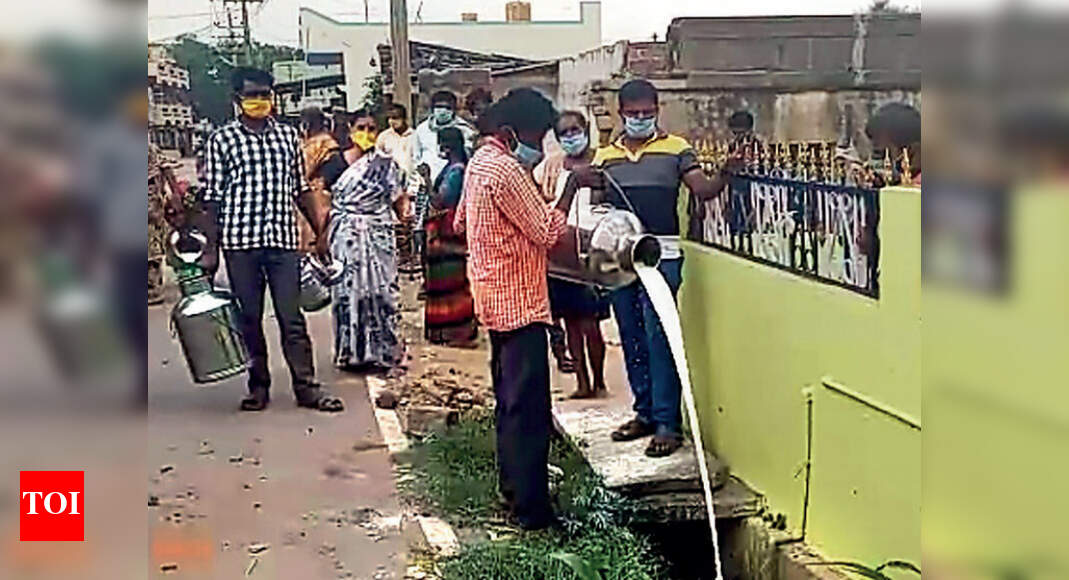 There are about 130 families in Chikka Korati village, many of whom have cows that give a total 50 litres of m…Read More
BENGALURU: Dairy farmers in Chikka Korati, a village near Hoskote, dumped about 4,000 litres of milk into drains and on anthills on Sunday, alleging the Karnataka Milk Federation (KMF) refused to collect the milk because a pregnant woman in the village had tested positive for Covid-19.
The village was sealed off on Friday and three of the woman's family was sent to institutional quarantine. The incident is an embarrassment since the government has been urging people not to stigmatise patients or their contacts.
"In Hoskote taluk, we lead in milk production," Guru Korati, a local, told TOI. "There are around 130 families in the village, but we have two milk producers' cooperative societies (MPCSs) – Chikka Korati MPCS and Dinne Korati MPCS. Our village produces more than 4,000 litres per day. The KMF refused to collect milk from both societies after they learnt about the positive case. Frustrated, we poured the milk down the drain."
Guru wanted the government to address the village's problems. "We are not only struggling to sell milk, but we also cannot transport vegetables which we cultivate," he said.
Veerabhadrappa, from Chikka Korati in Bayala Narasapura gram panchayat, said: "Several families have cows enough to yield more than 50 litres of milk. What will they do with such a huge quantity of milk?"
Mehaboob Sab, panchayat development officer (PDO) of Bayala Narasapura GP, said, "We aren't sure how the woman contracted Covid-19. A family member had visited Tamil Nadu and the woman also frequently visited a hospital in Kolar for checkups. We are still tracing her contacts."
A KMF official said: "We are not sure what happened. We will look into it." The official insisted there is no policy on not collecting milk from villages where cases have been reported.