Karnataka: Udupi's 'Magneto' sent for medical analysis; authorities debunk vaccination effect claims | Mangaluru News – Times of India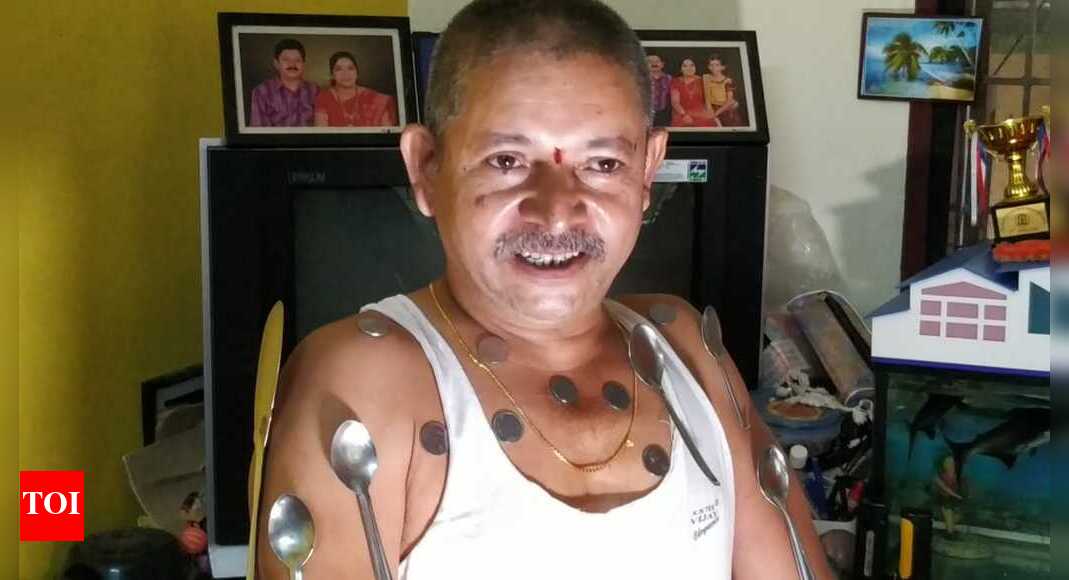 UDUPI: In the growing list of person's claiming acquiring magnetic powers due to vaccination, an Udupi man on Monday claimed he too became a 'Magneto' with the video of the person attracting metal objects like spoons and coins to his body, went viral. The district administration was quick to debunk his claims clarifying the magnetic field in the body of Ramdas Shet, 50, and vaccination had no link.
Deputy commissioner G Jagadeesha clarified on Monday the magnetic field on the body of Shet has nothing to do with the first dose of vaccine he took on April 28.
Shet, a goldsmith and a resident near Poornaprajna College, told reporters that he experimented on the magnetism on his body after watching a similar video on Whatsapp. "I saw a video (of a magnet man) on Whatsapp yesterday and hence I just tried to experiment on my body," Shet said, demonstrating how spoons and coins are attracted and sticking to his body.
The DC said, "All of you must have seen a video that has gone viral. The man has claimed that he has received magnetic power after getting the vaccine. However, no magnetic power will be seen in the human body because of Covid-19 vaccine. We have made him undergo tests at the district hospital. During the examination, it was found that he has magnetic fields on his forehead, shoulders, arms, back and stomach. He has blood pressure and is a diabetic. Blood test and other tests have been conducted. He had taken the first dose of the vaccine on April 28. Many have taken the vaccine against Covid-19, but none of them have reported such a reaction. Vaccination will not lead to any such reactions. However, we have made him undergo all tests and a report is awaited."
Udupi DHO Dr Nagabhushan Udupa said that Shet was referred to a physician at the District Hospital. "We have made him undergo various tests. We have sought a medical opinion from the doctors of the district hospital. His body has many trigger points at the shoulder, neck, chest, abdomen and other areas with magnetic fields. The actual reason will be understood after the routine investigations by the physician," the DHO said, adding that Shet's case is not connected to vaccination.