Karnataka: Tribal artist's street play seeks to remove vaccine hesitancy | Bengaluru News – Times of India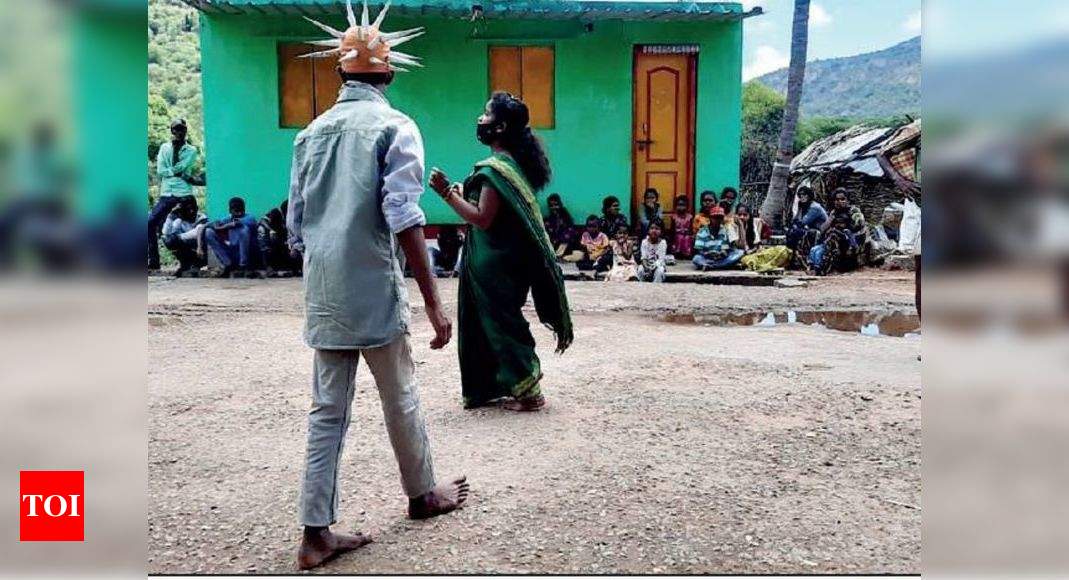 BENGALURU: An artist in Chamarajanagar has come up with a street play titled 'Corona Maari' to tackle vaccine hesitancy among tribals.
Basavaraja Soliga's play was first staged in Karalakatte village on July 5 and more performances, meant to raise awareness in the Soliga community, are planned.
Chamarajanagar is among the districts with high vaccine wastage. As of June 30, 6.9 per cent of doses were wasted.
Till July 5, 32.6 per cent of the eligible population in Chamarajanagar had received at least one dose of the Covid-19 vaccine.
Basavaraja's script revolves around a young man who frequents the city and develops a fever.
The family takes him to a traditional healer as per the community practice. The healer tells them that the man is not under the influence of a god or a devil but is infected by a virus and must be treated by doctors.
The story has a strong message on getting vaccinated to prevent disease.
Basavaraja, who is also a community leader, said that traditional healers influenced how tribals perceived things and it was important to tie the messages of medical treatment and vaccination to people's belief system. "The tribal people are a god-fearing group. The belief is that god can treat any health hazard. To persuade tribe members to get the jab, the message has to be conveyed through their belief system," he added.
The community has more than 30,000 members in Chamarajanagar district, and has seen 40 Covid cases, including two deaths. The play, written and performed in the Soliga tribal language, features 10 characters and songs based on folk traditions. 'Soliga Pushmale Kalasangha', a tribal art club, enacts it.
According to Dr Prashanth N Srinivas, assistant director (research) and faculty, Institute of Public Health, Bengaluru, the state's engagement with tribal communities has been historically low and this reflects in the current situation.
"The fear they have is not just about vaccination. They are taken by surprise when healthcare workers show up at their doorstep. There is not much trust in the healthcare system, and the lack of trustbuilding is now having an effect on vaccination," said Dr Srinivas, who has been working in the district.
Muttaih V, the secretary of the Soliga Abhivriddhi Sangha, Hanur, is confident that the play will encourage people to take the jab. "There is awareness about Covid-19, but there are also fears about seeking treatment," he said, adding that a 35-year-old man from a village in Hanur taluk could have been saved had he sought early treatment.
"He had symptoms, including fever, but he avoided seeking treatment and moved around. When he died, we traced all his contacts, 30 of whom tested positive." The man was also found to be Covid positive after his death in April.
There is a Covid care centre exclusively for tribal members in Jeerige Gadde village.
District health officer Dr Ravi MC said that community involvement was essential to achieving higher vaccination coverage. Chamarajanagar shares borders with Tamil Nadu and Kerala.
The district administration has joined hands with doctors and tribal leaders to improve vaccination figures.