Karnataka takes charge of admission process in RR medical college | Bengaluru News – Times of India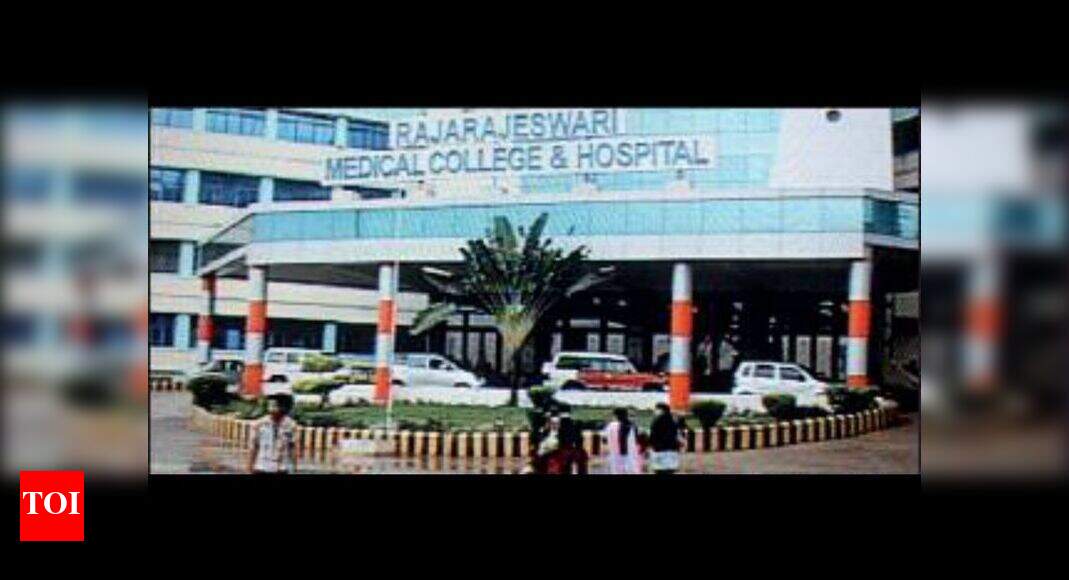 BENGALURU: The government has disallowed Raja Rajeswari Medical College and Hospital (RRMCH) from admitting MBBS students in the second round of seat allotment by the directorate general of health services, a central government agency.
Following a communication from the Karnataka medical education department to the Centre on November 24, DGHS on Wednesday issued a public notice for information of all candidates that the medical counselling committee (MCC) is withdrawing the seats of RR medical college with immediate effect. It added they will be deleted from the database before the allotment process of round-2.
The state's communication cited a Karnataka high court order supporting its decision. The court had earlier this month upheld the government's plea to quash a central government notification that had allowed RRMCH to become a part of Chennai's Dr MGR Educational and Research Institute, a deemed-to-be university.
The court had also dismissed the college's plea challenging Rajiv Gandhi University of Health Sciences' decision not to disaffiliate it. The refusal of disaffiliation had come in the way of the college becoming part of the deemed-to-be varsity.
"Our move is in the best interest of Karnataka students. We will address all concerns raised by students of the medical college. The next round of counselling for 98 UG medical seats of RRMCH will be conducted by the state government via KEA," said TK Anil Kumar, principal secretary, medical education department.
However, 152 MBBS seats in RRMCH have already been filled in the first round of allotment for deemed-to-be universities.
"RRMCH is not yet disaffiliated from RGUHS to be associated with any deemed-to-be university. The HC directions are clear that medical seats have to be handed over to Karnataka. The remaining 98 seats will be filled up in state quota. We can't disturb the 152 students who have already been admitted. It's a minority college and the state government will get 20% or 50 seats from it every year," said Dr PG Girish, director of medical education. He added the rest of the seats will be recovered from the college next year onwards.
RRMCH was under RGUHS since its inception and last year got itself included in the Chennai institution. The Centre and UGC allowed it, but the shifting was subject to disaffiliation from RGUHS. The college, meanwhile, went ahead and got its seats filled under the deemed-to-be university process through DGHS.
Asked why the state government could not prevent the college from successfully allotting its seats as a deemed-to-be university under DGHS last year, Dr Girish said, "The state didn't have enough time to challenge it. This year we took up the case early."
"It is in the state's interest that the college remains with RGUHS because there will be reservation for local students. Typically, we have been following the consensual agreement route, under which the state's local students get a portion of the seats. Under the minority quota too, they get seats. Essentially, 65% (162/250) of the seats come to Karnataka. It would have been a huge loss to let go of the seats and hence we filed a writ petition," explained Kumar.
The matter had raised concerns among RGUHS syndicate members. "Technically, the medical college is under RGUHS and was not disaffiliated. Since our students lost seats, we wrote to the government to save them for Karnataka students," said Dr Jai Krishna HJ, syndicate member.
BOX:
152 students admitted needn't worry: Principal
Dr Naveen H, principal, RRMCH, said students who have already got admitted needn't panic. "MCC has taken a decision not to entertain our college under DGHS counselling. I don't understand this as 152 seats have already been allotted in the first round under DGHS. We were brought under deemed-university status in February 2019 under the ambit of Dr MGR Educational and Research Institute only after UGC inspections," he said, adding: "I don't understand how in one batch students will be allotted seats from both state and DGHS." He said in May 2020, DGHS allotted 129 PG medical seats for 2020-21 and classes have begun. Sources said the college has taken the legal fight further.