Karnataka: Public transport users left out of Unlock plans | Bengaluru News – Times of India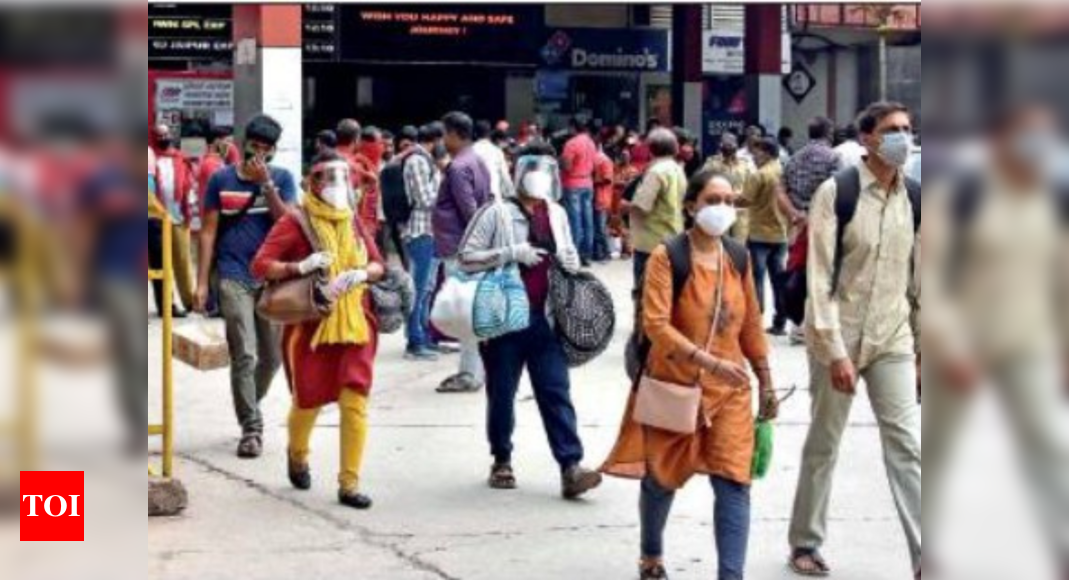 BENGALURU: The state government has allowed autorickshaws and cabs to start ferrying commuters from June 14, when the new Unlock phase begins, but it is yet to give the green light to BMTC and KSRTC bus services and Metro rail. People who rely on public transport are upset with the decision, saying they may be forced to pay more every day to reach their workplaces.
Before the Covid-19 surge, BMTC carried around 25 lakh passengers a day and Namma Metro about 2 lakh. The services were suspended on April 27 as part of measures to slow the number of infections and remained shut as the lockdown was announced.
A transport official said that all four state-run bus corporations, including BMTC, were preparing to restart services with social distancing after nearly 50 days of lockdown. Currently, BMTC operates skeletal services for essential workers and six Vayu Vajra buses from Majestic to the Kempegowda International Airport (KIA).
Many people who don't own vehicles prefer buses because BMTC offers passes at concessional rates. "It's difficult to commute in the city without BMTC. I can't afford to buy a second-hand scooter or travel by cab or autorickshaw. I cycle to work near Shantinagar; it's time-consuming and tiring. I hope the government allows BMTC services soon," said security guard S Manjunath, who lives in CV Raman Nagar.
Experts say for health safety, transport operators, whether public or private, should ensure social distancing norms are strictly followed and vehicles/coaches and surfaces are frequently sanitised. Vaccinating the staff is also crucial. Nearly 70 per cent of BMTC employees have been vaccinated.
"There is no good reason for not allowing buses. Buses have sufficient ventilation compared to cabs. The government should balance life and livelihood. At a time when many people are losing jobs or seeing their earnings fall, it should restart buses, a transportation mode the poor depend on," said Shaheen Shasa, an activist with the Bengaluru Bus Prayanikara Vedike. "Before lockdown, around 25 lakh people were travelling in BMTC buses, but overcrowding was not an issue."
Ravi Gadepalli, an independent consultant and transport expert, said that so far, no studies had been conducted in India to determine a link between public transport and Covid cases. "Cities like London conducted tests that showed that public transport is safe. When the government is allowing offices to reopen, why is BMTC not permitted to operate buses? Economic activities are being restarted, but several people will be without affordable transport options to reach their workplaces. This, in turn, will affect work and delay recovery," he said.
Geeta Menon, joint secretary of the Domestic Workers' Rights Union, said that prolonged suspension of bus services would badly hit house helps. "In the absence of these services, they have to shell out more as autos can carry only two passengers at a time. For the poor, buses are the primary mode of transport. Not owning a vehicle is not a crime," she said.
Dr US Vishal Rao, a member of the Covid expert committee, said that the seven-day moving average of the test positivity rate should be monitored. "Public transport is likely to be allowed in another one to two weeks. We are concerned that the poor will be affected because of the lack of buses. But we should understand the fact that the virus is not moving, people are. And they are more vulnerable, especially when travelling as a group in a bus," he said.