Karnataka: No Sarpa samskara, Ashlesha Bali at Kukke temple | Mangaluru News – Times of India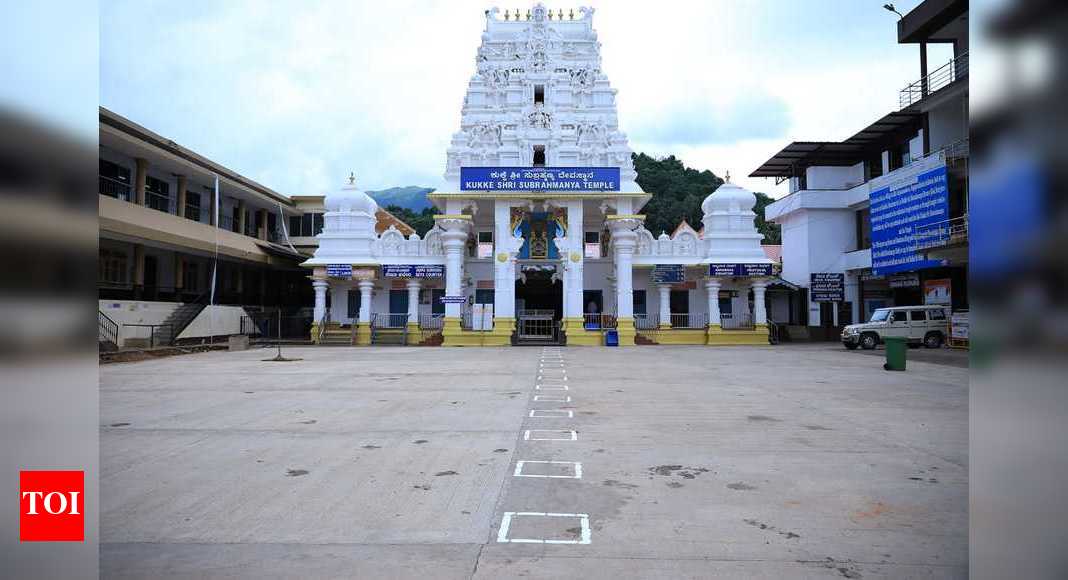 MANGALURU: Following government's unlock guidelines, Kukke Sri Subrahmanya temple in Dakshina Kannada district will open for devotees only for Darshan and Mangalarati seve.
While the temple will be reopened on Monday, Mangalarati will be offered once in 15 minutes.
Devotees will not be allowed to offer Sarpa samskara, Ashlesha Bali and other seve, said temple management committee president Mohanram Sulli.
The temple with highest revenue collection in Karnataka, was closed for devotees due to lockdown from April 21.
With the district witnessing downfall in the number of Covid-19 and following the government guidelines, the temple committee has decided to open the temple with restrictions, he said.
"Sarpa samskara, Ashlesha bali and other seve will not be allowed till further orders from the government. Devotees are allowed to enter the temple between 7am and 11.30am; 12.15pm and 1.30pm and from 2.30pm to 6.30pm.
While Mangalarati will be performed once in 15 minutes, devotees will not be given prasadas including theertha, sandal paste, bhojana prasada (meals), panchakajjaya and laddu. Similarly, they will not be allowed to stay in guest houses of the temple," he said.
Wearing mask, maintaining social distancing, undergoing thermal scanning and using sanitizer will be mandatory for all devotees before entering the temple, he said.
"Devotees will not be allowed to enter the temple if they have fever, cough and cold," he said.
Temple executive officer Ningaiah said that devotees will be allowed enter through the rajagopura only.
All other entry points will be closed and there will be a separate exit door for devotees to come out.
Devotees should follow the markings inside the temple premises to maintain social distancing. All such arrangements will be made inside Adi Subrahmanya temple too, he added.