Karnataka: No question of leadership change, says CM BS Yediyurappa | Bengaluru News – Times of India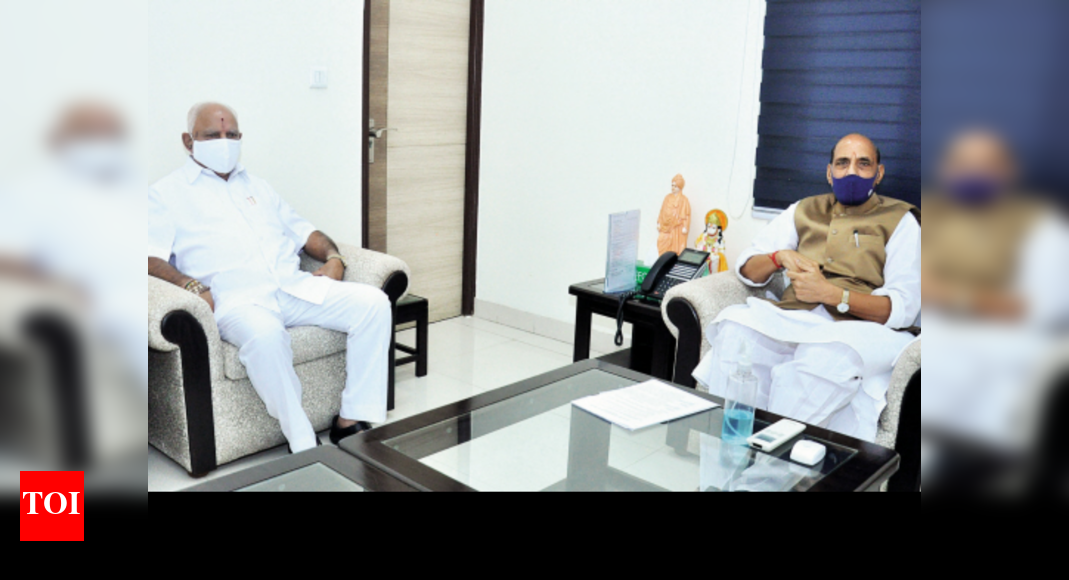 BENGALURU: Chief minister BS Yediyurappa, who returned to Bengaluru on Saturday after a two-day visit to Delhi to meet the BJP brass, had to spike speculation about his rumoured exit.
"There is no truth in my resignation. The central leaders asked me to continue and strengthen the party. There's no question of leadership change," he said, dubbing his Delhi visit a success.
He said neither did the party high command ask for his resignation nor did it come up for discussion during his meetings with PM Modi and Union home minister Amit Shah. Instead, he said, they said there was no discussion of leadership change.
Yediyurappa has convened the BJP legislature party meeting on July 26, the day he completes two years in office, and there is speculation about the purpose of the gathering. It has been almost a year since Yediyurappa convened the legislature party meeting despite vehement appeals from dissident MLAs in the party.
Discussed development of BJP in state: BSY
Yediyurappa met Union ministers Amit Shah and Rajnath Singh and BJP president P Nadda on Saturday, a day after meeting Prime Minister Narendra Modi.
He said that discussions revolved around developing and strengthening BJP in Karnataka before elections and ensuring the party comes back to power in the state. Denying any discussion on alternative leadership, he also emphasised that there's no dearth of leaders in the BJP. He said he'll work to strengthen the party by taking everyone along. "We discussed the development of the party in the state.
The PM asked me to give special emphasis on bringing BJP back to power in Karnataka,'' he added Earlier in the day, a section of media in Delhi reported that Yediyurappa has been asked to make way for the new chief minister in the interest of the party and was asked to make a formal announcement soon after completing two years in office.
Yediyurappa had gone to Delhi on Friday in a chartered flight accompanied by his son BY Vijayendra, grandson Shashidhar Mardi and MLC Lehar Singh besides personal secretary Girish Hosur.
Order to set up Vokkaliga board
The state government on Saturday issued an order to set up Vokkaliga Development Corporation. "The corporation is being set up for the overall development of the Vokkaliga community. The board will be registered under the Company Act," said the order. The CM had announced setting up of the corporation for Vokkaligas and setting aside Rs 500 crore for the purpose in the current budget.