Karnataka: No end to dynasty politics as leaders' kin throw hat in ring | Bengaluru News – Times of India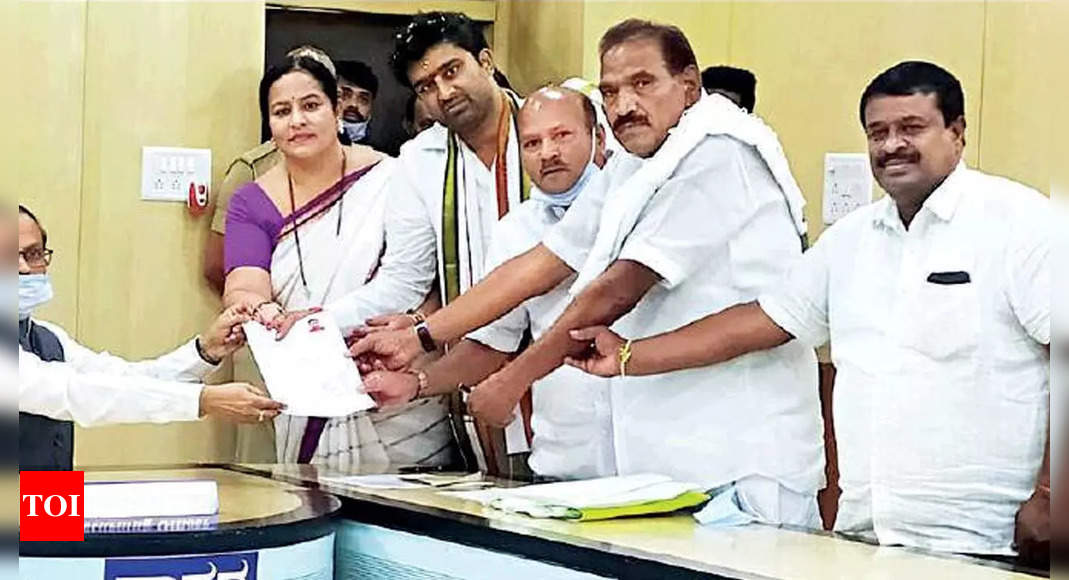 BENGALURU: Dynasty politics continues to thrive as all three political parties are in the process of fielding relatives of their functionaries in the December 10 council elections from local bodies.
JD(S), which is branded as a party of the HD Deve Gowda family, has taken the lead in this exercise. The party fielded Suraj Revanna, son of former minister and Deve Gowda's son HD Revanna, from Hassan, overlooking functionaries who toiled hard to build it. Suraj filed his nomination papers on Friday.
Suraj is the eighth member of the Gowda family to enter electoral politics. Given the predominant presence of JD(S) in the form of members of gram panchayats and urban local bodies — who are voters in these elections — in Hassan, Suraj's election seems to be certain.
The opposition Congress decided to field Channaraj Hattiholi, brother of MLA Lakshmi Hebbalkar, from one of the two seats in Belagavi district, and former minister Amaregouda Bayyapur's nephew Sharangouda Bayyapur from Raichur-Koppal seat.
Though the party is yet to officially announce the candidates, Hebbalkar has claimed it has given her brother a green signal to start his campaign. Bayyapur filed his papers on Friday. Apart from these two, the party is also likely to field former minister A Manju's son from Hassan. Manju had joined BJP ahead of 2019 Lok Sabha polls protesting Congress' decision not to field candidates in support of Prajwal Revanna, the JD(S) candidate. Congress and JD(S) were in an alliance then.
Promoting dynasty politics is not a new phenomenon in Congress as the party already has several sitting council members from political families who are seeking re-election on December 10. They include Sunil Gouda Patil, brother of senior Congress leader MB Patil, Vijay Singh, son of former CM Dharam Singh, and S Ravi, a relative of KPCC president DK Shivakumar.
The ruling BJP has fielded DS Arun, son of former council chairman and veteran BJP leader DH Shankaramurthy, from Shivamogga, and former CM Jagadish Shettar's brother and sitting council member Pradeep Shettar (he's got ticket for the second time in a row). It has also fielded Suja Kushalappa, brother of Madikeri MLA Appachhu Ranjan, from Kodagu.
The party is likely to extend support to Lakhan Jarkiholi, brother of former ministers Ramesh and Balachandra Jarkiholi, who is expected to contest from Belagavi as an independent candidate.
BJP releases list of
20 candidates
The BJP central parliamentary board late Friday released a list of 20 candidates who will contest the council polls. The big names include OBC and social welfare department minister Kota Srinivas Poojary and upper house deputy chairman MK Pranesh.